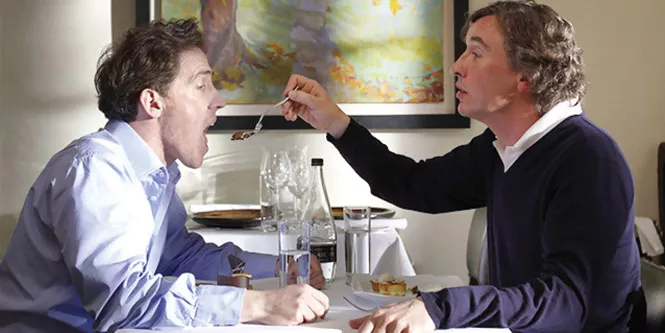 Early in The Trip To Italy, stars Rob Brydon and Steve Coogan discuss sequels. "It feels odd doing something for a second time," Coogan says, in the self-reflexive mode he, Brydon and director Michael Winterbottom worked with in the first Trip movie (the first was edited down from Series 1 of the BBC program The Trip; the sequel is from Series 2) and originally in the underseen Tristram Shandy: A Cock & Bull Story. So, in a sense, it's the third time—but it doesn't feel odd to watch in any way, unless oddly delightful counts.
It's tempting to speculate how much of the improvised banter between Brydon and Coogan as fictionalized versions of themselves reflects reality, although doing so is a distraction from the appreciation of how sublime that banter is. The rhythms of it are like music, with meandering free association leading into explosive dueling impersonations, all of which capture one of the truest (fiction or no) depictions of the lives of actors in cinema: Any friendship between two actors, no matter how genuinely loving and eternal, is fraught—or always in danger of being so—with insecurity and competition. Actors are rarely at peace, even more so when not working. Without making it the primary focus—merely a part of the environment as much as the bucolic landscapes Winterbottom intercuts, or the mouth-watering food preparation and dining sequences—the Trip movies are quietly among the best, and not-so-quietly among the most entertaining, movies about the lives of actors ever made.
The Trip to Italy is a step darker than the first, as a natural progression of the stars being that slight bit older and closer to mortality. The sense—already present in the first movie—of them not being as young as they once were progresses to the creeping fear that, suddenly, they're old. This leads one of our stars, much to his angst, to a somewhat desperate act, but one that he quickly suppresses beneath a protective layer of performance, as actors will do. The film's narrative moves on, as Winterbottom's camera observes here rather than judges.
Winterbottom's career, stylistically, has yielded a diverse body of work, with few tangible through-lines connecting one film to another. That has made it difficult to pin down his unique signature as an auteur—outside, of course, of that stylistic diversity itself. Interestingly, the most purely entertaining mode he's discovered is the one he employs in the Trip movies: a seemingly almost purely functional style highlighting the interplay and inner lives of Brydon and Coogan. A closer look, though, reveals the camera invariably in the most interesting position, a pace relaxed enough to absorb atmosphere and tone without becoming a slog, and an eye for evocative detail. This is how "a movie about two guys riffing at each other for almost the entire running time" is elevated from a misfire crippled by a limited premise to a truly wonderful movie, wherein two guys riff at each other for almost the entire running time.
Make no mistake: Winterbottom or no Winterbottom, The Trip to Italy, like its predecessor, relies on the irreproducible chemistry between longtime friends and frequent collaborators Brydon and Coogan. With two other actors, no matter how good, these movies are non-starters, but this becomes irrelevant when considering that these movies only exist because of Brydon and Coogan. For American audiences, at least, they're the best showcase Brydon has had to display his talents—which are those, with no hyperbole whatsoever, of a genius. His ability to shift gears between absolute silliness and genuinely affecting fear of mortality—a running preoccupation in The Trip to Italy—is peerless. Coogan, the more familiar of the two on both sides of the Atlantic, is equally good but less of a revelation, and because his "Steve Coogan" is the moody one and "Rob Brydon" is the cute, cuddly one, he naturally spends more of his time sulking, and only laughing under extreme duress.
But it is their combined forces that make The Trip to Italy every bit the delight its predecessor was. You were only supposed to blow the bloody doors off, and you did it just as well the second time.
THE TRIP TO ITALY