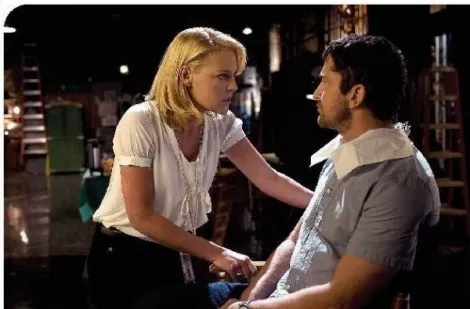 Twenty years ago—almost to the day—American moviegoers were introduced to Sally Albright in Rob Reiner and Nora Ephron's When Harry Met Sally. As played by Meg Ryan, she was a sunny but tightly wound city girl who found a perfect foil in loosey-goosey misanthrope Harry Burns (Billy Crystal). Sally owed more than a little to Holly Hunter's Type-A, scheduled-crying-jag TV news producer Jane Craig in Broadcast News, but she became the standard-bearer for a certain kind of romantic-comedy heroine, one we've already seen this summer in The Proposal: the sympathetic control freak.

The Ugly Truth arrives on this auspicious anniversary for the "rom-com" genre to remind us that it takes more than a list-maker with a pretty face to earn the "sympathetic" part of that character description. Katherine Heigl may be trying desperately to channel some Sally—and some Jane—into her performance, but that's not the same as giving an audience a reason to like her.
Heigl plays Abby Richter, whose occupation happens to be—watch out, Jane Craig!—a TV news producer. Overseeing a Sacramento morning show that's floundering in the ratings, she's also trying to find the perfect guy who will fit all the criteria on her checklist: being a "cat person," enjoying red wine, preferring tap water over bottled, etc.

Enter—as complication to both professional and personal life—Mike Chadway (Gerard Butler). The host of a raunchy public-access cable show called The Ugly Truth—in which he gleefully shoots down all romantic fantasies women may have about one-thing-on-their-mind men—Mike is brought in against Abby's wishes to give her show a spark. But when Abby wants to seduce her new neighbor, a hot doctor (Eric Winter), she grudgingly turns to Mike for advice on what a guy really wants.

We expect the predictable complications to play out before Abby and Mike (SPOILER ALERT!) figure out they're crazy about each other, and it's certainly not a problem that The Ugly Truth heads precisely in that direction. Director Robert Luketic (Legally Blonde, Win a Date With Tad Hamilton!) has a fundamentally strong sense for how to pace this un-ambitious brand of comedy, as well as how to pick solid comic performers—like John Michael Higgins and Cheryl Hines as a sniping husband-and-wife anchor team—for the supporting cast. As a result, the film lopes along just waiting for the moment when we start to care about when and how our protagonists will get their "happily ever after."

That moment, however, never comes. Butler (300, P.S. I Love You) can be charismatic enough in the right circumstances, but he seems hamstrung here by his efforts to chew through his Glasgow brogue and approximate an American accent. While the script—by Nicole Eastman, Karen McCullah Lutz and Kirsten Smith—tries to soften him up by giving him a nephew to mentor and a back-story of heartbreak, he's never particular convincing either as a crass misogynist or as a reformed crass misogynist.

And then there's Heigl, who seemed poised for a breakout in exactly this kind of role after Knocked Up. Yet, there's something fundamentally chilly about the way she comes off in The Ugly Truth. A character like this needs to be more than a ball-buster who learns to soften up; her complexity needs to make sense from the outset. Heigl certainly may be a game-enough performer to be willing to hang upside-down from a tree in the name of a sight gag, but that doesn't make her the kind of actress an audience will embrace—and it doesn't help that, when Mike says it "beats the hell out of me" why he loves Abby, it beats the hell out of us, too.

Heigl's also game enough to tackle what was clearly intended as The Ugly Truth's big "outrageous" set piece, in which—don't even bother to ask how—Abby ends up at a business dinner while wearing remote-controlled vibrating underwear, with the remote falling in hands of an oblivious young boy at a nearby table. It's impossible for the moment not to evoke When Harry Met Sally's legendary deli scene, as Abby squeals and contorts her way through an embarrassing presentation to her bosses. But in this case, it's outrageousness without a human context, just a ridiculous plot contrivance with a risqué punch line. The Ugly Truth simply doesn't give us the kind of story where we want to have what she's having.

THE UGLY TRUTH



Katherine Heigl, Gerard Butler, Eric Winter
Rated R