The Ultimate Summer Fest Survival Guide
Behold some tips and tricks for a happy summer concert season.
By Alex Springer
Much like the way local commuters forget how to drive during the first snowstorm of the year, the first few summer concerts need a bit of getting used to. Once the weather warms up, concert-goers are so excited to be out past sundown without their boots and gloves, that they tend to forget about the community of music lovers around them. Before you hit the festival circuit for some hot evenings of swapping sweat with your fellow humans, here are a few things to keep in mind.

Stay Hydrated
On paper, this is a no-brainer. We know that if we're going to be spending an extended period of time outside in the heat physically exerting ourselves, we gotta hydrate. However, not a year goes by—not a year—where I don't read about some poor soul passing out in the middle of the crowd because they haven't kept on top of their water consumption. Also, try to bypass the rationale that liquor has water in it, therefore drinking a lot of booze equals staying hydrated. Drink your booze (venue permitting), but make sure you've got some high quality H2O handy as well.
Sunblock
The sun doesn't officially set until well after 9 p.m., and it can still burn the shit out of you even if you're not soaking up rays in the middle of the day. In addition to the previous rule, this is just basic common sense if you're planning on spending more than 5 minutes out in the sunshine this summer. While we're on the subject, however, make sure you do your research on what sunblock you're using. There is all kinds of garbage in mainstream sunblock. California Baby or bust, man.
Bring hair ties
There you are, enjoying your favorite band under the sweltering July sun. The chorus of their best song is coming up, and you prepare yourself to belt out the words along with everyone else. As soon as you open your mouth, however, someone nearby whips their head around and you get a mouthful of their patchouli-smelling mop because they didn't tie that shit down. After multiple incidents of chowing down on some stranger's dreadies in the middle of a show, I see errant hair as a menace to concert society. If you've got long hair, bring a few hair ties along so it doesn't end up in someone's mouth. If you don't have long hair, bring a few hair ties just in case you need to wrap someone's do into a French bun so you can enjoy the show with a clean(ish) mouth.
Drink your beer before you head to the stage
I've never quite understood the logic of dropping six bucks on a beer and trying to navigate to the front of the stage with said beer intact. An open container of liquid will never win a battle against an undulating throng of people, but damn if people don't try. Even if your stealth skills are above average, your best case scenario involves a quarter of a full-price beer that has been blessed with the armpit sweat, frothy saliva and rogue boogers from dozens of audience members before it gets to your lips. At worst, you spill your drink all over someone else, who then has to spend the rest of the night smelling like someone dumped a beer on their head. Also, this person will inevitably be me, so just finish your beer before you go moshing.
Leave your open-toed shoes at home
I get it—sandals, flip-flops and other open-toed footwear are more comfortable as the weather heats up. But concerts are just not the place to expose the toes. In addition to the danger of getting all kinds of junk stuck to your feet (see above), it's an inalienable truth that someone who decided to wear their steel-toed monster boots is going to stomp the hell out of your foot at some point during the show. Find another way to get your body to ditch its excess heat so your toes can live long, unsullied lives.
Use smartphones sparingly
The temptation to record the entire concert—drunkenly spliced with extreme closeups of you and your squad living your #bestlife for all your followers—has reached critical mass. While this isn't really a rule as it is more of a suggestion, I've found that keeping those concert vibes that wash over me for myself instead of sharing them online is a nice change of pace. It lets me focus on the here and now instead of how much social media traffic it will generate, and it's really quite refreshing. Plus, it minimizes the risk that someone knocks your phone out of your hand and into the half-full beer that some dickhead didn't finish before trudging through the crowd.
Save room for food trucks
Food trucks are the rock stars of the culinary world, and outdoor concerts are when these mobile eateries shine their brightest. Most outdoor concerts will attract enough food trucks to keep things interesting, which helps whatever show you're seeing last a bit longer. Enjoying some finger food before the action kicks off not only ensures you'll have the sustenance to party, but it builds a nice anticipatory buzz that enhances the show itself.
Clean up after yourself
Outdoor concert venues are special, and they should be treated as such. Those garbage cans and recycling bins are there for a reason, so whenever possible, clean your shit up. That's pretty much the only thing to remember about this guideline.
Finally, don't be a dick
If you remember this cardinal rule of elite concert-goers, everything else tends to fall in line. Outdoor concerts are shared experiences, and you get the best results when you tap into that. Freak out with a group of strangers, absorb the crowd's energy and have a good, hair-tied time—just make sure it's not at the expense of others who are also trying to enjoy themselves. Ubuntu, man, ubuntu.





Rock It, Man!
Thrills, spills and that treasure known as Marie Osmond fleck this summer festival season.

By Peter Holslin

Blues, Brews & BBQ
Sundays through Sept. 8
Snowbasin Mountain Resort
snowbasin.com
How to pregame: Treat yourself to an extended rest just as the black bears of Mount Ogden do during the wintertime so that you can come prepared for a gut-busting bounty of smoked meats and local beers, all provided on site along with soulful party bands like Dirty Revival (playing July 28).
What to wear: It can get chilly up there, so don't forget a humongous bear-skin pelt like the one Leonardo DiCaprio wears in The Revenant.
Essential souvenir: An official Blues, Brews & BBQ festival mug, which will get you discounts on refills all day.
Burning question: How many pounds of brisket can a man devour in one sitting?

Ogden Twilight
Through Sept. 27
Ogden Amphitheater
ogdentwilight.com
How to pregame: Fire up Spotify and catch up on your indie music knowledge because the lineup is packed with amazing touring acts like The Flaming Lips (July 18), Iron & Wine (Aug. 21) and Iceland's Of Monsters and Men (Sept. 17). The last thing you want is to look uncool in front of hipster college kids.
What to wear: Black leggings. RVCA bucket hats. Tattoos. Just please, white people, save the culturally insensitive Native American headdresses for Coachella.
Choice pickup line: "I was the sixth backup guitarist for Arcade Fire once."
Burning question: Can Wayne Coyne tell us how he got the name for his new baby boy, Bloom?
Salt City Sounds
June 13-July 27
Gallivan Center
saltcitysounds.com
How to pregame: Hit the treadmill at full sprint then douse yourself with a bucket of cold water—this might be an all-ages downtown fest, but be prepared for things to get steamy during performances by dance music heartbreakers Empire of the Sun (June 22), Chromeo and AlunaGeorge (both playing the Complex June 23) and Kaskade (July 27).
What to wear: Comfy T-shirt, stylish dancin' shoes.
Who to bring: The guy or gal you've been dying to make out with as the beat drops during Kaskade's "Us."
Burning question: Wait, I can't bring a selfie stick inside??

Usana Concert Series
June 14-Sept. 25
Usana Amphitheatre
livenation.com
How to pregame: Depends. If you're here for Train and Goo Goo Dolls (June 18), then go ahead and make other plans because those bands suuuuuck.
What to wear: For Jason Aldean (July 27), your favorite cowboy hat. For Shinedown, a bespoke suit vest and tie. For Kiss (Sept. 14), quality face paint that won't melt in the heat.
What to post: A selfie of you and your LGBTQ boo embracing in front of a pride flag at LoveLoud Fest (June 29).
Burning question: Is Lynyrd Skynyrd (Sept. 20) as tired of "Free Bird" jokes as the rest of us are?
Utah Blues Festival
June 14 & 15
Gallivan Center
utahbluesfest.org
How to pregame: Lose the love of your life to your best friend, gamble away your savings at a Vegas casino, and spend a few days sleeping in the gutter. That way you'll have a solid understanding of "the blues" just in time to see Tab Benoit let it all out on the six-string.
What to wear: Ray-Bans, a black fedora and John Belushi's sideburns.
What to throw onstage: The last remaining dignity of a downtrodden soul.
Burning question: Can a broken heart ever mend?


Twilight Concert Series
Weekly, July 20-Aug. 30
Gallivan Center
twilightconcerts.com
How to pregame: Think deep on Long Beach hip-hop history for Vince Staples (Aug. 8). Practice your Australian accent for Courtney Barnett (Aug. 15). Channel your spirit animal to appreciate the luminescent pop of Santigold (Aug. 30).
What to wear: Supreme hats, indigo shawls, booty shorts. Don't worry about it. Just do you!
What to eat: Something either really healthy or really fatty but delicious from the food trucks.
Burning question: Wait, this fest isn't named after those vampire books, is it?

Red Butte Garden Concert Series
Through Sept. 23
Red Butte Garden Amphitheatre
redbuttegarden.org
How to pregame: Weave your own wicker chair out of wild reeds harvested from the banks of the Bear River so you'll have some place comfortable to sit on the lawn as acts like Greensky Bluegrass (June 27), Seal (July 18) and The B-52's (Aug. 16) take the night away.
What to wear: Casual attire sourced from environmentally friendly cotton buds and made on a 19th-century loom.
What to drink: Home-brewed honey wine and Blue Sky Organic Soda from Trader Joe's.
Burning question: Can we visit the rose collection to see what it's really like to be "kissed by a rose on the gray," as Seal puts it?

Deer Valley Music Festival
June 28-Aug. 10
Deer Valley Resort
deervalleymusicfestival.org
How to pregame: With Ogden native and LDS member Marie Osmond set to perform with the Utah Symphony on June 29, this is the perfect time to gather your younger siblings and cousins for a crash course on '70s classics like "One Bad Apple" and Donny & Marie.
What to wear: Pressed slacks and fresh undergarments.
What to bring: Musical instruments for a family jam session in the parking lot afterwards.
Burning question: Will any other Osmonds be making a surprise appearance for a rousing rendition of "Utah, This is the Place"?

Stadium of Fire
Thursday, July 4
LaVell Edwards Stadium
freedomfestival.org
How to pregame: A summer's worth of all-American events culminates on the Fourth of July with a performance by none other than Keith Urban—the greatest New Zealand-Australian-born country crooner to ever grace U.S. soil. Get up to date by rewatching seasons 12-15 of American Idol when he was a judge on the show.
What to wear: Tri-cornered hats, powdered wigs, and anything else patriotic. Australian flag capes also acceptable.
Pre-show download: Make sure to get the official Stadium of Fire ringtone.
Burning question: Seeing as Urban is married to Nicole Kidman, corner him and ask: Who's gonna take the fall for Perry's death on Big Little Lies?
Country Fan Fest
July 25-28
Deseret Peak Complex
countryfanfest.com
How to pregame: As the name of the event suggests, this one's for country fans. So if you want to come, then make sure you're either really into Luke Combs and Cody Johnson, or you can at least fool people into thinking you are, ya big poser.
What to wear: A 10-gallon hat—or a baseball cap if you're going for that sought-after Rodney Atkins look.
Necessary supplies: Concertgoers can camp out over the weekend, so make sure to come prepared. Several cases of Natty Light's Naturdays should do the trick ("hey maw, it tastes like flamingo!")
Burning question: Is Randy Houser's newborn son Huckleberry named after anyone specific?
Das Energi
Aug. 16 & 17
The Great Saltair
dasenergifestival.com
How to pregame: Drink lots of water, align your chakras, brush up on your vape tricks and "glow-gloving" skills. You'll need all the endurance and kandi energy you can get to last you through the weekend at this oomph-oopmh-centric EDM shindig.
What to wear: As many colors, patterns and fabrics as can possibly fit on a raver bikini. Mukluks highly encouraged.
What not to bring: Totems—they're banned, sorry.
Burning question: When's the drop?!

Reggae Rise Up
Aug. 23-25
Heber City
reggaeriseuputah.com
How to pregame: Clean your dreadlocks while listening to Bob Marley's Legend. Rewatch The Harder They Come. See if you can get your hands on some of those weed gummies that Jim Dabakis ate on camera last year.
What to wear: Two words: Hemp tuxedo.
What to do: Lay in festival hammocks, gaze up at clouds.
Burning question: Was Sublime really that good, though?


Small But Mighty
Want to escape mega-arena hell? Give this trio of compact venues a go.

By Scott Renshaw
The summer concert season is, understandably, often synonymous with the biggest acts in the biggest venues. The hottest music acts in the world hit stadiums and huge arenas to capitalize on good weather and youngsters with summer job money burning holes in their pockets. Those shows can be some of the most memorable concert experiences the audience members will ever have—yet there are other places to see summer shows beyond those biggest venues.
If you've reached a point where you prefer your performances on a slightly more intimate, less logistically-intimidating scale—or even if you just like revisiting acts that take you back to a more innocent time of your life—consider taking in a show at some of Utah's smaller venues. These spots offer a unique combination of big names, nostalgia appeal and up-close-and-personal seating, at a value that doesn't require taking out a second mortgage.


Ed Kenley Amphitheater
At a capacity of 1,800, this venue celebrates its 25th season with a mix of still-rising stars and veterans of the music wars, plus performers delivering stage and screen classics. A decade ago Colbie Caillat was all over the charts with effervescent hits like "Bubbly" and "Fallin' for You"; now she's touring with her newly-formed band Gone West (July 22). Grammy nominee Oleta Adams (July 11) offers up soulful gospel stylings, along with the signature song "Get Here" which became a de facto anthem during the first Gulf War. Tennessee-based bluegrass band—and 2019 Grammy winners—the Travelin' McCourys (July 27) continue the legacy of the founders' father, bluegrass legend Del McCoury. Lovers of The Great American Songbook can experience interpretations by Michael Feinstein (July 2) that he's mastered over a career spanning more than 30 years.
If you're looking to revisit your favorite songs of yesteryear, opportunities abound. Country stalwarts Lonestar (Aug. 6) delivers classics like "Amazed" and "I'm Already There," while smooth sounds of the '70s come courtesy of Pablo Cruise (July 20). You can "Hold On" for more than one more day for a chance to hear Wilson Phillips (July 30), or get back to the Hi Infidelity hits of REO Speedwagon (June 25). And if you want to get into somethin' good, experience Herman's Hermits starring Peter Noone (Aug. 29), still going strong some 50 years later.
Even if you can't see legendary acts in the flesh, talented performers still bring their work to life. AJ Croce performs the beloved songbook of his father Jim Croce in Croce Plays Croce (June 22). Songs by The Four Tops, Steve Wonder and many more grace the musical revue Forever Motown (June 29). If the recent Rocketman has you yearning for Elton John classics, get an earful at the Remember When Rock Was Young Elton John tribute (Aug. 10). Or take in a dose of Beatles hits during Imagine: Remembering the Fab Four (June 19). 403 N. Wasatch Drive, Layton, davisarts.org/events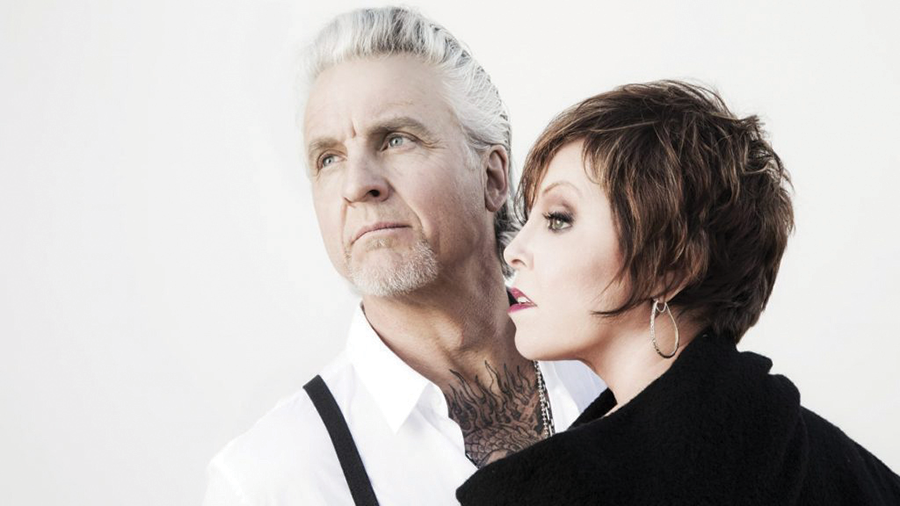 Sandy Amphitheater
With 2,000 reserved fixed seats and lawn space for another 750, Sandy Amphitheater provides a variety of ways to enjoy an outdoor show. Headliners include chart-topping, multi-award-nominated country sensation Lee Brice (June 25), performing hits like "A Woman Like You" and "I Don't Dance." A cappella country quintet Home Free (July 6) brings humor and heart to original compositions and interpretations of country and country-pop standards. Local favorite and Governor's Lifetime Achievement award recipient Peter Breinholt (Sept. 7) makes his annual visit to delight Utah crowds. Families with little ones shouldn't miss the Kidz Bop Tour (Aug. 30), an interactive concert showcasing young vocalists performing the latest pop hits.
The flashback hits run the gamut from the '60s through the '90s. Tommy James & the Shondells (June 22) take you back to the days of "Mony Mony" and "Crimson and Clover." It'll feel like the summer of '69 all over again when Brian Wilson and The Zombies (Sept. 19) co-headline a show full of vintage classics. The Bellamy Brothers (Aug. 16) give you a chance to "Let Your Love Flow" back to 1976. Gen X-ers get a couple of prime opportunities to relive the glory days of MTV: Pat Benatar and Neil Giraldo (July 16) bringing hits like "You Better Run" and "Love is a Battlefield," and the annual Lost '80s Live Tour, this year featuring A Flock of Seagulls, Wang Chung, Escape Club and more. Finally, co-headliners Collective Soul and Gin Blossoms (Aug. 27) offer a return to the heyday of alt-rock radio staples like "The World I Know" and "Hey Jealousy."
More tribute-band magic is on tap with another chance to catch the Beatles experience Imagine (June 21) if you miss them in Layton. Make it a double-feature with Satisfaction: The Internatioanl Rolling Stones Tribute (July 12) to answer that burning eternal question, "Beatles or Stones?" The glorious pop confections of ABBA take center stage for Arrival: The Music of ABBA (June 29), and Zeppelin USA (Sept. 13) look to provide a dead-ringer reminder of Plant, Page and co. 1245 E. 9400 South, Sandy, sandyamp.com
Egyptian Theatre
Escape the heat into the mountains of Park City, and take that opportunity to catch a show at the historic Egyptian Theatre, with fewer than 300 seats per show (hence the multi-night stands for those who stop in). Grammy Award-winning folk and gospel artist Patty Griffin (June 19-21) draws from her more than 20-year career, including her new self-titled/self-released album. Jefferson Airplane founders Jorma Kaukonen and Jack Casady bring their long-standing free-form jazz project Hot Tuna (June 27-29) for a night of acoustic jams. Janis Ian (Aug. 9-11) told us about learning the truth at 17 more than 40 years ago, but she keeps audiences learning her stories while touring with Livingston Taylor. Other headliners include singer-songwriter Martin Sexton (July 26-28) and legendary vocal trio The Lettermen (Aug. 30-Sept. 1). 328 Main, Park City, parkcityshows.com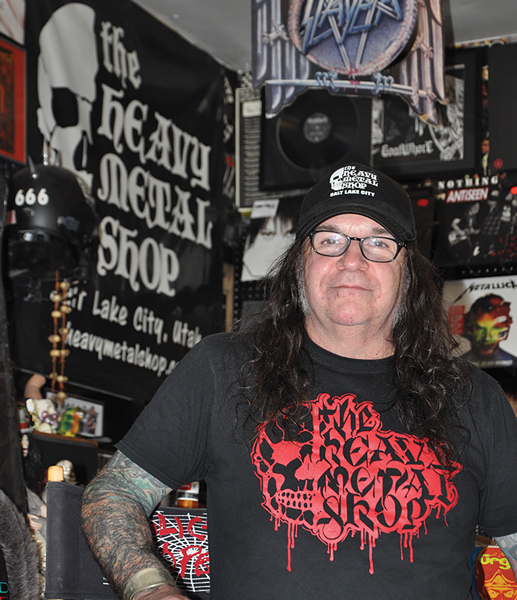 Concert for One?
Hit up these indie vinyl venues 'round town for the most intimate of experiences.

By Naomi Clegg
Albatross Recordings & Ephemera
Albatross recently moved a few blocks and is now housed inside Oliver & Princess Natasha's Unique Home Décor, which offers a collection of the distinctive and obscure. It's a treasure trove for vintage clothes and décor, books, posters, antiques, local art and pins, tchotchkes galore, and, of course, records. Come here for rarities you didn't know you wanted (think: obscure horror-film soundtracks) stocked by proprietor Timo Hatziathanasiou.
25 S. Kensington Ave. , Ste. A, instagram.com/albatrossrecslc
Diabolical Records
Diabolical Records is, well, diabolical, in the very best sense of the word. Owners Adam Tye and Alana Boscan met at a party and bonded over music; now, they channel their music nerdiness into one of the coolest shops in town, with an extensive selection of local and indie music (think: what the kids are into) and regular, intimate shows by local and national acts, always at 8 p.m. and always affordable.
238 S. Edison St., 801-792-9204, diabolicalrecords.com
The Heavy Metal Shop
Proprietor Kevin Kirk has been "peddlin' evil since 1987." THMS is the place for metalheads, and not just the local variety—Kirk has earned well-deserved respect from the metal elite, including thrash metal OGs Slayer. Along with metal records and their ilk, the shop stocks a vast selection of THMS merchandise—down to baby-sized tees.
63 Exchange Place, 801-467-7071, heavymetalshop.com
Randy's Record Shop
Randy's is the daddy of SLC record stores. Founded in 1978 by Randy Stinson, this 900 South standard is known for having—or finding—the elusive. The well-stocked shop is manned by a knowledgeable, helpful staff. Look here for what you can't find elsewhere—and watch out for quarterly $2 vinyl sales held across the street.
157 E. 900 South, 801-532-4413, randysrecords.com
Raunch Records
This punk-rock skate shop, opened by Brad Collins and company in 1984, reopened in 2009 after an 11-year hiatus. The Sugar House emporium is a hardcore and punk-rock mecca that also stocks a full selection of skate decks, grip tape and wheels, along with books, comics and art prints. Don't expect a Hot Topic vibe—this place is the real deal.
1119 E. 2100 South, 801-467-6077, facebook.com/punkrockskateshop
Sound & Vision Vinyl
Brooklyn-born Mike Maccarone earned his music chops hanging out in NYC during the early days of punk and fronting classic punk-rock band Dead Virgins. Having made his way to Utah, Maccarone opened his old-school record shop in 2015 and stocks rock 'n' roll classics from The Beatles to Bowie. Stop by to say hi and chat up the latest ... and or greatest in vinyl.
3444 S. Main, 385-229-4165, soundandvisionvinyl.com
But, wait. There's more!
Graywhale Entertainment
The University location of this used-and-new record and CD establishment recently shut down, to the horror of local fans. But don't fear—you can buy, sell, and trade vinyl and CDs at three other locations, in Sandy, Ogden and Taylorsville. Visit for an FYE-style one-stop-media shop, with DVDs, books, video games, collectibles, and a vast selection of music new and old. Or, check out the Graywhale's massive inventory on their website.
Multiple locations, graywhaleslc.com
Lavender Vinyl
Blake Lundell and Kylee Hallows have worked in indie record stores up and down the Wasatch Front for more than a decade. In 2016, they made their dreams come true when they opened up a record shop of their own in lovely downtown Ogden. The duo carry everything from indie rock and metal to world music and hip-hop; Hallows specializes in "lady-driven" music. Buy and sell here!
123 25th St., Ogden, 385-240-0336, lavendervinyl.com
3hive Co-op Shop
Started by three friends (thus the name), 3hive began as a blog and music-streaming site in 2004, when the trio shared their music faves with fans. In fall of 2018, Sam Cannon, Sean Ziebarth and Jon Armstrong, plus a collection of music-loving friends, opened the doors to a cozy record jukebox shop across from the Provo City Library; the weekends-only shop features new music and frequently hosts local artists like Mindy Gledhill and The Moth & The Flame.
50 E. 500 North, Ste. 105, Provo, 801-900-3116, 3hive.com

A version of this article appears in our 2019 City Guide. Pick up your copy today wherever you find our paper.
Hit Us with Your Best Shot
Six local photographers share some of their killer concert pics.
"Band interaction with the audience has always existed with crowd surfing to Flaming Lips Zorb rolling, but STRFKR took it to another level on this particular tour stop at The Depot with their usual dancing troupe of friends in animal/astronaut costumes, but then 'surfed' the audience in a confetti shower. They always bring great energy to every show and for this I salute you Space Cowboy. Ride on."
—Josh Scheuerman,
joshscheuerman.com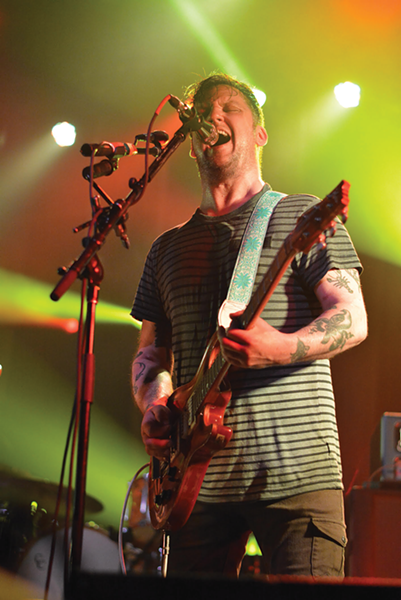 "I first saw Modest Mouse, I believe, in 1994 open for Built to Spill at The Bar & Grille playing an all-ages show. I've tried to see them every time they come on tour, and they have never disappointed. From early DV8 days to The Saltair and most recently at The Complex, each tour has a full catalog stacked setlist and always seems to carry the energy with you for days afterwards. This Issaquah, Wash., singer can put a spell on you."
—Josh Scheuerman,
joshscheuerman.com
"Then there's this one ... and all I can say about this one is it captures a moment when I felt the collective esteem of Ogden jumped up several levels. It was a moment were everyone said, 'Yeah, Ogden is fucking awesome.' It was the summer that Jared Allen outclassed Salt Lake City with a great music lineup. That summer night, the crowd showed the Flaming Lips just how fun Ogden could be—and it was awesome. So awesome, they are coming back this summer."
—Steve Conlin,
steveconlinphoto.tumblr.com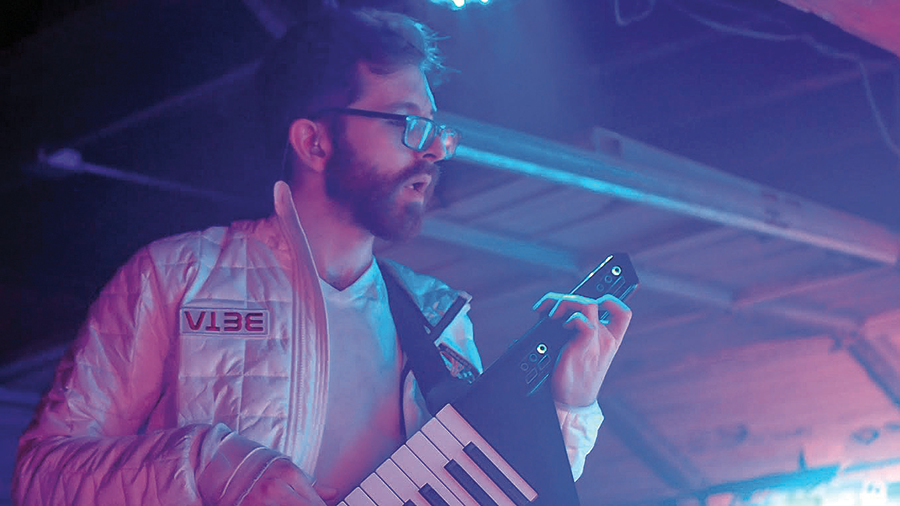 "This is Luke Moellman of Great Good Fine OK at Kilby Court on Jan. 24, 2017. They're a great, energetic band with a tight-knit fan base. It meant a lot that they recognized me by name and let me get some shots of their show. Plus, what's not to like about a keytar?"
—Oliver Dahl,
oliverdahl.com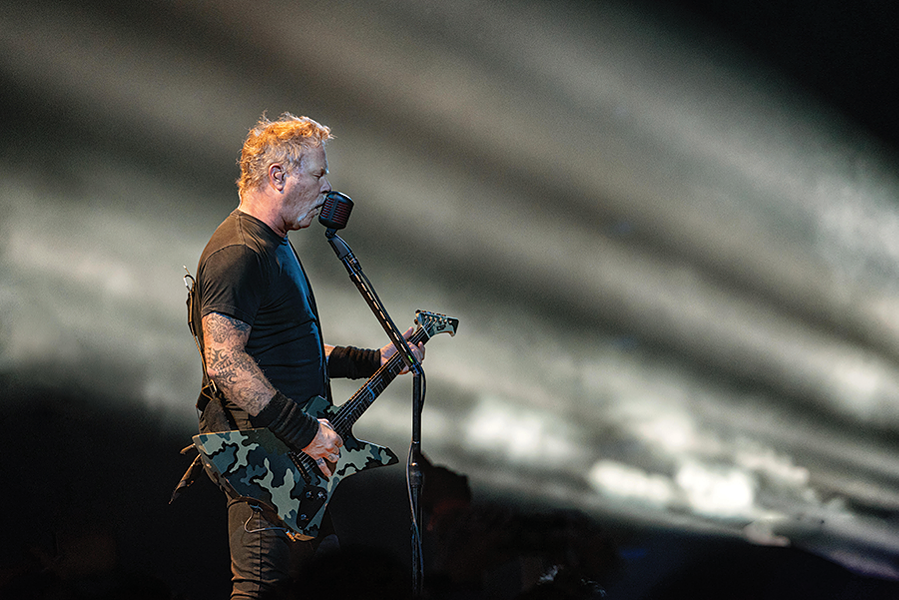 "Here is a photo that is of significant importance to me. Metallica has been the No. 2 band on my bucket list of top bands to shoot. I have seen them in concert 10-plus times. This was my first chance to shoot them, and they did not disappoint. This photo is of James Hetfield playing live at Vivint Smart Home Arena."
—Brandon Mizar,
facebook.com/mizarphotography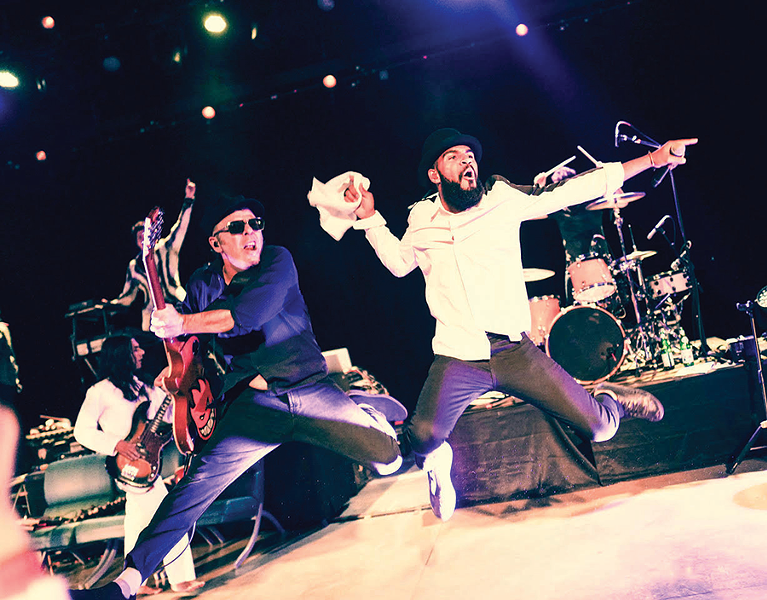 "I'm going to go with this pic of Thievery Corporation at last year's Ogden Twilight. To me, shooting a music event, the challenge in my head is, 'Can you capture the essence of the whole concert in one picture?' I think this photo does that. Everyone who walked away from that show was dripping with sweat, had bought into the energy of the band and been treated to a great night of music. To me, this image captures what we all felt."
—Steve Conlin,
steveconlinphotography.com
"These are pictures of Full Of Hell playing at Kilby Court on 5/29/19. These pictures are really significant to me, because it really shows the progress I've made so far as a photographer. The first time I ever brought a camera to a show was when I first saw Full Of Hell three years ago at Diabolical Records when I was 16 years old. And just a few weeks ago their manager, Justin Louden, brought me out to officially take photos for them. It was such an honor to take photos for one of my all-time favorite bands! It was a ridiculously fun show and I'm glad they brought me out to document it."
—Tyler Lynn
industrialforestphotography.com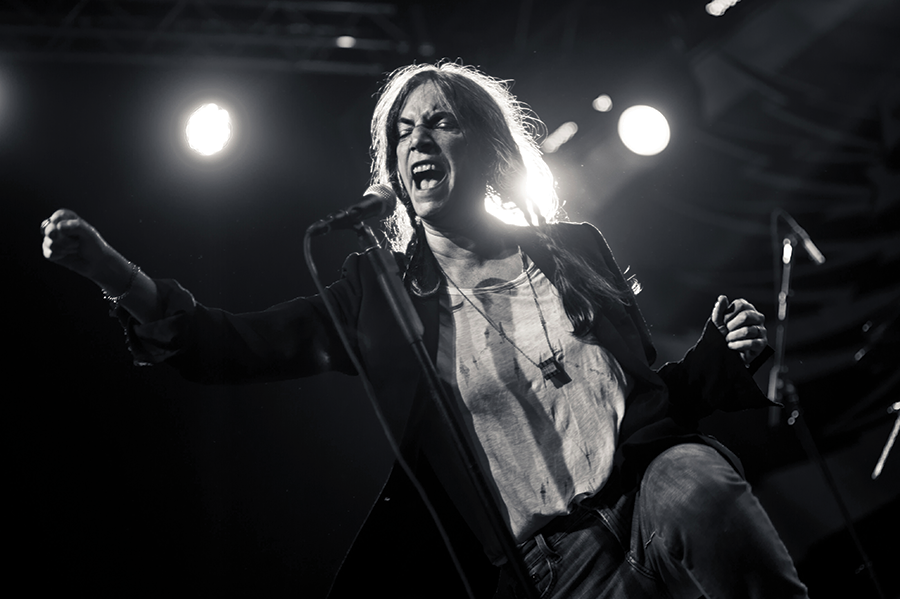 "One of the cool things about shooting artists and musicians is that sometimes, just sometimes, you get to be up close to your heroes—even if they're from before your generation. I first saw Patti Smith at a summer festival when she was 66 years old, and she gave me chills as she snarled, spat and sang through her ageless repertoire like she was 20. I kept having to remind myself to shoot ... and I'll never forget this one."
—Jesse Justice,
jessejusticephotography.com


Break on Through
Rock biopics to headbang to in a darkened, air-conditioned room.

By David Riedel
Because the Queen biopic Bohemian Rhapsody made a bajillion dollars and inexplicably won some awards, every other movie story I'm reading lately is about some hotter, sexier, music biopic in the works. Rocketman, the Elton John flick—directed by Dexter Fletcher, who has a long and tortured history with Bohemian Rhapsody—recently hit screens, but if there's anything I like less than Elton John's melodies it's Bernie Taupin's lyrics. ("If I was a sculptor, but then again, no." GTFOHWTS.) So consider that one skipped until awards season, when I'll be forced to watch it.
And for that matter, skip Bohemian Rhapsody. Rami Malek's it-almost-works performance as Freddie Mercury aside, the movie is standard music biopic cookie-cutter crud: humble beginnings, bright lights/big city, fall from grace, eventual gaining of wisdom and self-respect, complete with a lot of diversions from the real band's story. (Normally I don't harp on alternative film facts, but making believe Queen broke up for a few years before Live Aid is some bullshit.) Plus, Gwilym Lee, as Queen guitarist Brian May, didn't get the props he deserved for nailing May from top to bottom.
In the near future, assuming Satan still holds the strings, we'll be set upon by movies about John Lennon and Yoko Ono (no one liked John and Yoko together in real life, but sure, the punters'll queue up for the big screen version); Lynyrd Skynyrd (spoiler: a bunch of them die in a plane crash); Journey (working title: Milking It); and if Roger Daltrey's memoir is to be believed, he's gonna make a movie about The Who's drummer Keith Moon. (Maybe the screenwriter will reveal Pete Townshend used all those synthesizer loops as click tracks for Moon because the guy couldn't keep time.)
So while you're waiting with bated breath for California Über Alles: The Jello Biafra Story (I wish), here are 11 music biopics that have at least one good thing in them (though I can't call these recommendations; I'm just not that cruel).

The Runaways
Dakota Fanning isn't quite right as Cherie Currie, but Kristen Stewart was born to play Joan Jett, and her performance as the future superstar leaps off the screen while Fanning kinda stands there looking uncomfortable. Also weird: Alia Shawkat plays the bassist, but not the real Runaways bassist, who wouldn't allow her name to be used in the movie. There are worse things than hearing "Cherry Bomb" approximately 40 times in one sitting, though.
Backbeat
Everyone has forgotten about this Beatles-before-they-were-famous story, and for good reason: It's crap. Nah, I'm kidding. It's highly watchable, and it's the one time you'll look at Stephen Dorff without wishing you could punch him in the face. He plays Stu Sutcliffe, Beatles bassist and real-life BFF to John Lennon (Ian Hart, quite good) and the film focuses on their relationship with photographer Astrid Kirchherr (Sheryl Lee). Greg Dulli, the tone-deaf Afghan Whigs singer, does Hart's singing, and that's the only demerit Backbeat earns.
The Doors
As a big fan of The Doors' music, I saw this Oliver Stone flick about six times during its initial release. I saw it a year ago (for the first time in 20 years) and realized Jim Morrison (Val Kilmer) was a serious asshole: drunk, violent, with a huge ego and low self-esteem. Just the kind of person you want to spend 140 minutes watching. Kilmer is perfect, and Kyle MacLachlan is a solid Ray Manzarek, but viewing The Doors made me feel like I did when I watched Reality Bites as an adult: Every character in this movie is a dick.
Get on Up
You've never heard of this 2014 James Brown biopic because Universal let it come out and take a shit (release date: August 1, a movie dead zone). But Get on Up is worth a watch for Chadwick Boseman's super-committed portrayal of Brown. I'd say he chews the scenery, but that's not really fair; I'm pretty sure James Brown did chew scenery (I made that up). Get on Up gives you a chance to compare Boseman's performance here to other famous men he's played (Thurgood Marshall and Jackie Robinson), and there are more time jumps than in a Tarantino film. Get on Up is a hoot, Boseman an excellent godfather of soul.
Amadeus
Ah, Wolfgang Amadeus Mozart. The first rock star. I know it's cliché, but think about it: He had weird hair, was possibly mentally ill, drank too much, wrote music that made people scratch their heads and died young. Tom Hulce is an appropriately impudent Mozart, F. Murray Abraham a comically fiendish Antonio Salieri, and Jeffrey Jones is a riot as Emperor Joseph II (but the less said about Jones the better). If you drink each time Mozart's wife Constanze (Elizabeth Berridge) yells "Wolfie" you'll be dead in an hour.

Straight Outta Compton
Any movie that prompts a tweet from MC Ren that goes like this: "Man fuck these bitches at universal pictures leaving me out the movie trailers tryin to rewrite history," deserves a look. Also worth noting in this big-screen version of the N.W.A. story: How Ice Cube's son O'Shea Jackson Jr. looks exactly like his father (whom he plays) but also doesn't. It's trippy! I find this movie less enchanting than most critics—another flick that leaves out or changes verifiable (major) facts—but it still has its moments. Plus, N.W.A. was great; they deserve a spin a month.
Sid and Nancy
Now here's a story that should be hard to watch: Talentless Sex Pistol Sid Vicious (Gary Oldman) and his girlfriend Nancy Spungen (Chloe Webb) do a lot of smack, he stabs her (maybe on purpose; no one knows for sure in real life and the movie leaves it vague), she dies and then he finds her alive in a taxi that takes them to heaven, or at least off the studio backlot. Oldman and Webb burn up the screen, and director Alex Cox makes heroin look really appealing ... until the violent death, anyway. If you can handle squalid, Sid and Nancy is for you.
All Eyez on Me
For a guy who never acted before, Demetrius Shipp Jr. plays the hell out of Tupac Shakur. If only the movie were up to his level. The dialogue is flat, the drama is predictable, even for a story we (mostly) know and everything takes f-o-r-e-v-e-r to happen. By the hour mark, I was praying for Tupac's demise, which I'm certain is not the reaction the filmmakers want from the audience. But Shipp makes it almost worthwhile. Almost.
The Buddy Holly Story
It's hard to fathom now, but there was a time when Gary Busey wasn't a punchline. The Buddy Holly Story is Busey pre-motorcycle accident, pre-Entourage, and pre-Jake Busey, so it's easy to get lost in the elder Busey's performance, which is a marvel of both commitment and restraint. Critics Vincent Canby of The New York Times and Gene Siskel of the Chicago Tribune both used the word "galvanizing" to describe Busey's work, so you know it's legit. (Seriously, though, Busey is unreal. Rumor has it his teeth were lengthened to resemble Holly's. Really.)

Love & Mercy
Paul Dano, as young Beach Boy Brian Wilson, can't save this picture from John Cusack, as old(er) Brian Wilson. Cusack's inherent Cusackiness makes for a mannered Wilson, though he should be given points for trying. There are some artsy touches here—the opening sound montage, for example, and some nifty camera work, especially during the 1960s stuff—but otherwise this is standard biopic fare. Too bad. It's nice to see Dano successfully step outside his inherent Paul Danoness. He really nails Brian the younger.
Walk Hard: The Dewey Cox Story
"Dave," you say, "This isn't a real biopic." No, it isn't. But it's better than many, many biopics out there (let's start with
Bohemian Rhapsody
), and mostly because it sends everything up that came before it. Unfortunately, just because it's a send-up doesn't mean it's good. It means most other biopics are bad. But John C. Reilly is fun, and because he's Cox, it's maybe worth ponying up the $2.99 it costs to rent on Amazon Prime.
Till next summer concert season, my friends!