Page 4 of 6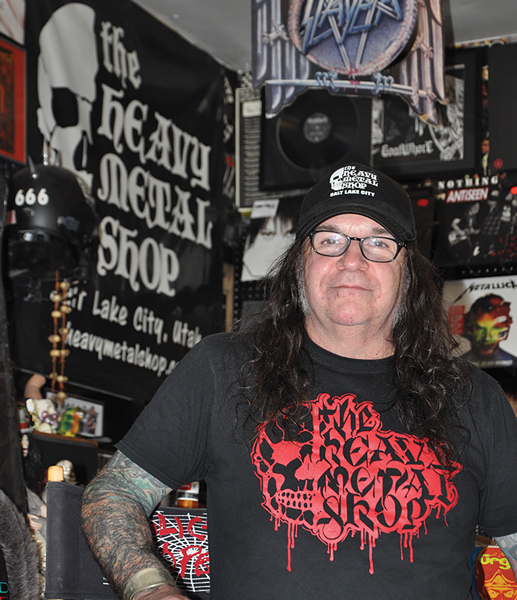 Concert for One?
Hit up these indie vinyl venues 'round town for the most intimate of experiences.

By Naomi Clegg
Albatross Recordings & Ephemera
Albatross recently moved a few blocks and is now housed inside Oliver & Princess Natasha's Unique Home Décor, which offers a collection of the distinctive and obscure. It's a treasure trove for vintage clothes and décor, books, posters, antiques, local art and pins, tchotchkes galore, and, of course, records. Come here for rarities you didn't know you wanted (think: obscure horror-film soundtracks) stocked by proprietor Timo Hatziathanasiou.
25 S. Kensington Ave. , Ste. A, instagram.com/albatrossrecslc
Diabolical Records
Diabolical Records is, well, diabolical, in the very best sense of the word. Owners Adam Tye and Alana Boscan met at a party and bonded over music; now, they channel their music nerdiness into one of the coolest shops in town, with an extensive selection of local and indie music (think: what the kids are into) and regular, intimate shows by local and national acts, always at 8 p.m. and always affordable.
238 S. Edison St., 801-792-9204, diabolicalrecords.com
The Heavy Metal Shop
Proprietor Kevin Kirk has been "peddlin' evil since 1987." THMS is the place for metalheads, and not just the local variety—Kirk has earned well-deserved respect from the metal elite, including thrash metal OGs Slayer. Along with metal records and their ilk, the shop stocks a vast selection of THMS merchandise—down to baby-sized tees.
63 Exchange Place, 801-467-7071, heavymetalshop.com
Randy's Record Shop
Randy's is the daddy of SLC record stores. Founded in 1978 by Randy Stinson, this 900 South standard is known for having—or finding—the elusive. The well-stocked shop is manned by a knowledgeable, helpful staff. Look here for what you can't find elsewhere—and watch out for quarterly $2 vinyl sales held across the street.
157 E. 900 South, 801-532-4413, randysrecords.com
Raunch Records
This punk-rock skate shop, opened by Brad Collins and company in 1984, reopened in 2009 after an 11-year hiatus. The Sugar House emporium is a hardcore and punk-rock mecca that also stocks a full selection of skate decks, grip tape and wheels, along with books, comics and art prints. Don't expect a Hot Topic vibe—this place is the real deal.
1119 E. 2100 South, 801-467-6077, facebook.com/punkrockskateshop
Sound & Vision Vinyl
Brooklyn-born Mike Maccarone earned his music chops hanging out in NYC during the early days of punk and fronting classic punk-rock band Dead Virgins. Having made his way to Utah, Maccarone opened his old-school record shop in 2015 and stocks rock 'n' roll classics from The Beatles to Bowie. Stop by to say hi and chat up the latest ... and or greatest in vinyl.
3444 S. Main, 385-229-4165, soundandvisionvinyl.com
But, wait. There's more!
Graywhale Entertainment
The University location of this used-and-new record and CD establishment recently shut down, to the horror of local fans. But don't fear—you can buy, sell, and trade vinyl and CDs at three other locations, in Sandy, Ogden and Taylorsville. Visit for an FYE-style one-stop-media shop, with DVDs, books, video games, collectibles, and a vast selection of music new and old. Or, check out the Graywhale's massive inventory on their website.
Multiple locations, graywhaleslc.com
Lavender Vinyl
Blake Lundell and Kylee Hallows have worked in indie record stores up and down the Wasatch Front for more than a decade. In 2016, they made their dreams come true when they opened up a record shop of their own in lovely downtown Ogden. The duo carry everything from indie rock and metal to world music and hip-hop; Hallows specializes in "lady-driven" music. Buy and sell here!
123 25th St., Ogden, 385-240-0336, lavendervinyl.com
3hive Co-op Shop
Started by three friends (thus the name), 3hive began as a blog and music-streaming site in 2004, when the trio shared their music faves with fans. In fall of 2018, Sam Cannon, Sean Ziebarth and Jon Armstrong, plus a collection of music-loving friends, opened the doors to a cozy record jukebox shop across from the Provo City Library; the weekends-only shop features new music and frequently hosts local artists like Mindy Gledhill and The Moth & The Flame.
50 E. 500 North, Ste. 105, Provo, 801-900-3116, 3hive.com

A version of this article appears in our 2019 City Guide. Pick up your copy today wherever you find our paper.