We need your help.
Newspapers and media companies nationwide are closing or suffering mass layoffs since the coronavirus impacted all of us starting in March. City Weekly's entire existence is directly tied to people getting together in groups--in clubs, restaurants, and at concerts and events--which are the industries most affected by new coronavirus regulations.
Our industry is not healthy. Yet, City Weekly has continued publishing thanks to the generosity of readers like you. Utah needs independent journalism more than ever, and we're asking for your continued support of our editorial voice. We are fighting for you and all the people and businesses hardest hit by this pandemic.
You can help by making a one-time or recurring donation on
PressBackers.com
, which directs you to our Galena Fund 501(c)(3) non-profit, a resource dedicated to help fund local journalism. It is never too late. It is never too little. Thank you.
DONATE
The Upside
Rated PG-13 126 minutes 2019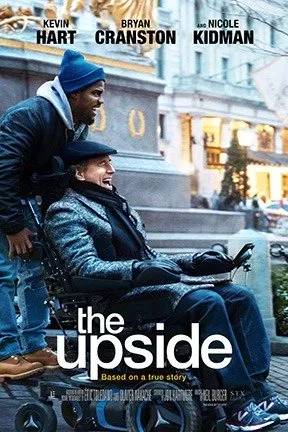 With an American remake of a non-English language film, you generally worry that something will be lost in translation. That's not really an issue with this remake of the fact-based 2011 French film The Intouchables, as director Neil Burger retains the almost aggressively feel-good sensibility. Ex-con Dell Scott (Kevin Hart), collecting signatures for his parole officer to prove he's applying for jobs, finds someone actually willing to give him one: Phillip Decasse (Bryan Cranston), a quadriplegic multimillionaire venture capitalist in need of a new "life auxiliary" to assist him with daily tasks. Naturally they both have Very Important Lessons to learn—Dell about taking responsibility for his life; Phillip about embracing life in spite of tragedy—that will involve broadly comic set-ups like Dell going into full gay panic about changing Phillip's catheter, and uptight white guy Phillip getting stoned. The two leads have a satisfying chemistry, and Cranston particularly conveys the prickly pride of a man who can't abide pity. The story simply skates past anything genuinely difficult, content to aim for the kind of easy smiles that find the same ready audience in any language.
Film Credits
Official Site: www.stxfilms.com/theupside/#about
Director: Neil Burger
Producer: Todd Black, Jason Blumenthal, Steve Tisch, Robert Simonds, Adam Fogelson, Andy Mitchell, Milos Brajovic, Chris Papavasiliou, G. Brown and David Bloomfield
Cast: Kevin Hart, Bryan Cranston, Nicole Kidman, Aja King, Jahi Winston, Genevieve Angelson, Golshifteh Farahani, Tate Donovan, Julianna Margulies and Suzanne Savoy