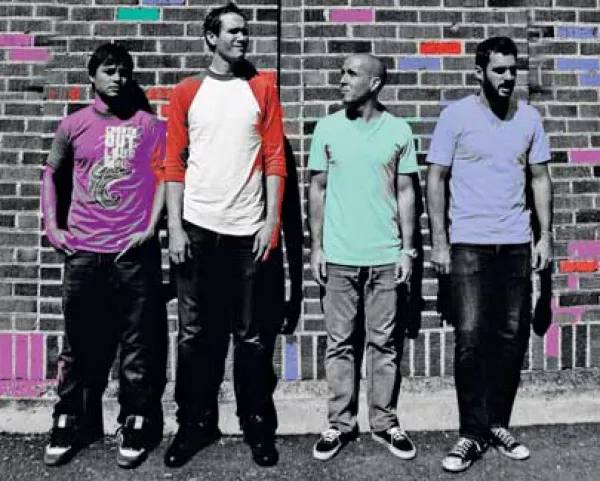 In a world of Kickstarter campaigns and musical ego-stroking, McKay Stevens shows sagacity. He's invested in social responsibility and community—the two tenets that he's banking on for his delicately balanced career in rock.
Stevens is the frontman and songwriter for Utah County's indie-hip-hop-rock band The Vibrant Sound, whose upcoming—and past two—singles have been for charity, each written specifically for a different nonprofit. "I want, with my music, to make a difference, whether it's touching an individual or giving the money made from a single to a nonprofit," Stevens says.
He juggles that project between his duties at Northplatte Records—which he co-founded with Joshua James—and working toward a Ph.D. in sociology at Brigham Young University. There's certainly overlap, especially with The Vibrant Sound and his studies. His research is about how the media affects people's cognition; specifically, how reading/hearing lyrics manifests itself in a person—fitting for someone who writes personal lyrics with a conscientious agenda.
On "The Industrial Revolution," from the band's 2009 self-titled debut, Stevens rhymes: "Then the television came and done stole the people's hearts, right/ We watch the violence on TV/ And don't realize it correlates with shootings in the streets/ The information technology grows exponential/ It's to improve our lives but decreases our potential." That could be his Ph.D. dissertation.
"The Proletariat" and "Abolitionist Newspaper" are also wrought with political undertones—aural messages cast through hip-hop rhymes and indie-pop melodies from his backing band in the vein of the Flobots. While Stevens has begun moving beyond beating listeners over the head and now writes more sly rhymes, the same fundamental reason why he started writing such songs has begot his current charitable path. "Other songs [on The Vibrant Sound] came from growing up really poor in the inner city [outside of Los Angeles] on welfare with a single mother," Stevens says. "The majority of my family never went to college. They are stuck because of what I see as an epidemic of the system."
The first tune for a nonprofit, "Raise Your Glasses," was written in 2011 for UNICEF's marketing campaign around World Water Day (March 22) and the Tap Project, which focuses on providing clean drinking water to developing countries. It is radio-friendly: beach-y and poppy, Ã  la a Jack Johnson number featuring G. Love.
That aesthetic has found itself on a promotional EP for this tour with The Knux. It's a small batch of tunes that fits together, a consumable piece of music that's more representational of where Stevens' current lyrical proclivities lie. The acoustic songs are less political and societal and deal with more relationship-oriented subject matter—the meaning of "Waiting" and "I Want You Around" is fairly easily distilled from the titles alone. The songs are laid-back and down-tempo.
Two Utah County-based musicians, Ryan Innes and Jake Kongaika (Cubworld), have helped with the new sound. Stevens also collaborated with them on The Vibrant Sound's second charitable song, "Make a Difference," for Big Brothers Big Sisters of America in fall 2011. "Part of my perspective is to partner with organizations I believe in," Stevens says. "Big Brothers Big Sisters would have been huge for me growing up, because I didn't have a dad around."
Stevens is savvy, though; he realizes he gets something out of this divergence. "I think philosophical debates can go back and forth between altruism vs. egoism. If altruism can exist, it's always coupled with some alternative motive," he says. Aside from increased publicity for The Vibrant Sound, he understands what evolutionary psychology (and Ayn Rand) has documented for decades: There's a little kick-back in giving. "I see myself in a lot of these kids, so it gives me a sense of integrity."
The third song in his nonprofit quiver isn't finished yet. "Share a Smile" was written for Operation Smile, a nonprofit that does operations in Third World countries to correct cleft palates. McKay's long-term plan is to collaborate with a wide variety of musicians for each song, and, hopefully, release one every few months with the proceeds going to a specific charity.
All of these songs got him thinking: The music industry's old business model has been tipped upside-down; it's not about making a record and doing a two-year touring cycle—no one really knows what it is right now; it's in flux. "The dinosaur is laid to rest. I'm trying to do anything. I believe social responsibility is huge, and branding," Stevens says. "Maybe working with charities is a way that music can survive, at least for me."
THE VIBRANT SOUND
w/ The Knux
In the Venue
219 S. 600 West
Thursday, March 22, 6:30 p.m.
$10