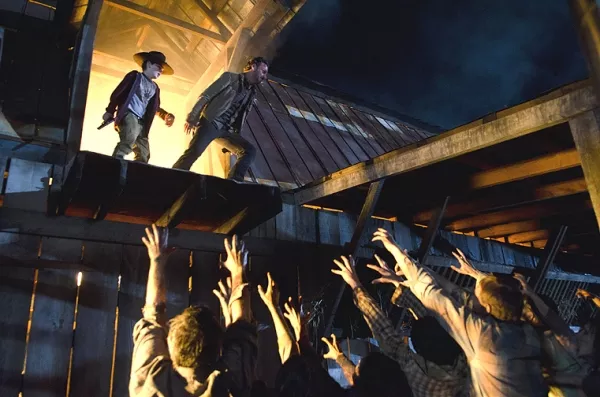 AMC
The Walking Dead
The Walking Dead
Saturday, July 7-Sunday, July 8 (AMC)
Marathon: All 19 episodes of Seasons 1 and 2 over two days, culminating with a black & white presentation of the pilot (uh, OK?) and a special episode of the Chris Hardwick-hosted Talking Dead recap/filler talk show on Sunday (in color, most likely). Sure, Hardwick will be presenting peeks at the upcoming Season 3 and interviews with The Walking Dead's stars, producers and celebrity fan-geeks but, more importantly, he'll tell us all about the show's presence at Comic-Con 2012, the new Walking Dead Social Game, the sweepstakes to win a "stagger-on" guest appearance and anything else AMC can wring out of zombie mania. Spoiler: Carl's never in the house!
The Closer, Perception
Monday, July 9 (TNT)
Summer Premiere, Series Debut: Kyra Sedgwick is hanging up LAPD chief Brenda Lee Johnson's thrift-chic outfits and Southern drawl after seven seasons of The Closer, the show that put TNT in the original drama game—just like The Shield did for FX, minus the body count and drugs (Brenda Lee's Los Angeles has no narcotics trade, apparently). The Closer made it possible for TNT to launch other excellent series like Leverage, middling fare like Rizzoli & Isles and Franklin & Bash, and some real WTF? calls like Hawthorne, Memphis Beat and the new Perception. Would you believe it, Eric McCormack (Will & Grace) as a brilliant-but-rumpled neuroscience professor/paranoid schizophrenic hired to work with the FBI? He's Monk, he's The Mentalist, he's … The Monkalist?

Opening Act
Monday, July 9 (E!)
Series Debut: Reality talent leech Nigel Lythgoe (American Idol, So You Think You Can Dance, the general decline of Western civilization) introduces his laziest "star-making" series yet, Opening Act. Get this: "Lythgoe and his A-List Artist Development Team [including Mary J. Blige and something called Antonina Armato] comb the Internet to find the Web's most talented amateurs, then give them the once-in-a-lifetime chance to open for a top music superstar." No judges, just cruising YouTube to stumble across some auto-tuned hayseed to warm up for equally "talented" "musical" acts like Nicki Minaj and LMFAO. If FX's Brand X weren't so firmly ensconced as The Worst New Show on Television, we'd have a contender here.
White Collar, Covert Affairs
Tuesday, July 10 (USA)
Season Premieres: Tuesdays on USA are once again really, really, really, really ridiculously good-looking; White Collar and Covert Affairs could probably just strip the storylines back to Matt Bomer and Piper Perabo making waffles for a couple of hours and they'd still kill the night in cable ratings. On White Collar, Neal (Bomer) and Mozzie (Willie Garson) are still in the wind after splitting the country to evade the FBI—can Peter (Tim DeKay) bring 'em back into the fold? I dunno, Neal & Mozzie Abroad sounds like an even better show. Then, on Covert Affairs, the smoldering sexual tension between Annie (Perabo) and Auggie (Christopher Gorham) gets smolder-er, and now there's even more smolderness with a new spy target (Richard Coyle).

Damages, Hit & Miss
Wednesday, July 11 (DirecTV)
Season Premiere, Series Debut: Lady lawyers Patty (Glenn Close) and Ellen (Rose Byrne) have made it to the fifth and final season of Damages without killing one another—but there are still 10 episodes left, and there's a showdown coming, orchestrated by … Dharma? Jenna Elfman and Ryan Phillippe guest as this season's troublemakers; the latter as the founder of a WikiLeaks-esque website and all-around pain in the ass. On the new Hit & Miss, Big Love's Chloe Sevigny stars as a … "pre-op transsexual contract killer"?! Gotta get DirecTV.