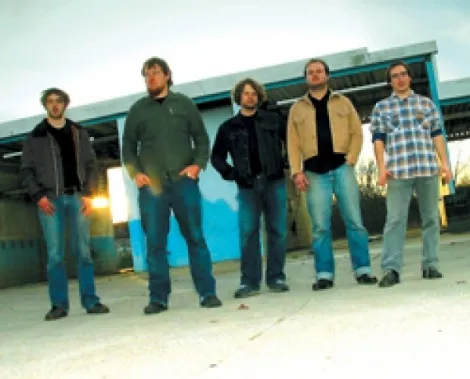 Jason Molina is calling from the United Kingdom, not Ohio, because things change. Just as his first noteworthy band Songs: Ohia eventually became
Magnolia Electric Co.
, his place of residence, too, has changed. Transience, you see, is his thing. By any other name, Molina's music is still about the temporariness of persons, places and things.
"The idea of being somewhere for a short time," Molina says, "and understanding that the people around you and the things around you know that you'll be leaving soon, and that you may have the obligation of being some sort of messenger while you're there, has been the theme of my songs since I was a kid."
Molina doesn't intend to assign any more value to his work than is justified. His message is more of a note-to-self, a journal and time capsule to help him understand the world and his journey through it. "A messenger is also an observer, in my way of thinking. I may just be just translating the world in song form and doing it out loud, where other people get to go home and listen to a record and piece together all of these imagined scenarios and connections they may or may not have to the songs."
Since there always seem to be new Magnolia Electric Co. music, Molina must observe and write feverishly, ever vigilant for the next piece of the existential puzzle. "It's more like panic," he laughs. "I'm sort of under this cloud of feeling like I don't have a good idea for what the next record's going to be; it's been a mantra of mine to start a new record when one is finished. I'm always writing; that doesn't mean it's going to congeal into a finished song cycle that's going to be a finished record."
For
The Sojourner Boxset
, a four-CD/DVD set of all-new material, Molina had a wealth of songs written largely while on tour behind MEC's 2006 album
Fading Trails
(Secretly Canadian Records). Although he'd tracked many of them with different bands and in a variety of cities and studios, Molina sensed that they all were connected in some way.
When approached by Secretly Canadian for a 10-year retrospective, he rejected the idea as distasteful because he's still writing and recording; he hasn't found an ending that would tie his work together. He presented the label with an alternative.
"Rather than do this retrospective," he told Secretly Canadian's Jonathan Cargill, "could I just put together a project that you can't say no to? And, if you do say no to it, then I will do the singles/rarities thing."
Although Molina always seems to have something up his sleeve, the label couldn't have expected the bounty he provided: enough material for three LPs, an EP and a DVD documentary. The arrangements, personnel and studios differed dramatically between the three sessions that yielded these songs, but Molina felt that breaking up all of the sessions to make a single record would be to deny the strength of the material.
"I had this group of songs that I had written, many on the road, because we tour a lot," Molina explains. "And I wanted to do several separate releases, but it seemed to me that they were somehow so connected."
Black Ram was recorded by David Lowery (Cracker, Camper Van Beethoven) at his Sound of Music studios in Richmond, Va., and features numerous guest appearances—among them Andrew Bird, Lowery and guitarist Rick Alverson. Shohola is a compilation of home recordings featuring only Molina on guitar and vocals.
The Sun Session EP
was recorded at the legendary Sun Studios in Memphis, Tenn., and Nashville Moon was recorded by Steve Albini at his Electrical Audio studios in Chicago (each featuring the essential MEC lineup). The film, The Road Becomes What You Leave, traces the band's tour of Canada's Prairie Provinces, showing the lonely, isolated world of a touring musician/sojourner. Included in the set is a map of constellations and a sort of amulet—ostensibly tools with which to navigate (and maybe ward off trolls).
Each piece is a singular statement, but all adhere to Molina's concept of ephemerality and observation and, in concert, work together to drive home his message. "Do people get it? I don't know, because I'm not putting out an explicit message. I'm really trying to leave a shadow of my own experiences, which I think are worthwhile. I think that's a good way to write a song."
What is the good way? Molina doesn't have a hard rule.
"I'm starting with a blank page every time," he says. "I think that's just consistently writing and trying to write a variety of songs and working within the confines of a theme has been a successful way of making records. It doesn't work for everyone."
MAGNOLIA ELECTRIC CO. The Urban Lounge, 241 S. 500 East, Wednesday, Aug. 22, 10 p.m. 24Tix.com
cw