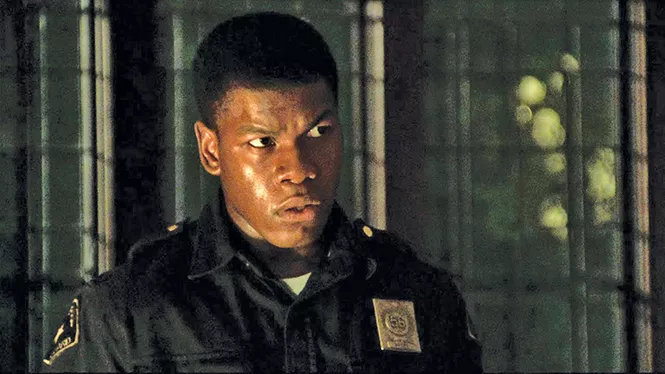 It probably doesn't need to be said, but Kathryn Bigelow's Detroit isn't really about Detroit. At least, it's not just about Detroit—though its narrative explores a horrifying real-life incident during the July 1967 race riots that left three young African-American men dead. When you're telling a story in 2017 about young, unarmed African-American men killed after encounters with police, there's no way for that story not to resonate into an agonizing history of unaccountable authority and unanswered questions.
Bigelow's approach in Detroit, however, is perhaps even more daring than that. The Oscar-winning director has shown her talent for exploring the brutality and psychology of warfare in The Hurt Locker and Zero Dark Thirty, and it's no accident that she had her screenwriter for those movies, Mark Boal, also adapt this story. As much as Detroit recounts the brutal specifics from a grim American moment, this isn't simply historical drama. This, as much as the current hit Dunkirk, is a harrowingly immersive war movie.
Boal's screenplay shows its unconventionality from the outset, introducing the event that ignited the Detroit riots—a police raid on an unlicensed after-hours nightclub in a predominantly black neighborhood—without focusing on any of the characters who will become the primary players in the movie's story. Yet that setup becomes a pivotal context for the outrage, as the raided club is hosting a welcome-home party for black soldiers returned from Vietnam. Muhammad Ali's infamous quote—"No Vietcong ever called me nigger"—can briefly be seen framed on the club's wall, and Detroit establishes a time when men who were serving their country to protect freedom didn't experience it.
Eventually, the film introduces the three primary narrative threads. A racist Detroit cop with an itchy trigger finger, Krauss (Will Poulter), shoots a fleeing looter in the back, but is returned to duty during the state of emergency. Machinist Melvin Dismukes (John Boyega), moonlighting as a security guard protecting a grocery store, tries to save black youth from the threats to their lives by local cops, state police and the National Guard. Aspiring singer Larry (Algee Smith) and his friend Fred (Jacob Latimore) get stranded in the conflict zone after their bus is attacked by rioters. Their lives tragically intersect at the Algiers Motel, when police, fearing sniper fire, storm the building and spend hours physically and emotionally assaulting everyone they find, trying to determine who the gunman was—even as it's not clear there ever was one.
That centerpiece sequence takes up the bulk of Detroit's running time, and it's one of the year's most devastating pieces of filmmaking. Barry Ackroyd's hand-held cinematography captures the chaos and sheer terror of the confrontation; every gunshot and shotgun butt to the ribs carries into the audience. Bigelow pulls fantastic performances out of her cast members, accentuating their roles in the madness: Poulter, with his wildly arched eyebrows, radiating calculating sadism; Algee and Latimore, their initial defiance crumpling into despair; Boyega, playing a man trying to use his role to keep people alive while fearing that he's not doing enough. Anthony Mackie also plays a key part—a Vietnam veteran incurring the cops' particular ire because they believe he's pimping two white teenagers (Hannah Murray and Kaitlyn Dever)—as Krauss repeatedly refuses to believe he could be a "real" soldier. This isn't a portrait of a country where black Americans can be on "our" side; it's a country where they're the enemy.
Detroit takes another structural risk by ending not with the resolution of the actual siege at the Algiers, but with proceedings that follow two years later as Krauss and two fellow cops—fictionalized versions of the real-life accused—stand trial for murder. Yet the system that denies a chance at justice—full of familiar references to any history of wrong-doing to smear African-American victims, and assumptions that police claims of self-defense must be true—is just as crucial to the full story. While the courtroom scenes can't match the gut-punch power of literal police brutality, there's another kind of violence on display. The combination of the two is what turns Bigelow's Detroit into such a particularly damning kind of war story—one that reminds us how often war is about insuring that those in power hang on to it.