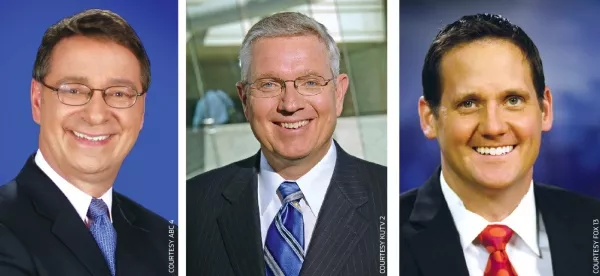 Jim Kosek (ABC 4), Sterling Poulson (KUTV 2), Brett Benson (Fox 13)
With a recent NASA study of satellite mapping showing arctic ice has shrunk to its lowest extent in the satellite record, and a 1999 study revealing that core samples of glaciers show levels of carbon unprecedented in 420,000 years of our atmosphere's history, it's no wonder that among surveys of scientists, there's a near consensus that climate change is real and humans are the cause.

But as this week's cover story, "Bleak Forecast," notes, only 53 percent of broadcast meteorologists believe human influence plays an important role in climate change. At home, just as nationally, local meteorologists differ on the subject. City Weekly spoke to meteorologists at three of Salt Lake City's four news stations to get their views on climate change. (As of press time, KSL 5 had not responded for comment.)

Jim "Extremely Skeptical" Kosek, ABC 4 Senior Meteorologist
Kosek burst onto the weather-broadcasting scene in 1987 like a hurricane of insanity. He became a household name working for AccuWeather, where he would deliver regional broadcasts with the full-throated holler of a professional wrestler, calling out the broadcasts with screams like, "Let's get down to business—we got clouds, baby!"

Despite onscreen shenanigans, Kosek, who joined the ABC 4 team 11 months ago, is very serious about the weather and very serious about climate change.

"I don't buy into the whole global-warming controversy as, like, Al Gore sees it," Kosek says. "Is the Earth warming overall? Absolutely. You have to be an idiot to look at the numbers and not see that. But it's not a scenario being man-made. I think we're in a natural process that's going to work itself out."

Kosek believes that in the next 10 to 15 years, the globe will emerge from its warming cycle. He bases that on historical global cycles. He points out that for the lower 48 states, July broke a record for the highest temperature month since 1936, but he says certain population filters and the growth of cities mean it's likely the actual 1936 temperature could have beaten July's record. Even if it hadn't, he says it illustrates the cycle of warming and cooling.

"Comparing 2012 and 1936, there's a huge cycle that maybe took 70 to 80 years to come into play," Kosek says.
Kosek considers famed meteorologist Joe Bastardi, who preceded him at AccuWeather, as a mentor.
Bastardi favored models based on historical global patterns over computer models and recently predicted the formation of Hurricane Sandy and its landfall on the Jersey Shore a week before it hit. Bastardi is also an outspoken critic of the idea that people are the cause of global warming. It's an idea Kosek shares, describing people's contribution to global warming as a "drop in the bucket."

"The media right now is gung-ho on global warming, so all it's going to take is a person to read one or two articles, and they'll believe it," Kosek says. " 'Oh, it's on the Internet? It's gotta be true!' "

Sterling "Eye of the Tornado" Poulson, KUTV 2 Chief Meteorologist
KUTV 2 weatherman Sterling Poulson is a man about town, whether it's conducting the Days of '47 Pops concerts for the Utah Symphony or directing the nonprofit Choral Arts Society of Utah, which he co-founded. One of the seasoned weatherman's greatest local claims to fame may be when he reported live on a freak F-2 tornado as it touched down in Salt Lake City in 1999. Despite being across the street from the twister, Poulson reported calmly on the chaos, interrupting his broadcast only once, with a shout that was more of exhilaration than terror.

When it comes to the storm of controversy over politics and climate change, Poulson says the cause of global warming is something no one can yet predict.

"The climate changes—it always has and it always will. As to what causes it? The jury is still out," Poulson says.

He doesn't believe that people are a significant contributor to global warming, saying the technology is not mature enough to measure people's impact, and that faulting just mankind is a kind of "tunnel vision."

"By just saying, 'Well, if you didn't get in your car and start it this morning, the ice caps wouldn't melt on the poles'—that's ridiculous," Poulson says. "What I'm hoping is that as we move into this awareness and maturity from our infancy of knowledge, we don't just focus on greenhouse gases." He also argues that ocean currents could be strong, but overlooked, factors. Still, Poulson believes people should be environmentally aware and good stewards of the planet.

Poulson says communication technology has changed the perception about climate change and weather, since it's faster and easier for people to communicate about natural disasters. He argues cataclysmic storms comparable to Hurricane Sandy and Katrina happened in the 1800s, but people couldn't disseminate details about the storms in the same way, so people weren't as weather-aware—or paranoid—as they are now. Reckless city planning, he says, also forces people to feel the impact of the weather now more than in the past.

"More people build their houses in stupid places, by oceans and riverfronts, and wonder why their houses got washed away," Poulson says. "They say, 'Look at climate change, look at all these houses by this sandbar that got washed away'—well, hello, it's a sandbar!"

Brett "Cautiously Realistic" Benson, Fox 13 Weeknight Weatherman
Brett Benson, a former Brigham Young University football player, City Weekly 2011 Best of Utah "weather jock" and a weeknight weatherman, is also a realist when it comes to climate change.

"Look, I'm not a climatologist, I'm not a specialist in this, so, yeah, I tend to agree with the 90-plus percent of climatologists with Ph.D.s who say that planetary warming is occurring, and it's due to humans. I agree with that statement."

He says the way cities have developed—the changing of runoff patterns affecting groundwater, the heat generated off dense urban centers and pollution—means it's hard to ignore people's impact on the planet.

"There's never been so much of a species like us on Earth, and now there are 7 billion of us," Benson says. "We can make some pretty big changes."

Benson does chafe, however, when he hears climate-change believers cite every hurricane and storm as proof that climate change is making everything worse, or deniers pointing at a good snow season as proof that climate change is a hoax. "You can't just take one single event, that's not how weather and the climate works," he says.
Benson sticks by the opinion of climate scientists who warn of humanity's influence on global warming, but with a little trepidation—he knows the view is not widely held by conservatives, and he doesn't want irate viewers raining on his forecast.

"I just wish it didn't have to be so political," Benson says. "I think if both sides toned down the rhetoric, then we could say, 'Let's just go ahead and do what we have to do to fix this.' "