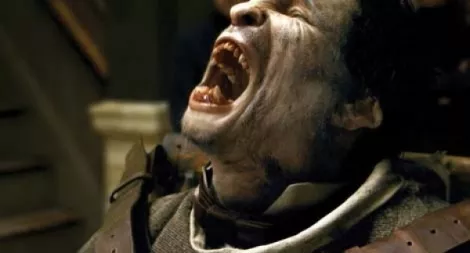 The metallic tang of blood is all over the elegant facade of The Wolfman, a mysteriously disappointing remake of the classic 1941 Universal horror flick. Dismembered limbs and heads and scattered entrails fly with gleeful abandon, though thankfully without the pornographic leering that afflicts horror today. Still, it soon becomes clear that The Wolfman has nothing but classy spooky sheen to offer. There are no people to care about here, no horror of the internal, infernal psychological kind—just fodder for a plot that chews through flesh and bone while ignoring all the really juicy, stuff-of-genre-greatness material.
You'd think screenwriters Andrew Kevin Walker and David Self wouldn't have been content to create merely a Victorian slasher movie. The former invented the multifaceted nightmare of Sleepy Hollow; the latter found complex terrors in Road to Perdition. Here, though, adapting Curt Siodmak's script for the 1941 original, they've sketched out potential layers of story and character that they utterly neglect. Why cast prodigal son Lawrence Talbot (Benicio Del Toro) as a Shakespearean actor, and then not allow the juiciness of the Bard's themes to influence the tale—even when they could, as in Lawrence's contentious relationship with his father, Sir John (Anthony Hopkins), which grows even more strained when Lawrence is transformed into a werewolf? Why bring in a Scotland Yard cop (Hugo Weaving) to solve the mystery of the murderous beast on the moors and call him Frederick Abberline—the real-life chief investigator of the Jack the Ripper case—if that one instance of name-checking is all that defines him?
Del Toro's natural animalism is, oddly, muted by director Joe Johnston, the former F/X artist, who here seems content to let hair and fangs be the story rather than the heart of a man at war with his own nature. There's no fog so thick that can conceal the emotional emptiness here.

THE WOLFMAN



Benicio Del Toro, Anthony Hopkins, Emily Blunt
Rated R