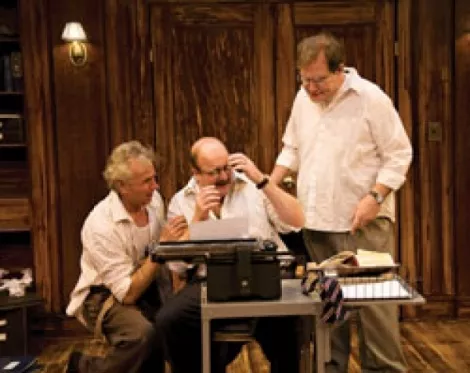 As a rule, there are few artistic endeavors more tiresome than a Hollywood writer's insider swipe at the machinations of show biz. Equal parts self-loathing and outwardly directed loathing, these exposés purge something for the scribe, but often inspire something less than sympathy in audiences. "Oh, boo-freaking-hoo," you're tempted to holler back, "it's such a bummer having to sacrifice your precious artistic principles for enough cash to roll around in like Scrooge McDuck."
Ron Hutchinson—an Emmy Award-winning veteran of TV and film writing for more than 24 years—strolls in that direction in his 2004 play
Moonlight and Magnolias
, but he's found a clever way to sidestep the common pitfalls. By making his play—currently showing at Salt Lake Acting Company—a comedy set in Hollywood's Golden Era, he manages to wrestle with some of the same issues in a way that's considerably more entertaining and infinitely less exasperating.
His premise comes from a real-life film-history footnote: In 1939, producer David O. Selznick (David Spencer) shut down production of his epic adaptation of Gone With the Wind and fired director George Cukor when he was dissatisfied with where the film was heading. In desperate need of a script rewrite, Selznick calls in Ben Hecht (Paul Kiernan)—who, unfortunately, is one of the few people on the planet who hasn't read the book. Along with new director Victor Fleming (Morgan Lund), Selznick is obliged to act out the plot for Hecht, as the three men lock themselves in Selznick's office—a wood-paneled room given a burnished glow by SLAC lighting designer "Z"—for a week of work that will make or break the movie.
Hutchinson anchors the play in the conflict between Hecht and Selznick's respective views about their project. Hecht, the one-time newspaper reporter with an activist political conscience, seethes at Selznick's commitment to a book that celebrates the racist antebellum South, even as his fellow Jews are facing extermination in Europe. Selznick, who stands to lose everything if Gone With the Wind flops, maintains a steadfast belief in the public's love of Margaret Mitchell's melodramatic text. "You can't blame how lousy the movies are on the audience," Hecht chides Selznick at one point, but Hutchinson never makes it entirely clear whether or not he agrees.
The roles are good ones, and the actors in director Keven Myhre's cast are even better. Spencer turns in one of his now-typical stellar performances as the son-in-law of MGM studio boss Louis B. Mayer, turning him into a perpetual-motion salesman driven equally by fear of failure and a love of storytelling. Kiernan carefully avoids making Hecht's indignation too righteous, while selling his comic exasperation—particularly a hilarious meltdown over the film's famous final line of dialogue—just as effectively.
If there's a flaw in the play's structure, it's in the role given to Victor Fleming. While Selznick and Hecht drive the story's primary moral conflict, the autocratic Fleming serves primarily as comic relief. And, while Morgan Lund makes the most of his slapstick opportunities—he's brilliant standing in for Melanie in Wind's childbirth scene—the character feels at times like an intruder in a story belonging to the other characters. While Annette Wright provides sharp support as Selznick's harried personal secretary,
Moonlight and Magnolias
is essentially a three-man show—and as comic triangles go, this one feels considerably more isosceles than equilateral.
That moral conflict between movies' instructive potential and their more common weightlessness—or even dangerously reactionary tendencies—certainly concerns Hutchinson, as does the question of when "selling out" can serve a larger good. And while it's easy to see him transferring the same concerns to contemporary Hollywood,
Moonlight and Magnolias
almost never feels pedantic. The story gives pure escapism its due and wraps its ideas in enough wonderful screwball mayhem to prove that fun and substance don't have to be mutually exclusive.
MOONLIGHT AND MAGNOLIAS @ Salt Lake Acting Company, 168 W. 500 North, Sept. 12-Oct. 7. 363-7522, SaltLakeActingCompany.org
cw