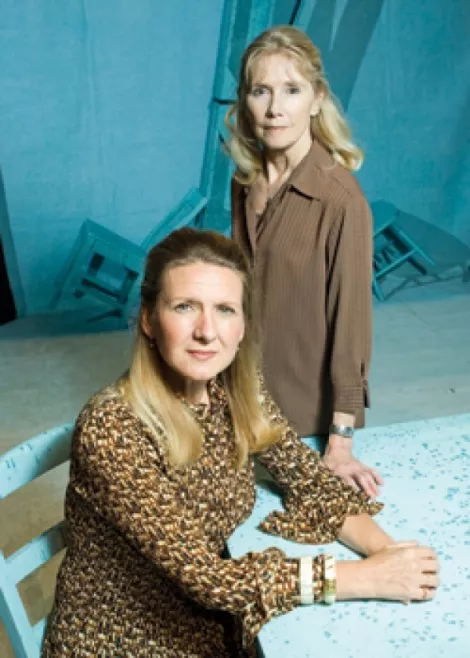 There are two kinds of attack:
with
warning, and with
no
warning. This statement attests to the bone-chilling oversimplification by the federal government of a serious endeavor with even more severe consequences—nuclear testing. It also begs the question: By whom were we being attacked?
While it is imperative for the arts to be used as a forum for such issues, one such as this is difficult to tackle without being heavy-handed. Cold War-era atomic weapons testing is close to home; the majority of fallout "downwinders" are Nevada and Utah residents who suffered multiple health problems years later. Its no surprise that artists participating in Exposed: A Large-Scale Mixed-Media Exhibition Exploring the Legacy of Nuclear Testing at The Pickle Company had such a visceral visual response.
The government public-service announcements of the time employed to "educate" people about the testing were patronizing at best and outright dishonest at worst. Often contradicting themselves, some said testing was safe and others obsessively urged everyone to "duck and cover" at the first sight of the ominous flash.
Documentary filmmaker and video artist Jan Andrews uses a video hodgepodge of these trite warnings—at times darkly hilarious in their utter misrepresentation—to reveal the government's complete denial of accountability. They are particularly hard-hitting; for one generation, they shaped and altered perceptions of nuclear testing and, for another, they prove to be astounding in their absurdity. Was the monkey with dynamite dangling from a stick, sneaking up on an unwitting turtle, supposed to be a metaphor?
Jean Arnold's cyanotypes engage exposure and radiation in a more direct way. Large in scale and delicate in process, the works are stark, exposed images of actual bodies. They read almost like X-rays, and are abstracted to illustrate the stories of people exposed, including her father. It addresses the impact fallout has had on subsequent generations—she herself is a second-generation downwinder.
A slew of genetic abnormalities and cancers has plagued an entire demographic group. Was it a misfortune of geography or the insidious delivery (or lack thereof) of information that allowed such horrific consequences to occur? Photographer and author Carole Gallagher's photographs and accompanying testimonies of victims—residents, retired military, etc.—reveal harrowing stories lived out by what a top-secret government memo referred to as "a low-use segment of the population." This quote is just one of the chilling notes found intermingling with stories of fallout survivors and victims. The photos show the visual tragedy caused by such callous disregard for life. —CS
Playwright and self-identified downwinder Mary Dickson and Plan-B Theatre Company bring the same government deceit, fear, and tragic consequences to the Rose Wagner Studio Theatre stage. Like some of the best work at The Pickle Company's exhibit of the same name, Exposed is a personal story. It draws on Dickson's experiences with her own illness and that of her sister, and the subsequent investigation her journalistic instincts compelled her to. Some of the show's characters come to life right out of Gallagher's photographs and her book American Ground Zero: The Secret Nuclear War. Even Gallagher herself is portrayed.
The result is a mix of unabashed autobiography (no names have been changed) spanning the last 30-odd years and a disconnected bureaucratic space from the 1950s populated by men in dark suits.
When this dichotomy is upheld, the show works well. Mary (Joyce Cohen) deals with first her own cancer and then the slower, more elusive lupus of her sister, Ann (Teri Cowan) in a powerful story. It grows more powerful still as Mary comes into contact with people from similar backgrounds, also saddled by mysterious illness. These scenes are staged in what feels like natural space with conversational dialogue.
This naturalism is contrasted with the aforementioned 1950s official government line, depicted by two actors (Jason Tatom and Mark Fossen) designated only as Officials 1 and 2, respectively. They spout old propaganda with Cheshire-cat grins until Official 2 develops doubts, and their interactions become a simplified ethical debate. This other space is also augmented with soliloquy-style anecdotes from ranchers and townsfolk (Kirt Bateman and Teresa Sanderson) impacted by the nuclear testing, all drawn from actual interviews.
The direct and pedagogical approach is effective when it's coming from the ephemeral past, but becomes off-putting when it seeps into Mary's personal narrative. Entire scenes seem to exist for the sole purpose of shoehorning in statistics, betraying the natural feel previously established in what should be the human side of the story. This is downright ironic, considering the debate within the play on the validity of Mary's mountain of anecdotal evidence against the government's dubious research. When playwright Dickson sacrifices emotional resonance for hard facts, she seems to be agreeing with her rhetorical adversaries.
Taken all together, however, the artwork on display at the Pickle Company and the Plan-B production are an effective and comprehensive lesson on one of the darkest chapters of not only our own local history, but of the entire world. Let's hope that work like this can keep us from repeating our mistakes. —RT
EXPOSED, The Pickle Company, 741 S. 400 West, Oct. 12-Nov. 17, 450-8977
EXPOSED, Plan-B Theatre Company, Rose Wagner Performing Arts Center, 138 W. 300 South, Oct. 12-Nov. 17, 355-ARTS