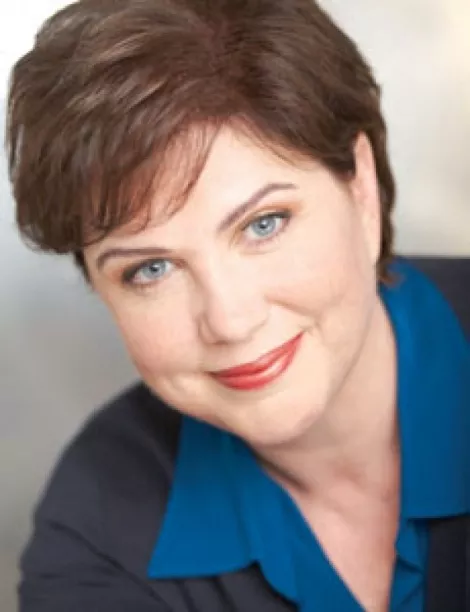 Julia Sweeney
—in keeping with the Catholic faith in which she was raised—has a confession to make. The encounter with Mormon missionaries that she chronicles in her poignant, funny journey-to-atheism monologue
Letting Go of God
did not
actually
involve the young elders launching on Day One right into the stories of Nephi and Lehi and golden plates and seer stones. "At some point," Sweeney said by phone from her home in Los Angeles, "I had to put on my dramatist's hat."
The reality, she says, is more complicated—and, in some ways, more interesting. The former Saturday Night Live cast member—best known for creating the androgynously creepy "Pat" character—really was experiencing a personal crisis in 1998 when the missionaries showed up on her doorstep, and their visit really did serve as the inspiration for her spiritual quest. But it wasn't a one-time visit. "I became friends with these guys; they came over all the time," Sweeney said. "I try to present them compassionately. I try to perform it like they're half-embarrassed of the story, too. The weren't real evangelists; they were 19-year-old boys whose culture sends them out into the world. And in [Los Angeles], some place where [the people they visit] don't even care. At least in Ecuador … 'Oh, Americans!' And they'll listen to you."
Sweeney takes a bit of a scalpel to Mormon doctrine early in Letting Go of God, but a presumption that many of her audience members will respond with a chuckle is part of the point. As she begins examining her own faith in her two-hour performance, she realizes that "conventional" Christian theology isn't exactly logical. "We believe that God impregnated a very young girl without the use of intercourse," Sweeney observes in the show, "and the fact that she was a virgin is maniacally important to us. And she had a baby and that's the Son of God."
Still, after her first visit with the missionaries, Sweeney didn't think she would end up without a faith entirely. Indeed, she thought she would re-connect even more strongly with a Catholic faith that, as a child growing up in Spokane, Wash., she believed was fairly probing. "I was raised in this kind of … Jesuital 'we question everything' environment," she said. "Like Greeks in robes walking around debating. But what were we debating?
"Actually, it was more insidious: 'We're the smart religion where we value discourse and debate,' but you couldn't ask anything Thomas Aquinas didn't already answer. And he thought female babies were born because of the direction of the wind!"
Letting Go of God marks Sweeney's continuing evolution as a master of the monologue form, one she employed most memorably in God Said, 'Ha!', which described both her and her brother battling cancer. That brush with mortality years before that missionary visit might have seemed like the time for a confrontation with religious doubt, but Sweeney believes just the opposite was true. "The time to question is when you have enough free time and resilience to question it," she said.
In retrospect, she realizes this is why she was unreasonable to think that the 9/11 terrorist attacks would galvanize atheist thinking. "When it happened, I thought, 'Oh, wow, the whole country is going to wake up to how ridiculous religious ideas are,'" she said. "[But] when people are afraid, they grasp towards whatever. And, yet, that is actually the time to be most rational."
Such sentiments are the sort that can turn public figures into targets of wrath by religious groups. Yet despite serving on the advisory board of the Secular Coalition for America and having a portion of Letting Go of God performed on National Public Radio's This American Life, she has remained largely, in her own words, "under the wire" as a spokesperson for humanist nonbelief.
"I don't have the public platform of a best-seller like Christopher Hitchens or Richard Dawkins," she said. "I'm kind of the little guy version of it."
In fact, the most extreme reaction to her public declaration of atheism may have come from her own parents, when a story about her appeared in their hometown newspaper. And it disturbed Sweeney that they were more angry than when she had previously told them privately: "I was really angry, because the public part was worse than the 'being damned to eternal hell' part."
As the parent now of an adopted 8-year-old girl, she has a greater understanding of what her public announcement meant to her parents as a social statement that "I'm not in the tribe any more." But, she also says that parenthood hasn't turned her back towards religion.
"I thought it was going to be hard raising a kid without religion, because religion was what taught me about morality," Sweeney said. "[But] being in a community is a completely effective way of teaching people how to behave. … Now I think it must be hard to teach a kid with religion."
JULIA SWEENEY: LETTING GO OF GOD @ The Eccles Center, 1750 Kearns Blvd., Park City, 435-655-3114
Saturday Dec. 1, 7:30 p.m EcclesCenter.org