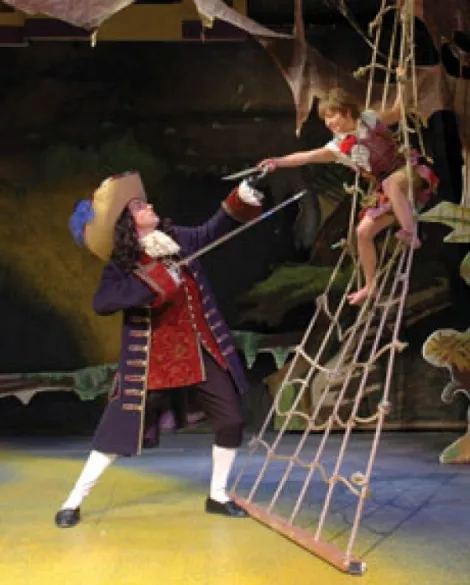 Peter Pan
is the summer blockbuster of musical theater. It has overwrought villains, stunning production values, cool special effects and a script that seems like an afterthought. It also has, most importantly, kids on wires flying around. That's what I call
theater
.
I have to admit that I dropped the ball on this one. I should have taken my 5-year-old niece. It occurred to me the moment I stepped into the lobby of the Egyptian Theatre in Park City—but, alas, too late. At least half of the patrons were under 5 feet tall. I've never seen such a line for theater candy concessions. I'm a bad uncle.
She would have loved this: Getting dressed up for a special night, being gently (but firmly) reminded to be quiet every three minutes, seeing a woman playing a boy get hoisted around the stage by a hidden harness attached to obvious cables, wondering out loud if she—my niece that it is—would also get to fly around stage after the show, and then getting told to be quiet again. Oh, the memories I avoided creating.
Now I know that this show is a classic. It's the story we know, supposedly from J.M. Barrie, but more likely from Walt Disney. It's the same script and music from the 1954 production that won Mary Martin a Tony award for her portrayal of Peter. All that being said, the cast and crew of the Egyptian Theatre Company didn't have much to work with. The script is flat and poorly paced, and the songs unmemorable. It's not so much bad as it is just … boring.
Some of that could have been ameliorated by a compelling portrayal of the title character. Peter Pan is rowdy, likes practical jokes, flouts authority at every opportunity and has a talent for mimicry—what's not to love? Molly Jackson's performance, however, manages to suck most of the fun and vitality out of this archetype of boyhood, while leaving in all the petulance. To her credit, her wire-flying is as exciting as it is graceful. The night I saw the show, one child in the back of the audience squealed in delight every time Jackson left the ground—and I was caught up in it, too.
On the other hand, Mark Gollaher stands out as both Captain Hook and Mr. Darling. His Hook in particular is pure campy fun; he tosses his dark, curly locks around and strokes his beard in the best melodramatic tradition. Gollaher portrays the soul of pomposity, and his moments onstage with his hapless band of bumbling pirates are the best of the show.
The costume design by Nancy Hills is also excellent across the board. Particularly enjoyable are Hook's resplendent red coat and the creature creations of Nana, the Darling family dog, and the tick-tocking crocodile constantly after the captain, Hook's missing hand having only whetted the croc's appetite. Beyond these eye-catchers, costumer Hills also does great work with unnecessary but welcome subtleties. Each main group—the Lost Boys, the Pirates and the Indians—is given its own distinctive color-scheme, thereby visually unifying and separating the factions. This proves particularly useful during convoluted fight sequences that bring most of the cast to the stage at the same time.
It really comes down to what you're looking for in your holiday entertainment. Is this serious, thought-provoking theater with its finger on the pulse of the issues of the day? No. Will your family have a fun night out and your children go to bed dreaming of fairies and high adventure? Probably. So, as much as Peter Pan wasn't my cup of tea, I'm still kicking myself for not taking my niece. Kids on strings! She would've eaten that up.
PETER PAN @ Egyptian Theatre Company, 328 Main, Park City, 435-649-9371, Nov. 23–Dec. 29