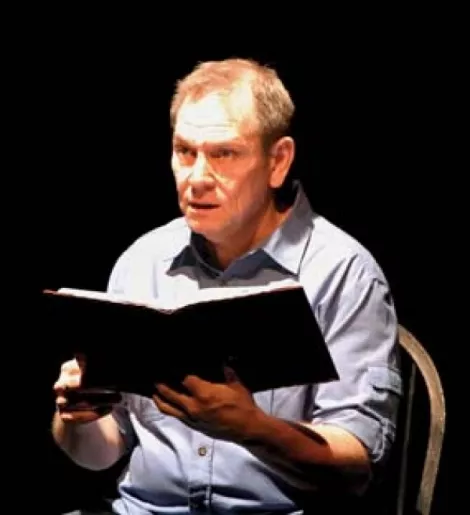 The Tricky Part The lights don't go down at the beginning of Plan-B Theatre Company's production of The Tricky Part—not before David Spencer strolls to the front of the audience. Already in character as playwright Martin Moran, he conversationally asks everyone to turn off their cell phones before asking them to take a look at a photo included in the program. There is no clean dividing line between "before the performance" and "during the performance"—and for 90 minutes, there is no clean dividing line between David Spencer and Martin Moran.
Spencer has long been one of local theater's most reliable actors; he has even carried a one-man show previously for Salt Lake Acting Company's I Am My Own Wife. But as he plays out the stage version of Moran's memoir—about his youth in 1970s Denver and being sexually molested by a boys' camp counselor for three years—he demonstrates an almost effortless magnificence.
The text itself is surprisingly lively for much of the show's tight running time, as Moran describes his Catholic school experience and the various nuns who taught him. He gets hilarious mileage out of the juxtaposition of a crucifix and the clock on the classroom wall—the 2:45 "school's out" time eerily matching the position of the Savior's arms on the cross—and his improbable friendship with a neighborhood bully. For a show about the sexual abuse of a minor, it's hardly an excruciating slog.
But then Moran moves on to describing a reunion with Bob Kaminsky—the man who molested him—in a veterans' hospital 30 years after the fact. Spencer conveys the tension in their meeting as he plays both roles, then eventually describes his first weekend with Kaminsky while reading from his journal. Director Jerry Rapier takes a chance by keeping Spencer's face buried in the book for most of this recounting, a single spotlight on him. It plays like a campfire ghost story, and when Spencer slowly raises his head at one point while continuing to speak, it becomes clear that Moran has only been trying to distance himself from a story he certainly doesn't need to read to remember. In those few moments that we can see his eyes, Spencer tells the story of why we hadn't seen them for the previous several minutes. And he returns to a performance that's just as transfixing when he's still quiet, and trying not to fall apart.
Saturday's Voyeur 2008 In recent years, at least, Saturday's Voyeur has become as much about itself as about the local foibles it parodies—a self-congratulation of its own status as speaker of truth to power. For the production's 30th anniversary installment, creators Nancy Borgenicht and Allen Nevins have abandoned all pretense that it's otherwise. The opening production number name-checks dozens of Voyeur targets from previous years; at various points, the show itself openly becomes a pledge drive for Salt Lake Acting Company subscriptions.
For an institution that has teetered on the edge of smugness, it could have been the final death knell. But there's a surprising surge of goofy creativity in Voyeur 2008, though it comes in fits and starts. Continuing the recent trend towards plot-free revues, Borgenicht and Nevins nod towards Marie Osmond's Dancing With the Stars stint, Arika Schockmel playing Marie as a wild-eyed sore loser in smeared makeup and a baby-doll dress. They give us Ralph Becker (Alexis Baigue) in a Mr. Rogers cardigan singing about the "beautiful day in the gay-borhood." Brenda Sue Cowley does a hilarious bit as a robotically stiff Mary Kaye Huntsman. And a stab at the Utah Department of Alcoholic Beverage Control set to Paul McCartney's "Silly Love Songs" ("Silly Booze Laws") turns alcohol decision-makers into something out of a Monty Python sketch.
But the highest of highlights come courtesy of cast member Duane Stephens, who steals nearly every scene he's in. Taking the role of Chris Buttars, he shrugs off any need for apology while sneering defiantly through a version of Amy Winehouse's "Rehab." As a missionary training center leader, he delivers a dead-serious reading from a pamphlet on avoiding masturbation. He skeptically rattles off plot summaries from SLAC's upcoming productions as a censorship-happy founder of "CleanFlicks," and as Sandy mayor Tom Dolan, he throws his weight around over the location of a "Broadway-style thee-a-ter." Handed every one of the show's most self-righteous or power-mad characters, Stephens plays them with a zeal that sidesteps ham-fisted parody.
That's not to say that Voyeur avoids all its historical traps. Borgenicht and Nevins still love outrageousness for its own sake, like having Gayle Ruzicka pray while enjoying a cell-phone vibrator. It's also wearying when "Mormon" too often becomes a de facto synonym for "a—hole." But with regularity, director John Caywood hits on just the right combination of topic, delivery and casting. Though Saturday's Voyeur 2008 may be celebrating itself openly, it gives itself a good reason to do so.
THE TRICKY PART, Plan-B Theatre Company, Rose Wagner Performing Arts Center
138 W. 300 South, Through June 15, 355-2787
SATURDAY'S VOYEUR 2008, Salt Lake Acting Company
168 W. 500 North, Through Aug. 17, 363-7522