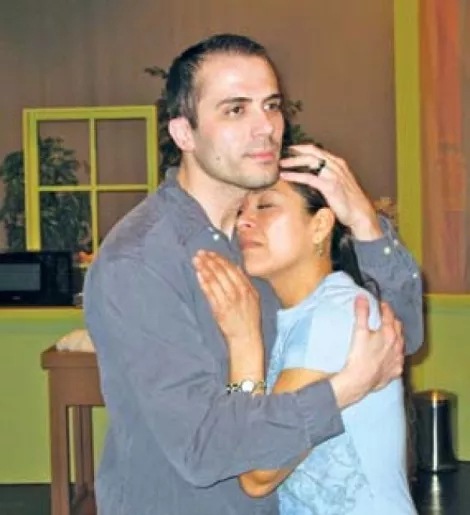 The title of Lisa Loomer's play doesn't refer only to the employment status of nanny Ana (Claudia Mejia), a Salvadoran illegal immigrant in Los Angeles who watches the infant daughter of working mom Nancy (Alexandra Harbold) during the day (as opposed to those who "live in"). In Loomer's surprisingly affecting dramedy, it describes an American landscape of mothers who parent in the scant moments between hours spent on the job.
At first glance, it might seem that Living Out would be a well intentioned but didactic defense of illegal immigrants as hard-working people trapped by circumstance, but Loomer explores even more complex territory. She observes as Ana leaves the care of her own children to others—an older son left behind with family in El Salvador, her younger son shuttled between school and local relatives—while tending to someone else's child. While Ana's liberal-minded employers are contrasted with more conservative neighbors in their upscale suburb, Nancy's insistence that she's returning to work for the sake of her baby starts to ring hollow when compared to Ana's situation. Loomer's keen eye and ear bring to the forefront an uncomfortable truth for middle-class-and-higher Americans: When it comes to lifestyle choices, "have to" doesn't really mean what you think it does.
Director Reb Brown's impressive Pygmalion Productions staging guides her characters through a versatile single set that serves as both Nancy's and Ana's home at various times. The two lead actors both deliver terrific performances: Mejia capturing Ana's constant sense of unease with her Sophie's Choice life, and Harbold the conflicted working mom who doesn't really know how much she wants to bring home the bacon and fry it up in a pan. The supporting cast features both strong and weak links—April Fossen does sharp, funny work as a frazzled mother of twins—but the power in the center easily commands attention.
Loomer's dramatic conclusion clearly packed an emotional punch for some audience members, yet it felt like an unnecessarily extreme way to distinguish between what Ana and Nancy respectively sacrifice. Living Out proves just as satisfying when finding the humor and sadness in simple lives framed by not-so-simple choices. —SR
William Shakespeare's A Midsummer Night's Dream, currently playing at Pioneer Theatre Company, is the perfect antidote to the conspicuous cardboard hearts still hanging over the seasonal aisle at your local grocery store.
But wait, you say: Shakespeare loves love! What about his sonnets? What about his madcap romantic comedies full of role reversal and eventual positive conclusion, of which Midsummer is surely one of the zaniest? All tongue-in-cheek cynicism with happy final acts tacked on to help the box office, I say.
No, Midsummer is about the silliness of young love, about the inevitable rotting of marriage. It even pokes fun at overblown romantic tragedy. Its play-within-a-play—the plot of which is played entirely for laughs, complete with double-suicide—seems intended to undermine any warm feelings the audience may have at that point for love in general.
Lucky for us, it's all done masterfully. PTC gets all of the elements right, keeping this well-known piece simultaneously fresh and familiar. Both the set design (by Peter Harrison) and the costumes (by Susan Branch) evoke the perfect sense of other-worldliness necessitated by the realm of the forest fairies.
The artisan/players of Athens are quintessential bumbling comic relief. Max Robinson is excellent as the embodiment of overreaching pretense in Nick Bottom, but I should also draw attention to the good work of Jason Tatum as Tom Snout and Steven Fehr as Snug. Both actors bring unexpected and hilarious touches to their limited time in the spotlight. Christopher Gerson is also worthy of note as Puck. In a role that is usually overplayed for its sprightliness and, well, "puckishness," he manages to play it cool and aloof without losing anything essential.
With no weak links, PTC's Midsummer Night's Dream is as much fun as a good, old-fashioned moonlight romp in the woods. Well, maybe not quite—but it's as close as we're going to get until the weather warms up. —RT
LIVING OUT Pygmalion Productions at Rose Wagner Studio Theatre, 138 W. 300 South, 355-ARTS. Through Feb. 23
A MIDSUMMER NIGHT'S DREAM Pioneer Theatre Company, 300 S. 1400 East, 581-6961. Through March 1