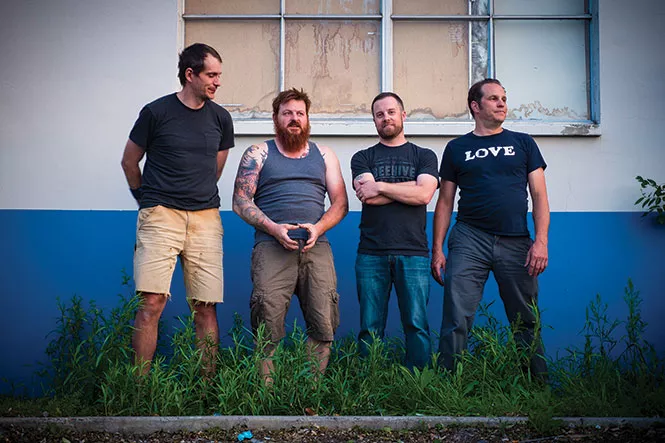 Form of Rocket singer/sometimes-guitarist Curtis Jensen, who's now living in Sandpoint, Alaska, was already planning to be in Salt Lake City for his bachelor party, so Jarom Bischoff's invitation to play for Crucialfest was serendipitous. Especially for local music fans. For most of the early 2000s, FoR was a crucial part of the local music scene, and they haven't performed together since 2012.
The group grew out of the band Power of Means, in which bassist Ben Dodds had been playing with guitarist Eric Bliss. After several years of unstable lineups, that group folded out of frustration. Bliss switched to drums, and the pair wrote songs and advertised for guitarists. Jensen and Peter Makowski were among the first to respond. "Within a year, we were touring—Form of Rocket was born," Dodds says in an interview at their Downtown Music practice space.
Bliss left in 2001, replaced behind the kit by Tyler Smith. After an EP and 7-inch, Form of Rocket dropped the Andy Patterson-produced Se Puede Despedir a Todos (self-released) later that year. They toured, attracting attention from indie labels and, in 2003, ultimately signed with New York City-based Some Records, the label co-founded by Walter Schreifels of noteworthy bands Youth of Today, Gorilla Biscuits, Quicksand and Rival Schools. Incidentally, Some Records also signed FoR's SLC peers The New Transit Direction, who'll also play Crucialfest.
FoR released Lumber and toured extensively for a year before experiencing more lineup fluctuation. Jensen left for school. Bliss returned to replace him, sharing vocals with Makowski, and they added a fifth member, guitarist Gentry Densley (known for his work with Iceburn and now, with Smith, the two-piece doom-drone band Eagle Twin). When Bliss left again, Densley would split vox with Makowski. Then, just before recording their third album, Men, Jensen returned, and Form of Rocket toured the U.S. as a quintet.
Form of Rocket's sound is almost as complicated as their membership history, in their willingness to fiddle with the rock genre, and push the hardcore idiom with the addition of odd time signatures and melodic excursions. City Weekly ventured the comparison of The Jesus Lizard mixed with progressive rock, and they concur. Densley says the Midwestern, Jesus Lizard/Shellac influence is his "bread and butter," but that FoR's sound is collaborative, so he suppressed his proclivities in service of the band.
"When everyone adds their own influences in, it becomes a totally different thing," he says. "There are elements of ... math rock, but I always thought [our sound] had more natural scales, served a more acoustic sound, almost like AC/DC taken to the next step, or Jesus Lizard, [if you] add a little Birthday Party."
There's more to Form of Rocket than complex configurations. They're also known for their acerbic wit in songs like "Keep Smiling Ed Smart," about the father of kidnap victim Elizabeth Smart, and "Peter Makowski Had an Aneurysm" (originally titled "Peter Makowski Was Having Sex and Hit His Head on the Wall While Having an Orgasm").
There's also a subtle social—and sociocultural—dynamic. "We were into bands like Fugazi and Drive Like Jehu—our interplay was important—and also, typical chord progressions were sidelined," notes Jensen. "On top of that, we grew up in Utah, so we wanted to freak people out a little bit."
Shortly after touring Men, Form of Rocket cooled their engines. They won't say they broke up, or even went on hiatus. Rather, life and other musical projects happened. Dodds and Makowski formed Accidente; Densley and Smith's Eagle Twin project took off. Jensen joined the Peace Corps, attended graduate school in Brooklyn, then took a job teaching in an Alaskan village—amounting to a break from music altogether.
The Se Puede lineup of Form of Rocket—Jensen, Smith, Makowski and Dodds—will play two shows in conjunction with Crucialfest 6. First is Crucial Warm-Up Part 1 at Kilby Court on Saturday, where they'll play Se Puede start-to-finish, along with tracks from Lumber. They'll also have limited-edition T-shirts and posters for sale—and the vinyl debut of Se Puede, which Patterson remastered, resequenced and edited in order to fit the two-side format. Jensen says the band is working with local promoter/musician Tyler "Froburn" Coburn to release Lumber and Men on wax within the next 18 months, pending a licensing deal with Some Records. The second show—co-headlining Crucialfest proper—happens at The Urban Lounge on June 17, with Densley joining the band for a few songs. The band will also appear on Circus Brown's Not a Side Show on KRCL Radio on June 10.
Just like they object to the words "breakup" and "hiatus," Form of Rocket likewise rejects "reunion." These gigs, Jensen says, "are just a set of shows we could make happen around the release of the LP." The band, now in their late-to-mid 30s and 40s, has experienced the crazy touring life. They feel—considering they're adults, with adult responsibilities—that they're lucky to be able to assemble in the same place. But musically, Jensen says Form of Rocket now sounds tighter, fuller and "more like we know what we're doing."