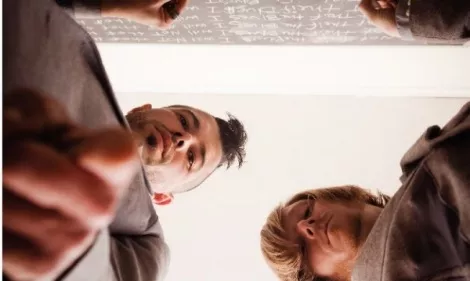 Early into their careers, Adam Drucker and Jeff Logan needed partners. Drucker (aka Doseone) was an emcee bringing his arcane approach to Midwestern rap battles (in 1997's incarnation of Cincinnati's "Scribble Jam" freestyle competition, he faced a rising Eminem) while Jeff Logan (aka Jel) was learning the intricacies of mapping aural patterns. In 1998, the pair met through producer Mr. Dibbs.
Drucker, however, swears he made Logan's acquaintance shortly before then—in a dream. "I'm sitting on the porch with Dibbs and some dude that I've never met. We're talking and laughing," recalls Doseone. "Three months later, Dibbs comes over and we're on my porch. I had total deja vu. It was exactly the dream." Within days, Dibbs, Doseone, and Jel started constructing Outer Perimeter, an album released under the name of Presage.
Two years later, Drucker and Logan teamed as Themselves, debuting Them. They assembled tracks packed with head-spinning lines set to pumped-up tempos, penetrating metaphors that found common ground between self-aware rap, freaked-out beat poetry and intricately warped electronica.
Around the time Themselves' album The No Music hit, they delved into managing the high-minded hip-hop label Anticon and partaking in experimental collectives like cLOUDDEAD, Subtle, and 13 & God. There was never a falling-out between Drucker and Logan; Themselves simply faded to the background. Now, prompted by Anticon's 10th year running, they're back with new pieces in tow.
Themselves' 2009 offerings include theFREEhoudini, a mixtape featuring Busdriver, Aesop Rock, and Slug of Atmosphere, and CrownsDown, the followup to The No Music. "Making a righteous rap record barebones in production but full of sentiment was something that we wanted to do for a long time," tells Drucker of CrownsDown. "We let it happen without sketching out a blueprint."
Themselves allows Drucker to find his most authentic voice. In Subtle, a six-piece group that both he and Logan are in, he has trouble speaking on behalf of so many. "I can't cut loose from the bottom of my heart whether it's 'Fuck you' or 'Thank you,'" says Drucker of Subtle's broad, refined message. "With Themselves, I can say everything I think. It's less finesse and more earnest."
The only possible pitfall is that the real Doseone is perhaps too cerebral, making Themselves' complex lyrics intimidating for novices to decipher. "While any poem may go from the North Pole to grade school and back, it all funnels back into a singular context," Drucker maintains. "[My work] is intellectual and will stand the test of time. It has to be something to think about and repeat. The music we make is more for music lovers and seekers—people who want an alternative texture." This angle tends to create two contrasting opinions. "Sometimes we sound too rap, sometimes we don't sound rap enough," he says, sounding a bit worn.
Still, Themselves stay the course. One of Drucker's goals includes collaborating with noted producer/Chicago noise-rock don Steve Albini (though Drucker admits, "I hear he hates rap"). Hell, even if Themselves wrapped up this instant, the link between the duo is poised to forever stay afloat. "Themselves was the first thing that ever felt right," Drucker says. "I could see us doing an old-folks-home record, whispering and banging on the pill cups."

THEMSELVES
Kilby Court
741 S. 300 West
Friday, Dec. 11, 7 p.m.

Urban Lounge
241 S. 500 East
Saturday, Dec. 12, 9 p.m.