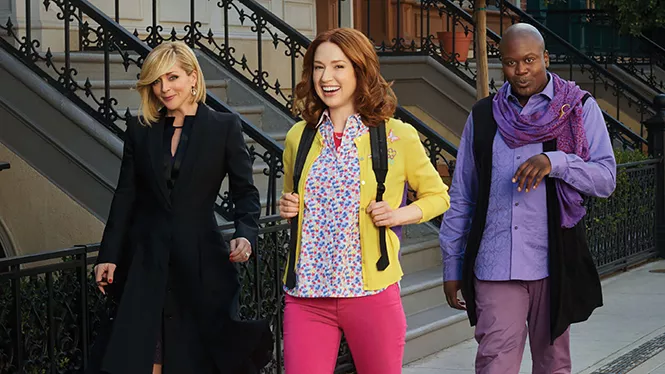 Unbreakable Kimmy Schmidt
Friday, May 19 (Netflix)
Season Premiere: Where will the perkiest TV character ever created (cartoons included) go in Season 3? Now that she has her post-doomsday-cult-imprisonment GED, Kimmy (Ellie Kemper) is entering higher education: "After high school, most white girls go to college," Kimmy's landlady, Lillian (Carol Kane), explains. Unbreakable Kimmy Schmidt also welcomes back everybody's favorite cult leader and No. 1 draft pick for his own spinoff series, Richard Wayne Gary Wayne (Jon Hamm), as well as guest stars like Ray Liotta, Laura Dern, Jinx killer Robert Durst (actually, Fred Armisen) and Beyoncé (actually, Tituss Burgess). We'll also learn that Jaqueline (Jane Krakowski) attended Trump University, which makes sooo much sense. Still full of heart, Kimmy is as weird, warm and hilarious as ever.

12 Monkeys
Friday, May 19 (Syfy)
Season Premiere: Before the 2016-17 TV season's onslaught of time-travel shows (Timeless, Time After Time, Making History, two of which have been canceled), there was Syfy's 12 Monkeys. There was also Doctor Who, but there's always been Doctor Who. Anyway: 12 Monkeys, based on the 1995 movie of the same name, doesn't so much replicate the Bruce Willis/Brad Pitt classic as warp the hell out of it, with Cole (Aaron Stanford) expanding on Willis' stop-the-apocalypse tenacity while Goines (show-stealer Emily Hampshire) takes Pitt's mental patient to giddy new levels. Season 3 is the final chapter for 12 Monkeys, and Syfy is blowing out all 10 episodes over three nights—I'd suggest a Hulu binge of the first two seasons before sending off the TV Time Travel Trend. Except Doctor Who, because, Doctor Who.

Twin Peaks
Sunday, May 21 (Showtime)
Return: Sure, it seems like you've been reading/ignoring this TV column forever, but it didn't even exist during the original 1990-91 run of Twin Peaks—no, really! David Lynch's long-long-long-awaited Showtime revival takes place 25 years later, consists of 18 episodes, features 200 characters, and ... that's about all anyone knows. The new Twin Peaks hasn't been shown to critics, and Lynch and co-creator Mark Frost have been tight with details beyond name-dropping guest stars (Laura Dern, Ashley Judd, Tim Roth, Naomi Watts and Robert Forster among them). This Pacific Northwest bizarre-noir was too much for '90s television to handle and, even after dozens of subsequent rip-offs (sorry, "homages"), no one should doubt Lynch's ability to push the envelope on Showtime. Now, where's the pie?

Neon Joe: Werewolf Hunter
Monday, May 22 (Adult Swim)
Season Premiere: Now that Neon Joe (Jon Glaser) has exacted revenge upon his father, defeated the evil Cybots and retired from the werewolf-hunting game (see how much you missed in Season 1?), he can finally realize his lifelong dream: Opening his own tiki bar, Oahu Joe's. But, before you can say "Heyup!" Joe's pulled back into supernatural danger to take on a rival werewolf hunter, billionaire playboy Plaid Jeff (Godfrey, Steven Universe). Glaser's eye-patched mercenary with an incomprehensible Cajun accent might be one of the most ridiculous Adult Swim characters ever, but at least he's concise: Neon Joe's second season is only five episodes long, running nightly and wrapping up on Friday. Jason Sudeikis (R.I.P., Son of Zorn) shows up in the premiere, not that you needed to be sold harder.
The Fox News Specialists
Weekdays (Fox News)
New Series: Weird times at Fox News: Bill O'Reilly's out; Tucker Carlson keeps failing upward; Jesse Watters somehow still has a job after dropping an Ivanka Trump blowjob joke; on and on. And now there's The Fox News Specialists, a new weekday talker hosted by personality-free stalk of celery Eric Bolling, Eboni Williams (who's too smart for any room but especially this one), and my personal favorite Fox News floater, National Review reporter Katherine Timpf (also a regular on The Greg Gutfeld Show, the best thing to happen to Saturday nights since blackout bingeing). The trio are joined daily by two "specialists" on ... something ... making five—but not The Five, which is a different Fox News show. It all adds up to an even more pointless waste of airtime than Fox & Friends, bringing less to the news cycle than a water-skiing squirrel. Just lock down Tomi Lahren and Milo Yiannopoulos and launch Live! With Tomi & Milo!, already.
Listen to Frost Mondays at 8 a.m. on X96 Radio From Hell, and on the TV Tan podcast via Stitcher, iTunes, Google Play and billfrost.tv.