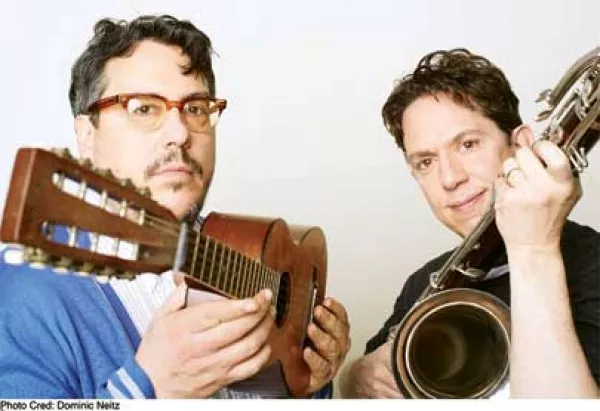 If you're in your late 20s or early 30s, you more than likely have some distant memory of a music video called "Particle Man" from the Warner Bros. cartoon show Tiny Toon Adventures. This particular video, which consists of various cartoon wrestlers beating the hell out of Plucky Duck, was a staple of my youth. At the impressionable age of 9, I must have recited the words "Particle Man, Particle Man, doing the things a particle can," enough times to drive my parents to curse the group responsible, the Brooklyn-based alterna-indie band They Might Be Giants.
"My childhood memories were of this kid show called Captain Kangaroo," says They Might Be Giants co-founder John Linnell. "He would have these puppets acting out the popular songs at that time. They had puppets actually acting out The Beatles' 'Nowhere Man,' if you can imagine that. To me, it didn't feel like The Beatles were implicated in any way. It was more like Captain Kangaroo just wanted to use the song as extra entertainment. There was something appealing to me at that age watching it—it didn't seem creepy or weird."
Linnell is quick to point out that he's in no way trying to compare himself to The Beatles, but it's worth mentioning that he and his bandmate, John Flansburgh, have been making music together for way longer than the boys from Liverpool. In fact, they've lasted more than 30 years. Part of this longevity is due to their knack for consistently creating short, digestible pop songs that translate well for both adults and kids. Attracting multigenerational audiences is something they've always excelled at, but, as Linnell explains, it was never on purpose.
In 1990, when Warner Bros. approached the band about using the songs "Particle Man" and "Istanbul (Not Constantinople)" on Tiny Toons, it was an easy decision that neither Linnell nor Flansburgh thought much about. "It was funny to us because of all the things that we've done, [Tiny Toons] was one of the most far-reaching, one of the most popular ways of how people have heard about us," Linnell says. "It was presented like, 'Here's this cartoon that somebody's putting together, and they want to use your songs.' We didn't have anything to do with it, and then it turned out to have this amazingly far reach long after the fact. We are constantly meeting people like you who discovered us as kids."
In many ways, the success of They Might Be Giants' Tiny Toons experiment opened up a new musical path for the band: children's records. "In 1999, we were given a small budget by Rounder Records to put out a kids album, and at that time I don't think there was this notion like, 'This is a career move,' " Linnell says. "It was just a very amusing, marginal side project for us. We did not think of it as the next branch of our empire, you know?"
But in 2002, Linnell and Flansburgh released the project under the title No!. To their surprise, their first venture into children's music outsold their "adult" album, Mink Car, which had been released the year before. "This was all very much not planned," Linnell says. "I think the great thing in a way is, we haven't really planned out very much. The kids records thing was definitely a very happy, serendipitous thing for us."
Since No!, the band has released three other children's albums: Here Comes the ABCs, Here Comes the 123s and Here Comes Science. In March, with the help of guitarist Dan Miller, bassist Danny Weinkauf and drummer Marty Beller, They Might Be Giants dropped Nanobots, their 16th studio album and their second "adult" album in five years.
Nanobots is a return to the familiar old-school nerd-rock that many of us "adult" fans are accustomed to. But don't worry, their most recent tour isn't too adult.
"We realized we had a puppet show that we started doing in the context of the kids shows, and as it turned out, adults actually liked the puppets even more than the kids did," Linnell says. "So, yeah, we will be bringing the puppets to SLC."
THEY MIGHT BE GIANTS
w/Vandaveer
The Depot
400 W. South Temple
Saturday, June 8, 8 p.m.
$20 in advance, $25 day of show

Twitter: @WolfColin