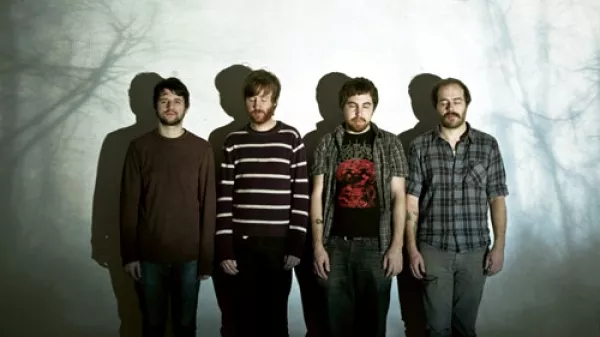 In an age where people love bite-size pop songs that have simple, catchy choruses, it's rare that music without words can attract a large audience. But even those who aren't mad instrumental-rock enthusiasts have probably heard This Will Destroy You, as their swelling, melodic pieces make the perfect backdrop for movies and TV shows.
The song "The Mighty Rio Grande," from their 2008 self-titled debut full-length album, was featured in ads for the 2011 film Moneyball , and the 11-minute guitar opus also acted as the film's primary theme music. It's probably their most recognizable song, and thanks to placements like that in Moneyball, the Texas-based quartet's fanbase continues to expand.
"It's really interesting seeing how far our music has spread out through film and TV and touring," says guitarist Jeremy Galindo. "The growth of the band has been mind-blowing to watch. It's incredibly surreal. It's just not something we thought we could ever get away with doing for a living."
But still, as 2011's Tunnel Blanket revealed, the band is not interested in doing the same thing over and over again. Though tracks like "Little Blood" and "Black Dunes" from Tunnel Blanket are, like the band's earlier work, heavy on layers and pedal work, they have a moody, distant feeling, as opposed to the generally upbeat, hopeful sensibility found on their debut. "Communal Blood" feels especially ominous, gradually building in a sinister cacophony of guitars.
Many fans of This Will Destroy You are divided over their preferences of the prettier aesthetic of the band's debut or the darker shift in tone on Tunnel Blanket, but the band's upcoming project, slated for a fall release, might let them meet in the middle.
"It's more of a mix of everything we've done up to this point," Galindo says. "It has more up-front melodies than Tunnel Blanket did, and overall it's a happier record, but it still has a very creepy but organic vibe to it."
Whether they are making melodic, peaceful music, or abrasive, haunting tracks, the guys in This Will Destroy You are always digging deep to express themselves—and it's the kind of powerful, creative desire that doesn't even require words.

THIS WILL DESTROY YOU
w/Silent Land Time Machine
Kilby Court
741 S. Kilby Court (330 West)
Friday, March 21
8 p.m.
$10 in advance, $12 at the door
KilbyCourt.com