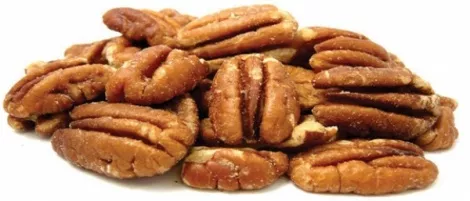 Utah isn't known for nuts (at least, the edible variety), and for good reason: There's only one operational pecan farm, plus a few pine nut operations. So against the odds, nestled in the desert highlands outside Hurricane, lies Thompson Family Farms.
In 1985, owner Tim Thompson bought the five-acre farm. "We were looking for someplace in rural Utah to raise a family. Pecans didn't matter; if it had peaches, I would have bought it," says Thompson.

But after 25 years, he's now nuts for pecans. At 3,000 feet above sea level, the farm has the optimal heat and altitude to grow pecans, which are so sensitive that other St. George- and Mesquite, Nev.-based farms have failed over the years. And, a high-pH, calcareous (translation: chalky) soil is optimal for less-acidic nuts, as opposed to their Southeastern counterparts. Thompson's product is sweet and buttery, with slight woodsy tones.

In early winter, the farm harvests 207 trees, producing 15,000 pounds of pecans yearly. A tree shaker helps drop the nuts onto tarps, which are then de-hulled and kept in cold storage for 30-90 days. "Nuts are kind of like meat, in that they have to cure to have a much better flavor," Thompson says. Finally, the pecans are shelled and placed in a freezer until sold. There, they'll retain freshness for years, says Thompson.

His business clients include Nature's Indulgence Granola and Sugar Bear Kettlecorn & Candied Nuts, but casual pecan purists can buy at the farm or order bags and boxes by phone.

While many make candied pecans or put pecans in pies, Thompson usually just eats his plain. However, he shares a very southern Utah delight: To make a Dixie Salad, combine pecan pieces with marshmallows, fruits (like pomegranate or melon) and whipped cream. Then, stir and serve for a colorful holiday treat.

THOMPSON FAMILY FARMS
2012 Flora Tech Road
Hurricane
435-635-4921