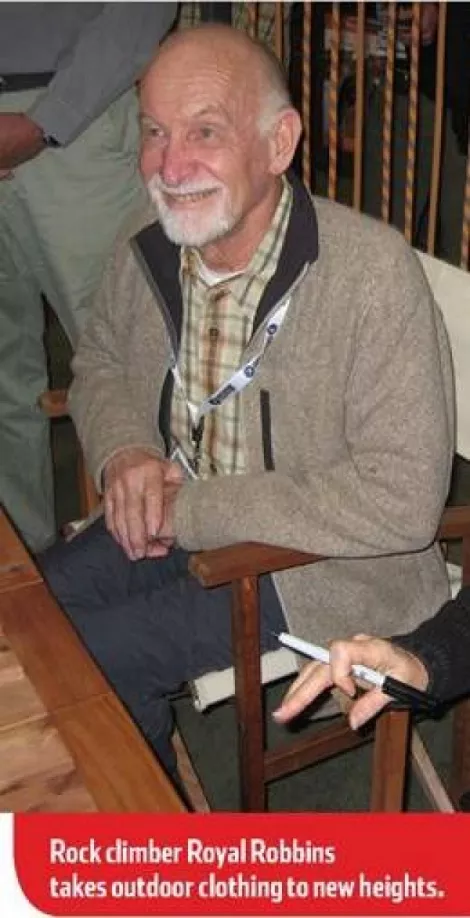 Descending Valhalla Canyon in the Tetons in 1967, I ran into Yvon Chouinard, the world-class mountain climber. I asked Chouinard what he was up to. He pulled an Italian ice ax from his pack. "I damned near died on an ice sheet a bit ago, and I put this ax on a forge and dropped the pick," he said. He was heading up to the ice on the Grand Teton to see if this invention would hold better.

The ice ax Chouinard tested that day— more clawlike than its predecessor— brought sweeping changes to steep snow and ice climbing. Chouinard proved what most fans of adrenaline sports such as climbing, steep skiing and kayaking eventually figure out: White-knuckled fear breeds the best in innovation. Those who thrive on the danger inherent in these sports want to do them again and again— but not with the gear that threatened their lives in the previous venture.

Chouinard went on to found Chouinard Equipment Co., which eventually became Patagonia, the innovative outdoor clothing company. Chouinard sold the hardware side of the business to Peter Metcalf and others. They went on to start Black Diamond Equipment, now a separately owned Utah company, specializing in climbing, skiing, camping and other outdoor hardware. As a leading figure in the international outdoor equipment industry, Metcalf is largely responsible for bringing the lucrative, biannual Outdoor Retailer convention to Salt Lake City. Here are some examples of new equipment you'll soon see, designed by adventurers who regularly get the hell scared out of them: n "Sabertooth" stainless steel crampons (ice climbing boot spikes) by Black Diamond Equipment. The crampons are 8 ounces lighter than most competitors.

They also have less snowballing in the spikes, a dangerous problem that can trip a climber. Retail price: about $170. n "Justice" skis, also by BDE. They follow the growing trend of fatter and wider skis. Dangerous, high-speed descents by free skiers demand stability on treacherously steep-powder slopes. The Justice has a solid wooden core, a light tail, a tip shaped much like a snowboard and will set you back a cool $699. n "Nano" puff pullover by Patagonia.

Chouinard's company was the first to offer pile and fleece jackets to the public, now a mainstay of winter apparel. At $150, the Nano is quilted, wind-resistant and claims to keep you warm even when soaked.

Chouinard has a history of big climbs in Argentina's real Patagonia region, where survival depends on staying warm and dry. A leading environmentalist, Chouinard is pushing hard to make all of his clothing— including cotton—100 percent recyclable.

Then there is Royal Robbins. With his wife Liz, he created the outdoor clothing line that bears his name. In the golden age of American rock climbing (late '50s and through the '60s), centered in California's Yosemite Valley, Robbins compiled a series of incredible ascents on the huge walls of El Capitan, Half Dome and many more. Today, Robbins clothing can be seen on birders, river amblers and soccer moms and dads. A youthful 73, Robbins climbs less than he did at 23, but still drew crowds of autograph seekers at an Outdoor Retailers booth.

Modern climbing technique focuses on shorter and more difficult sport routes, as opposed to Robbins' day of bold, longer and more dangerous ventures. Still, he said, "I can't judge [today's climbers]. I go to the climbing gym these days and 5.6 and 5.7 (moderate climbing ratings) are hard for me." People near him scoffed in disbelief, myself included. Together in 1964, we made a difficult first ascent of a Little Cottonwood Canyon route (which we named, appropriately, "The Robbins Route"). On that day, Robbins was no less than Rudolf Nureyev on rock. CW Ted Wilson is director of the Utah Rivers Council, a former Salt Lake City mayor and a veteran mountain climber. He is married to City Weekly editor Holly Mullen.