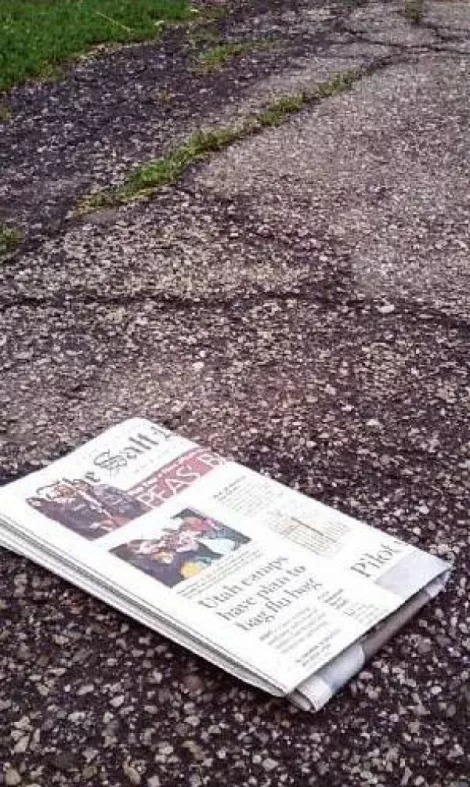 The running gag in the newspaper business is that nothing sells papers like stories about the death of print. While the industry attempts to keep paper relevant in a brave digital world, industry advocates insist papers aren't going away anytime soon. Newspaper-delivery carriers, on the other hand, might be going away, especially if their pay gets cut any more.

Paper carriers for MediaOne of Utah, the company that prints both The Salt Lake Tribune and the Deseret News as part of a joint operating agreement, complain that the company has been short-changing them on their pay. Some drivers have seen losses in their checks of hundreds of dollars.

Kim McCray, a newspaper carrier for 14 years, delivered papers back when MediaOne was known as the Newspaper Agency Corporation. McCray, who is also an independent contractor for City Weekly, says in the past year—since the company started keeping drivers' manifest records online to save paper—drivers have been earning less and less.

"It just didn't add up," she says. "Where is all this money going? Just this last pay period, I was almost $400 dollars short on my check." McCray says that even though she couldn't find the record of the discrepancy on her online manifest and neither could her district manager, she was told by corporate headquarters that the loss was a result of a $150 discrepancy in tips she received between pay periods as well as the amount of supplies she purchased.

"I've never had that huge of a discrepancy with tips," she says. "And I buy the same amount of supplies every pay period, so that should not be an issue. To go from $1,200 to $800—it didn't make sense to me." Representatives of MediaOne would not comment for this story.

McCray is one of hundreds of drivers in the state. She operates out of the Murray depot along with several hundred other carriers. Like the others, her MediaOne contract includes delivery of the local dailies as well as national publications like USA Today, Investors Business Daily and The New York Times. She has to buy her own supplies—bags and rubber bands— through the company and relies on the online accounting system to manage her tips. Lately, she says, carriers can't access the system to determine how they're getting paid.

Michele Reihl, a carrier who worked for MediaOne for three years, and as a NAC district manager for 10, left the organization in October of 2008 after noticing the shortchanged paychecks. She says carriers have been hurting, noting that MediaOne charges carriers $40 for a box of 2,000 plastic bags that once cost carriers only $7. "They said it was because they're higher-quality bags, but if anything, they're worse."

Jim Horton, a carrier who mostly covers the Sugar House area of Salt Lake City, also has noticed a hit in his pay. "My check went from $700 to $500 dollars," Horton says. He was told the pay cut was due to fewer advertisements and inserts being inserted into the papers. "That didn't happen," he says. "We've had more inserts and more stuff to put in the papers and less pay."
Horton, is amazed that carriers would be getting shortchanged for any reason by MediaOne. "It just seems to me for an [industry] that's really struggling, there's a few things the newspapers would want to do better," Horton says. "The first thing is to treat carriers correctly."

From a business standpoint, however, things might not be getting any better. According to a report released by Moody's Investor Services, a credit-rating and corporate-risk assessment firm, the newspaper industry is being held down by the overhead it puts into printing and distribution.

Moody's Vice President and Senior Analyst John Puchalla writes that newspaper publishers are suffering from a "structural disconnect," in that the industry averages a 14 percent investment in content creation, while 70 percent is devoted to printing, distribution and other costs. The other remaining 14 percent is spent on advertising. The report advised that newspapers looking to improve their credit ratings will have to cut costs on the printingand-distribution end of the business. That rationale is probably of little comfort to Horton and McCray, who feel like they're already getting squeezed.