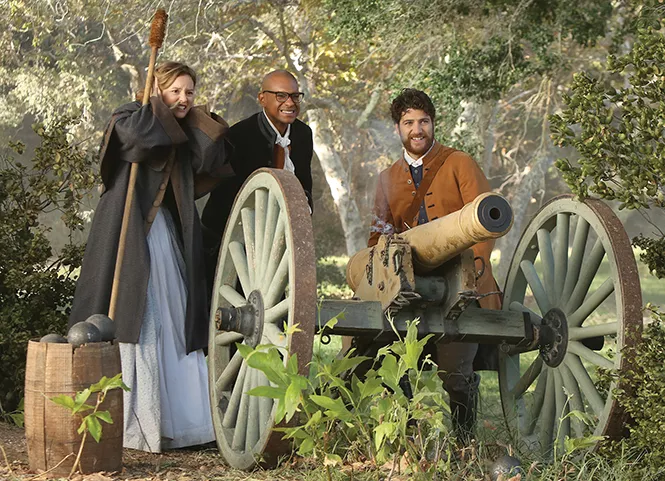 Making History
Sunday, March 5 (Fox)
Series Debut: After Frequency (R.I.P. at The CW), Timeless (the best of the lot, but struggling at NBC) and Time After Time (more in a moment), the current TV season's glut of time-travel shows finally lightens up with Making History, even though the timeline-twisting consequences are no less dire. When Massachusetts college employee Dan (Adam Pally) discovers a time-traveling duffle bag (just go with it), he begins making regular, continuum-cocking trips to the 1700s to visit his easily impressed new Colonial girlfriend (Leighton Meester). No sooner than you can say "Hot Tub Time Machine meets Drunk History," Dan's dragging a history professor (Yassir Lester) back in time with him to re-reset the outcome of the American Revolution, lest the USA come to be ruled by a ... psychotic dictator. Anyway: Making History is a funny, Fox-y comedy, unlike ...
Time After Time
Sunday, March 5 (ABC)
Series Debut: Ugh. Based on the slightly less terrible 1979 time-travel movie of the same name, Time After Time follows a pretty H.G. Wells (Freddie Stroma) tracking a pretty Jack the Ripper (Josh Bowman) from 1800s London to present-day New York City, because god forbid we have a TV crime drama not set in NYC. What follows is the expected "What sorcery is this?!" marveling at modern technology and gentlemanly wooing of 21st century womenfolk that Sleepy Hollow already does waaay better. As with Making History, there's the nagging question of "How do you get 13, or more, episodes out of this?" but Time After Time should be gone after three, so problem solved.

Feud: Bette & Joan
Sunday, March 5 (FX)
Series Debut: On one hand, Ryan Murphy's new secondary career as History-as-Meme TV director is already getting tiresome—FX already has, like, 12 seasons of American Crime Story planned, and the first one just sucked (admit it). On the other, watching stars playing dress-up as classic pop-culture fixtures is irresistible (The People v. O.J. Simpson was a visual hoot, at least). The eight-episode Feud: Bette & Joan chronicles the legendary Hollywood rivalry between Joan Crawford (Jessica Lange) and Bette Davis (Susan Sarandon), who also battled sexism, ageism and every other -ism the early '60s dished out. Predictably, Lange and Sarandon chew scenery portraying famed scenery-chewers, but at least there are some crumbs left for Sarah Paulson, Alfred Molina, Catherine Zeta-Jones, Stanley Tucci and Kathy Bates. Resistance is futile, darling.
The Arrangement
Sunday, March 5 (E!)
Series Debut: The producers and stars of The Arrangement insist that E!'s new scripted soap is not based on Tom Cruise and Scientology ... but it's totally based on Tom Cruise and Scientology. Rising Hollywood starlet Megan (Christine Evangelista) is offered a $10 million contract to "marry" A-list actor Kyle (Josh Henderson), a member of a sketchy church called The Institute of the Higher Mind(!). The Institute's leader, Terence (Michael Vartan), also manages Kyle; Terence's wife, DeAnn (Lexa Doig) is Kyle's producing partner; they all have secrets, as well as an interest in keeping up appearances with Megan (who has her own skeletons, because drama). There's a lot going on here and, like The Royals, the series is surprisingly well-executed, for E! (read: not reality trash). Check it out before the lawsuits fly.

The Americans
Tuesday, March 7 (FX)
Season Premiere: Everything Cold War is new again, right? Much like daily news-cycle life in 2017 'Merica, every season of The Americans is a white-knuckle ride through '80s Soviet Union fear and loathing, and Season 5 (the series' second-to-last) cranks the anxiety yet again. Suburban Russian spies Elizabeth (Keri Russell) and Phillip (Matthew Rhys) have begun training teen daughter Paige (Holly Taylor, slowly becoming the real star of the show) in the ways of the KGB, but can they keep her away from the cute boy next door who happens to be the son of an FBI agent? Of course not—devushkas will be devushkas.
Listen to Frost Mondays at 8 a.m. on X96 Radio From Hell, and on the TV Tan podcast via Stitcher, iTunes, Google Play and billfrost.tv.