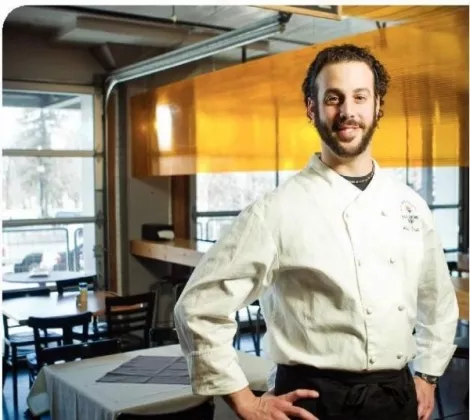 Along with Pago restaurant across town, the biggest buzz among Salt Lake City's dining glitterati this summer has been about Tipica. This is the long-anticipated restaurant project launched by Tony Caputo and his son, Matt (although Tony claims he's "retired"), along with wunderchef Adam Kreisel.

Here's what happens: By day, Tony Caputo's Market & Deli is an informal, cafeteria- style spot to fill up on meatball subs, eggplant Parmesan and savory salads such as the Vanocur. At night—Wednesdays through Saturdays—the Caputo's deli space morphs into a fine-dining restaurant. Gold-colored curtains are drawn to redefine the space and create intimacy; white tablecloths cover the tables; tealight candles and fresh flowers appear, along with sleekly designed salt & pepper shakers and fine stemware. A staff of black and white-clad service pros patrols the dining room. Wine and beer is poured. Magically, a deli is transformed into a restaurant. But, don't go looking for Caputo's lunchtime muffaletta on the menu.

I inadvertently created a firestorm of a controversy when I previewed Tipica in the Salt Blog a while back. Billed as a "nose to tail" restaurant, the idea is that if you see, for example, lamb chops on the menu, Chef Adam Kreisel hasn't merely purchased chops from his meat supplier, but acquired the entire lamb from Lau Family Farms, which he will use, from nose to tail, eventually.

There seems to be a lot of sectarianism and holier-than-thou-ing going on when it comes to this nose-to-tail business. People are radically opinionated about it: "They don't use the snout!" one person might proclaim. Well, Matt Caputo invites interested parties to come and take a peek inside the fridges and freezers at Tipica if you need to be convinced they're using the entire beast.
Frankly, I couldn't give a damn either way. I care most about the food on my plate. When I order the roasted marrow bone and pickled beef tongue with frisée and lemontruffle vinaigrette ($11), I don't really care if the rest of the cow is in the fridge; what matters to me is that it tastes spectacular. And, thus far, I've found very little at Tipica that didn't taste spectacular

I'm not surprised, though. I've followed Kreisel from his turquoise-and-fuchsiacolored muttonchop days at The Globe Café by Moonlight (which simply arrived on the Salt Lake City scene way ahead of its time) to Sundance Resort, Metropolitan and Acme Burger Company. At every stop along the way, he has, at times, made my head spin. Finally, he has the freedom and the support to cook the way he really wants to cook. And we, luckily, are the recipients of that freedom, expertise and creativity.

It takes a very talented chef to get me to like cauliflower, but Kreisel did it. Mostly, I don't usually like cauliflower because it's boring, but I also don't like it because it looks like brains. For the same reason, I'm not fond of whole walnuts, either. (Oddly, cooked brains don't look like brains, which is why I still miss the breakfast brains at Bill & Nada's.)

"I treat it like meat," says Kreisel about his technique for cooking cauliflower. He takes big, brainy-looking hunks of cauliflower and sears the bejeezus out of them, before roasting. The end result is tender, almost meaty-tasting cauliflower with a beautifully browned crust, infused with grape must and garnished with a chiffonade of micro basil ($5). I defy you to find a better use of cauliflower.

Farm-fresh and local ingredients abound in Tipica dishes, from the local baby arugula salad and the English peas accompanying the smoked pork shank ($15) to the sunchokes in the roasted shallot and sunchoke soup ($6) and porcinis used in the beef ragout. That last dish—Piedmontese beef and porcini ragout ($17)—is a hearty dish that would seem more apt in winter. But I loved every single bite on a hot, steamy summer's evening. It's a robust, rich dish of braised and shredded tender beef (from Larson's Piedmontese steer) with minced porcinis—a beef and porcini "Bolognese," if you will—served on thick strips of homemade rosemary papparedelle pasta. Can you say, "Lick the plate clean?"

When I asked our server to recommend a wine pairing for the ragout, she was refreshingly honest: "I don't really know anything about wine, but I'll ask," she replied. A few minutes later, Kreisel popped out from the kitchen to recommend '63 Cheval Blanc. "Are you buying?" I think was my response. Well, you won't find Cheval Blanc on the Tipica wine list, but there is a very good selection of eclectic wines that perfectly match the Tipica fare, including the glass of Aia Vecchia Lagone Rosso ($8.50/glass), which a very winesavvy server, Mike Webb, recommended.

So many delicious dishes and so little space to write about them: Thick, chewy bucatini with arugula and tarragon pesto was creamy and delightful, enhanced with 3-year-aged Parmigiano-Reggiano and edible flowers. Ridiculously good risottos I've tasted include Kreisel's lamb sweetbread and celery risotto, and his seafood and baby tomato Carnaroli risotto with lump crabmeat and rock shrimp. I could go on and on.
With the possible exception of the noise when it's crowded (and it always seems to be crowded), I can't think of any reasons not to encourage you to go and try Tipica for yourself. Even the prices are relatively low, which is far from typical.

TIPICA
314 W. 300 South
801-328-0222
TipicaCaputo.com