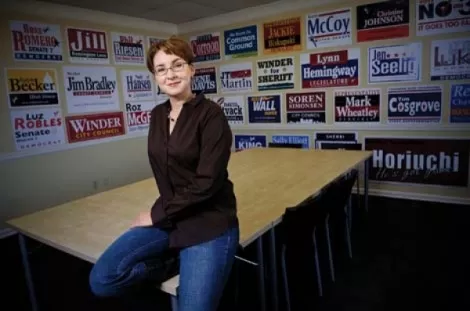 Chad Kirkham
Brandie Balken
Brandie Balken, Executive Director of Equality Utah
Approaching a legislator often means getting over an obstacle that is 90 percent mental. It's scary talking to a legislator, especially one who may not agree with you, about public policy that could personally affect you or your family. Brandie Balken got her first taste of citizen lobbying while speaking against Utah's Amendment 3 in 2004, which defined marriage as a union between a man and a woman in Utah's Constitution.
"Before I went up, it was really intimidating," Balken says.
"I had a sense that these were immensely powerful people and they would be inherently more educated or know more about these issues than I do." Surprise, surprise: Balken discovered the Capitol was filled with mortals like her.
"These legislators are dealing with thousands of bills regularly," she says. "You, as a citizen, may have more info about a specific bill than they do. You may have the opportunity to be the educator." For Balken, an epiphany of citizen power was realized—one that guides her to this day, as Equality Utah gears up for another session of duking it out on the Hill for nondiscrimination and fair-housing protections for LGBT Utahns as well as parity in adoption laws for gay and transgender parents in the state.
Lobbying Philosophy: "Remember, [legislators] are regular people, just like we are. So treat them like regular people. The most effective lobbyists are the ones who take time to establish personal relationships. When other people see you as a human being, they're more likely to hear what your points are."
Tips: Balken advises keeping to just two or three talking points with elected officials and, for the best result, lobby your own legislator. "It's always effective to talk to the people that actually represent you."
Claire Geddes, former chair of United We Stand and Common Cause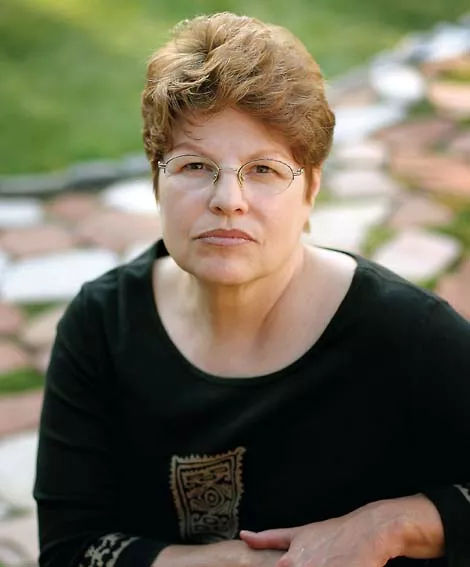 Claire Geddes has a history of sticking it to the powers-that-be since the early '90s. Her first introduction into Utah politics came shortly after she lobbied for the Legislature's Rules Committees to be opened to the public for the first time. The fruits of her novice lobbying seemed promising until she left for a trip to Dallas, Texas, to meet with members of the Ross Perot campaign. While she was gone, her efforts at opening the powerful committee that decides which bills will make it out of committee for public debate got axed in 1995, partially at the behest of Democrats on the Hill.

Geddes, frustrated that her efforts were kiboshed by both Republicans and Democrats, didn't hesitate to tell a Salt Lake Tribune reporter what she thought of the legislators: "We're not going to change until we kick all the bums out, frankly. One party's got all the power and the other doesn't have any guts." Geddes punking the Legislature became a very public headline, causing her to worry that her grass-roots career was ending before it had really taken root.

"I went back up on the Hill, and I was scared to death," she says, expecting the worse. Instead, legislators began taking her to lunch and inviting her to leadership meetings. Geddes had discovered the virtue of speaking bluntly.

"If you didn't speak out, and it wasn't publicly known what was going on, you didn't have any effect." Geddes says. Now, with close to two decades worth of lobbying under her belt, Geddes has fought to protect the consumers against unscrupulous utility plans, and has been a vocal watchdog against the storage of nuclear waste in Utah. Through it all, she's emphasized educating the public and the Legislature as well as understanding how to get a message out.

Lobbying Philosophy: "I lobbied more to the public. What you have to do is get more people informed. Unfortunately, in a short session, it's really hard."

Tips: You don't necessarily need an organization and a press conference to get your message out. "People can be effective if they just go testify at a committee hearing. I've gone to hearings where the list of corporate lobbyists was more than 20 and only just a handful of citizen lobbyists," Geddes says. "The Legislature [does] listen when you come up. I also believe strongly that, on the state level, you can make a big difference. But if legislators only hear one side of an issue—that's the side they'll go with."

Steve Erickson, Great Basin Water Network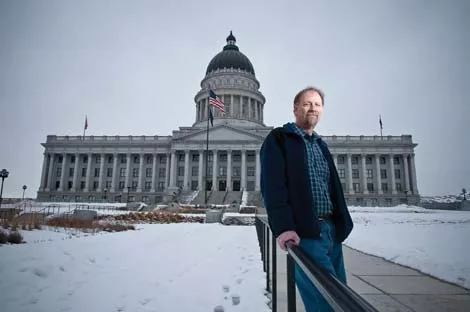 When asked for advice about how to tilt at the windmills of public policy through citizen lobbying, Steve Erickson, a triedand-true activist since the Vietnam era, couldn't help but belt out one word of advice: "Don't!" Joking aside, Erickson understands that you'll need a sense of humor to survive the trenches of long-term citizen lobbying. For Erickson, the Vietnam War prompted him to engage the government in the 1970s, and by the early '80s, he had begun citizen lobbying. One of his first fights was going to the Hill to challenge a plan to install MX Missile silos across the Uintah Basin. "It was a crazy idea, and it was defeated by citizens," Erickson says.

Since then, Erickson has been an on again, off again consultant for the progressive group Utah Issues, a watchdog of Dugway Proving Ground testing, a guardian against the Snake Valley water deal and now heads up the Citizens Volunteer Education project, a nonprofit that crusades against excessive criminal legislation and pushes for money for correctional treatment programs.

Lobbying Philosophy: "The main thing is you have to know your issue and have the willingness to get out there and do it. Not any real magic to it. The process can be a little bit puzzling and intimidating at first, but if you've got the chutzpah—that's all it really takes."

Tips: Don't forget the legislative pre- and post-season, Erickson advises. "It's best if you can contact [legislators] before the session and after the session, when they have more relaxed schedules." Any time you approach a legislator, also remember that there's strength in numbers, whether it's an organization you're with or whether it's just friends and family.

"There are times when if legislators hear from 20 people, that's often enough to influence their decision—or at least make them take a harder look at the issue. If there are 50 people, it's a grass-roots army!"