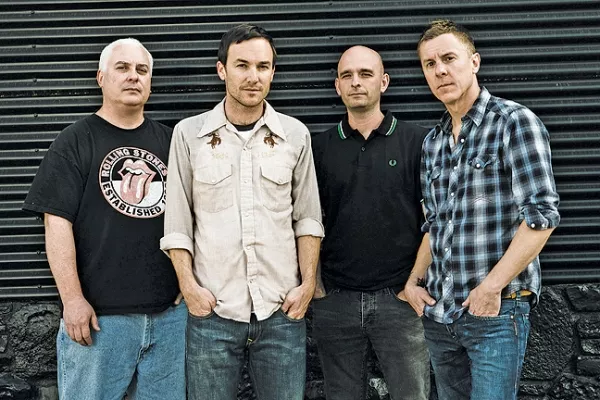 They came out of Texas like in a black & white horror film: a croaking, four-headed creature with malevolent intent. Rubberneck, the Toadies' 1994 debut, was selling strong with its brooding, portentous hit "Possum Kingdom." And then they were gone.
"Possum Kingdom" lingered for years on the radio, but the band—notwithstanding sales and a rabid fan base—languished. "Surreal," "weird" and "trying" are how frontman Vaden Todd Lewis describes the period when the Toadies tried to get Interscope Records to release their follow- up, Feeler. The group rollercoastered through alternating yeas and nays, revising, tweaking and re-revising songs. They even started from scratch once.
Feeler was shelved; the band played a few more shows, then started to write again. In 2001, Interscope approved Hell Below/Stars Above, but five months later, the Toadies splintered into other bands. Lewis contemplated pulling the ripcord and doing "anything else."
In any good monster movie, the beast always rears its ugly head at least once more. Walking down a street in Beaumont, Texas, fighting high winds, guitarist Clark Vogeler reflects on the past six years. The Toadies recommenced for a series of sold-out shows in 2006, which led to No Deliverance (Kirtland Records, 2008). The enthusiastic reception enabled more touring. They watched their annual Dia de los Toadies festival mushroom, then the band dropped Feeler in 2010. They're back—for real. "We're as surprised as anybody that we're still around," Vogeler says, laughing.
It's not that surprising. The Toadies had the goods from the beginning: a monstrous sound that was grungy without being dyed-in-the-flannel grunge; literate, twisted lyrics; a no-frills live aesthetic. Not that it would've mattered; lots of bands have the stuff and get screwed—but when they return, and if they had a shred of success, they usually do—it's to little fanfare.
What's surprising is that the Toadies' fans never left; they remained faithful all those years, downloading bootlegs of Feeler and clamoring for those reunion shows. And when the band complied, the fans bought the tickets, the records and the T-shirts. Therein lies the biggest surprise: The Toadies have a career in the Internet age, and it actually enabled them to take 2011 off.
"We did play a few shows here and there," Vogeler says, "but since we'd toured so much in 2008 and 2010, we kinda laid low."
The idea behind the break from touring was to gear up for the release of two EPs in 2012. Momentum being what it is, however, the Toadies decided it was better to make another full-length album instead. The band expects to release it on Kirtland in August. Vogeler gives a preview:
"We've got a song called 'Summer of the Strange,' and that's gonna be the first single. Its closest musical relative would probably be 'Away' from Rubberneck; it has a similar vibe to that song—a lot of that guitar weirdness going on, a lot of feedback, a really fast part, slow parts. There's a song called 'Rattler's Revival,' where we have Black Joe Lewis & the Honeybears' horn section on that track. It's got a strange, preacher vibe to the vocals and big, ballsy horns with Todd wailin' [on guitar] over the top of them."
Vogeler says "Rattler's Revival" is a new "song texture" for the Toadies, but not so much an evolution. "We're all growin' up and growin' older, certainly. Lyrically, Todd's pretty good about writing about whatever's goin' on in his life, and clearly we've had lots of stuff happen in the last few years."
Rather than dwell on the past, the Toadies prefer to look ahead. April 7, the day of our interview, is the first day of the band's tour with Social Distortion. "We'll tour the Northwest and Canada with them, including two shows in Salt Lake City," Vogeler says. "Then we've got a tour coming up with Helmet later in the year. So today's the first day of a real long, busy season for us."
TOADIES
w/ Social Distortion, Lindi Ortega
The Depot
400 W. South Temple
Friday, May 11 (sold out); Saturday, May 12 (all ages); 8 p.m.
$30
DepotSLC.com