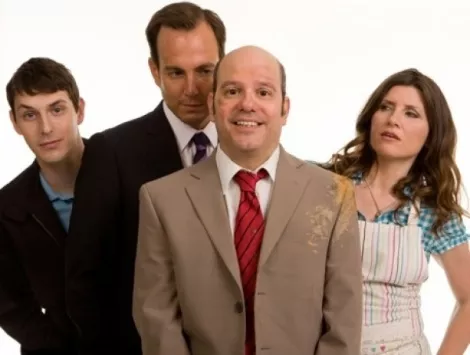 The Increasingly Poor Decisions of Todd Margaret

The Increasingly Poor Decisions of Todd Margaret
Friday, Oct. 1 (IFC)

Series Debut:
American temp Todd Margaret (David Cross) bluffs his way into a top-level sales position with Thunder Muscle (!) energy drink's London office. From there, the lies and, as you may have guessed from the title, poor decisions pile up as Todd tries to sell England on a possibly toxic product, woo a new lady in his life (Sharon Horgan), placate his crazed boss (Will Arnett, better used here than in his own
Running Wilde
) and keep up the front that he actually knows what the hell he's doing—Todd Margaret's like Don Draper, only terrible at
everything
. Aside from the manic 'Merican presence of Cross and Arnett, the subtle
Increasingly Poor Decisions
could fit (un)comfortably between reruns of
The Inbetweeners
and the original
Office
on BBC America. Proceed accordingly.

Teach: Tony Danza
Friday, Oct. 1 (A&E)
Series Debut: Tony Danza (yes, the Tony Danza of Taxi and Who's the Boss?) teaches 10th grade English at an inner-city Philadelphia high school as the reality cameras roll—because why do anything if you can't sell it as a cable series? If TLC's sucktastic Sister Wives hadn't already debuted last week, Teach would qualify as the worst idea for a reality show since, well, the entirety of VH1's post-2005 programming. Seriously, they couldn't get Coolio for this?
Watch It


Download It


Forget It


American Dad
Sunday, Oct. 3 (Fox)
Season Premiere: After last Sunday's utterly, painfully laugh-free season premiere of Family Guy, now is the time for American Dad to deliver—the future of Fox's Seth MacFarlane Sunday can't rest on The Cleveland Show … please, please, please not The Cleveland Show. Last season, American Dad consistently matched the comic high notes of classic Family Guy in its prime and then some; the post-apocalyptic "Rapture's Delight" in particular was as brilliant as anything in Fox's comedy lineage, animated or otherwise. Tonight's season premiere and 100th episode isn't quite up there (a Cannonball Run tribute? WTF?), but it still beats everything else on the Animation Domination block.
Caprica
Tuesday, Oct. 5 (SyFy)
Return: SyFy had originally scheduled the second half Caprica's first season to resume in January 2011, nearly 10 months later. Ten. Months. Not that you haven't already forgotten what's going on: Set 58 years before the gloomy-Gus Battlestar Galactica, Caprica is a world drunk on wealth, technology and fedoras. Tech mogul Daniel Graystone (Eric Stoltz) has developed the hardware for Cylons (the "toasters" that will eventually rise up against mankind), but his teen daughter Zoe (Alessandra Torresani) figured out how instill consciousness—before she was killed in a monotheist terrorist attack, and now exists only as a digital avatar. As Season 1.5 opens, Graystone fights to get his company back by (almost) any means necessary, but the cliffhanging fates of wife Amanda (Paula Malcomson) and Zoe aren't revealed until the final moments. They're intriguing—though not 10 months intriguing.