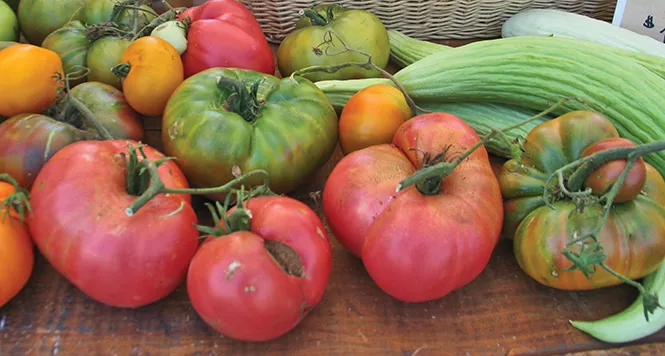 Tomato Celebration
Wasatch Community Gardens wants you thinking about eating seasonally, and this time of year, there are few garden delights quite like fresh tomatoes. In honor of the bounty being produced by local tomato vines, several local restaurants are participating in a Tomato Dine-Around now through Sept. 15, featuring special heirloom tomato-themed menu items. Visit 3 Cups, Even Stevens, Laziz Kitchen, Tin Angel Café and Les Madeleines for their specialty creations—and then enjoy the free basil pesto and heirloom tomato sandwiches at the 2017 Tomato Sandwich Party, Sept. 9 from 11 a.m.-2 p.m. at Grateful Tomato Garden (769 S. 600 East). To learn more, visit wasatchgardens.org.
Think Veg
If you've ever toyed with making your diet meatless but don't know quite where to start, SLC VegFest has you covered. Held at Library Square (210 E. 400 South) on Sept. 9, from noon-8 p.m., in part it's simply a lively downtown party, with live music, children's activities and beer garden to celebrate as summer winds down. But mostly it's a great chance to learn about local vegan and vegetarian restaurants and packaged food retailers, listen to speakers discuss issues related to animal protection and likely shift your assumptions about giving up flavor when you change what you eat. For more info, visit slcveg.com
Tacofest Results
Back in July, we told you about the first annual SLC Tacofest on Aug. 5, which attracted local retailers and taco-lovers for a good-natured celebration and competition, all to benefit Meals on Wheels. Well, the event was a smashing success: More than 3,000 visitors enjoyed the inaugural event, and honored winners in categories including Best Traditional Taco (El Calor Taquería), Best Veggie Taco (Fajita Grill) and Taco of the Year (the Raptor Jurassic Taco from Jurassic Street Tacos). Best of all, the folks enjoying all of those tasty creations raised more than $7,000 for Meals on Wheels. Congratulations to everyone involved.
Quote of the Week: "It's difficult to think anything but pleasant thoughts while eating a homegrown tomato." —Lewis Grizzard
Send tips to: comments@cityweekly.net