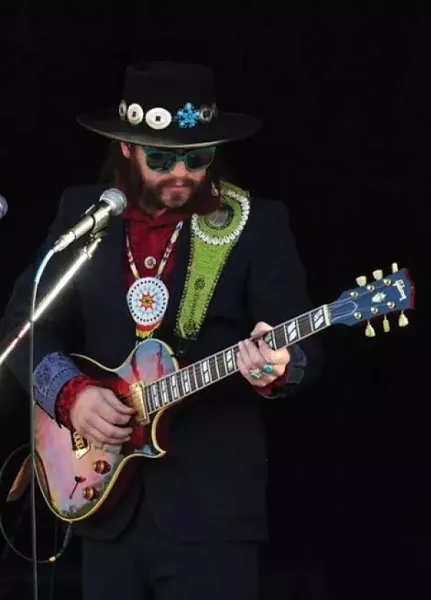 Tony Holiday's philosophy of music is all about support and networking: You won't get support if you don't give it. Holiday is highly regarded in the musical community. On any given night of the week, he's either playing music or listening to fellow musicians.
It's difficult to make a living playing music in Utah, but Holiday's philosophy has helped him survive playing his guitar for the past few years, first as part of Marinade and, more recently, leading his own band, the Velvetones.
Holiday and I sat down to talk recently during an open-mic blues night at Burt's Tiki Lounge. He was clearly distracted because he knew everyone there—we were interrupted countless times by people coming to say hi. He leaned over to give encouraging advice to a budding blues musician practicing her guitar in the audience. The bartenders joked with him, and the musicians onstage nodded at him when he looked their way. But mostly, he was distracted by the blues music the musicians were playing.
As I was jotting down notes, Holiday would pull out his harmonica and play it quietly at the table. He couldn't help but be part of the performance.
"Blues music has always spoken to me," he explained with a rhythmic cadence to his voice. "No matter what I play, it comes out with a bluesy twang."
Playing music from a very young age, he's dabbled in bluegrass, rock and jazz. He began focusing on guitar in his teens. To him, it was never a question of what type of music to play. The blues chose him. And to Holiday, the blues is not just a genre of music, it's a lifestyle; one he took on full time about two years ago.
"It all started at the end of Marinade," Holiday explains. Marinade was a blues project in which he collaborated with vocalist and drummer Talia Keys. Marinade had a good run and played weekly gigs for more than a year.
Upon leaving Marinade, Holiday began playing acoustic gigs and electric gigs as the Velvetones at venues across northern Utah. He'd draw from a large pool of talented blues musicians to accompany him on these gigs.
"I can go to any city in the area, Salt Lake, Logan, Park City, and some smaller areas, and find a bassist and drummer to back me up for a gig," Holiday says.
He bounces from Logan to Park City, Salt Lake City, Murray, Sandy, up to Wyoming and Idaho, and then back. Then he does it again. Holiday has also become a fixture at mountain states music festivals. "Annually, we do Desert Rocks and Uncle Uncanny's," he says. "We also did Powellapalooza this year, and we do Oystergrass [in Wyoming] each year."
Holiday recently took his touring to a new level. "We toured all over the South," he said, "Georgia, Tennessee, Mississippi. I toured with my friends down there in the spring and summer of 2009."
Holiday found the Southern hospitality especially agreeable, and he's planning on moving to South Carolina. "It's not much of a risk," he says, noting that he has a friend who's been playing the bar circuit in that region the past few years. "I'm going to join forces and tour with him."
Although he has plans to leave Utah, he isn't going to forget the state. He still has family, a lot of friends, and a reputation to uphold here.
"I'll be coming back for two or three weeks every two months to play the circuit here," he says. "I'll be living there, but I'll be visiting and playing here [in Utah]."
Holiday planned his move to take place just after he releases his first solo album, Swamp Stomp. "The album is sort of a testament of all of my experiences here in Utah," he says.
His fans can consider it a farewell gift.
VELVETONES, ULYSSES, JAMES TAUTKUS
The Urban Lounge
241 S. 500 East
Wednesday Nov. 17, 9 p.m.
$5