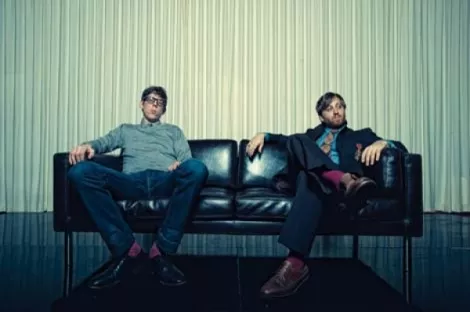 It's often difficult to settle on just 10 picks when I create a list of my favorite albums each year, given the amount of music that comes my way. But when I clear my mind and simply consider which artists' albums I listened to the most—that planted themselves on my iPod, on my work computer and in my car CD player the longest—the list narrows considerably.
Here are the 10 albums that got under my skin in 2010 (and a few that almost made the list):
The Black Keys, Brothers
Even before the latest full-length by singer/guitarist Dan Auerbach and drummer Patrick Carney hit the streets, you could sense Brothers was going to be a game-changer for the duo. Massive sales, TV exposure via music video channels and commercials using the Black Keys soulful blues and an appearance on the latest Twilight soundtrack collectively showed The Black Keys weren't anything close to an underground pleasure any more. For some longtime fans, Brothers will be remembered as the point they jumped off the Black Keys bandwagon because the band got "too popular." For me, it's the sound of Auerbach and Carney cutting loose from the blues-duo label and exploring their sonic palette in increasingly entertaining ways.

Carolina Chocolate Drops, Genuine Negro Jig
There wasn't a more electrifying new discovery for me this year than this coed trio of multi-instrumentalists rooted in black Southeastern mountain music that doesn't need electricity at all. A downpour during their Living Traditions set couldn't spoil the fun of seeing them live.

LCD Soundsystem, This Is Happening
James Murphy's latest lodged itself in my headphones for months after its May arrival, its combo of retro synth-pop ("I Can Change") and laugh-out-loud silly club-bangin' electro-rock ("Drunk Girls") always seeming to provide an ideal soundtrack for whatever trip I was making.

Alejandro Escovedo, Street Songs of Love
One of America's best songwriters, Escovedo has dedicated past albums to paeans to his father and to songs addressing his own near-death illness. This time? Sex, love and loud guitars, and it might be his best work yet at 59 years old.

Frightened Rabbit, The Winter of Mixed Drinks
Scottish bandleader Scott Hutchison has that wickedly sly way with lyrics that's seemingly ingrained in many writers from the British isles, and this third album from Frightened Rabbit is full of gems. But I could have included this for the epic track "Swim Until You Can't See Land" by itself.

Various Artists, Preservation: An Album to Benefit Preservation Hall & The Preservation Hall Music Outreach Program
This is a stunning set of songs featuring the Preservation Hall Jazz Band playing with a who's who of music royalty: My Morning Jacket's Jim James, Tom Waits, Ani DiFranco, Brandi Carlile, Steve Earle. A must-own, and a great cause.

The Magnetic Fields, Realism
2010 was the year I finally "got" the appeal of Stephen Merritt's ongoing project of writing simple, incredibly jaded love songs in as many musical styles as he can think of; it helped that Realism is another in his recent string of matching his stinging lyrics with beautiful indie-folk.

Cee Lo Green, The Ladykiller
It isn't just about the omnipresent hit "Fuck You," although I'm still not sick of that song. Take a tour through The Ladykiller with Cee Lo as tour guide and you'll make stops at Motown, Stax and MJ's Neverland Ranch, with no need for "Jesus juice" to get you in the mood.

John Legend & The Roots, Wake Up!
On paper, it was a great idea, and the reality sounded even better. You have hip-hop's best live band, fronted by a stunner of an R&B vocalist, tackling "conscious soul" classics of the '60s and '70s written by the likes of Donny Hathaway. Don't sleep on this album—buy it!

Superchunk, Majesty Shredding
Even us Superchunk fanatics can admit the North Carolina crew, during its heyday, was always better at crafting singular, excellent songs than cohesive, consistently great albums. After a nine-year break, they returned with a more complete album than we had any reason to expect, their best since 1994's Foolish.
THE NEXT 10
Jesse Malin & The St. Mark's Social, Love It To Life
The Arcade Fire, The Suburbs
Titus Andronicus, The Monitor
Big Boi, Sir Lucious Left Foot…The Son of Chico Dusty
Kanye West, My Beautiful Dark Twisted Fantasy
Spoon, Transference
New Pornographers, Together
The Roots, How I Got Over
Justin Townes Earle, Harlem River Blues
The Henry Clay People, Somewhere on the Golden Coast
10 MEMORABLE 2010 CONCERTS

Janelle Monae, Oct. 25 at In The Venue
Part James Brown, part Outkast, part Prince and all freaky good. I'd never seen her before, and I'll never forget it.
Sharon Jones & the Dap Kings, Aug. 5 at Pioneer Park
If only Salt Lake City hosted a bootie-shaking soul party EVERY week.
Sleigh Bells, Oct. 22 at The Urban Lounge
A girl with a microphone and a dude with a guitar turned into one of the more intensely entertaining half-hour shows in recent memory.
Steve Martin, June 16 at Red Butte Garden
Yes, he killed with his witty between-song banter, but the comic and actor proved his serious bluegrass banjo chops as well.
Sufjan Stevens, Nov. 1 at Kingsbury Hall
A visually arresting show, and a musically challenging one as well as Stevens stuck mainly with his new The Age of Adz material.
Titus Andronicus, Sept. 14 at Kilby Court
Their potent blast of chant-along, anthemic guitar-rock came through loud and clear despite the annoying girl tripping on acid who would not leave them alone to play.
Patty Griffin and Buddy Miller, March 30 at Kingsbury Hall
Griffin's gospel-tinged album was the ideal set-up for a show featuring one of alt-country's best vocalists, and in Miller, one mean guitar player.
Ra Ra Riot, Oct. 12 at Club Sound
Their indie-rock by way of orchestral-pop sound came through loud and clear at this lightly attended show.
The Black Crowes, Aug. 31 at The Depot
The Robinson brothers delivered a scorching set that thankfully skipped the masturbatory jamming for the most part.
Spoon, April 7 at In The Venue
Delayed by snowy roads, Spoon finally arrived for an extra-late gig full of their loopy, loping tunes.