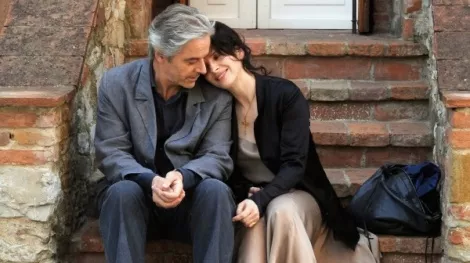 Scott Renshaw
Welcome to 2011 at the movies—where the only thing certain about the best movies was their uncertainty.

People, as a rule, don't particularly like ambiguity. A much-talked-about university study earlier this year suggested that "spoilers" are actually welcome to many people, which explains why average viewers get annoyed at pointy-headed movie critics embracing films where it's not instantly clear what's going on, how things are going to end or even why a film ends the way it does.

So, clothed in the critical equivalent of riot gear, I embrace a Top 10 list awash in complex imagery, moral ambiguity and—most notably—plenty of potentially infuriating conclusions. The filmmakers of 2011 entertained us, sure, but they also challenged viewers as much as any year I can recall.

10. Meek's Cutoff: Director Kelly Reichardt and screenwriter Jon Raymond use the real-life trip of an Oregon-bound wagon train in 1845 to create something that was less historical drama than existential exploration. Michelle Williams is one of the few familiar faces in a film that immerses itself in the weight of small events with life-or-death consequences. If you're waiting to learn the destination, you haven't figured out that this story is all about the journey.

9. The Last Lions: No genre may be more predictable—and less likely to inspire greatness—than nature documentaries. But Dereck and Beverly Joubert turned their observation of Botswana's dwindling wild lion population into genuine, emotionally resonant storytelling steeped in the "characters" of the lion family they follow.

8. Drive: There's more than a touch of affection for 1980s crime-drama in Nicolas Winding Refn's slick thriller about a getaway-car driver (Ryan Gosling) involved in a heist gone wrong. Albert Brooks' oily crime boss may be getting most of the awards-season love, but everything from its startling violence to its rich visual and sound texture carve out a distinctive place for Refn's creative vision.

7. The Tree of Life: No one is more surprised than this dyed-in-the-wool Terrence Malick skeptic to find his sprawling study of an American post-war childhood—with a cosmic interlude—punching through on a visceral level. The impressionistic narrative ultimately addresses nothing less than coming to terms with the distinction between our understanding of our fathers, and our understanding of God.

6. Like Crazy: Maybe you had to have been there—in a long-distance relationship that you couldn't imagine ending, but couldn't possibly last. Writer/director Drake Doremus captured those emotions brilliantly in the story of a couple (Anton Yelchin and Felicity Jones) separated by circumstance, evoking the way people can hold a relationship together through sheer force of will.

5. A Separation: The setup is deceptively simple: an Iranian husband (Peyman Moaadi) and wife (Leila Hatami) divided by her desire to emigrate, and his refusal to leave his ailing father. The fallout from that division plays across gender, age and class as writer/director Asghar Farhadi packs a dozen films' worth of piercing observations about human relationships into one heartbreaking story.

4. We Need to Talk About Kevin: No single stretch of filmmaking this year may be more astonishing than the opening half-hour of Lynne Ramsay's adaptation of a novel about a mother (Tilda Swinton) trying to understand a violent act perpetrated by her son. It's psychological horror of a special sort, viewed entirely through the eyes of a woman who has condemned herself because she can't imagine that she couldn't have seen the horror coming.

3. Martha Marcy May Marlene: Yes, it's about a young woman (remarkable newcomer Elizabeth Olsen) emerging from a controlling cult. But it's more about the insinuating way writer/director Sean Durkin conveys the unsteady emotional state of someone whose family support system is so flimsy that she's basically trying to deprogram herself. The character study emerges from filmmaking choices that leave viewers as unsettled as its identity-challenged heroine.

2. The Muppets: Not much ambiguity here, unless you count "Man or Muppet." But Jason Segel and Nicholas Stoller's mash note to Jim Henson's fuzzy creations worked both as nostalgic homage and on its own as effervescent musical-comedy entertainment. It's hard to dismiss something that left me with a goofy smile on my face thinking about it for literally days afterward.

1. Certified Copy: Here we come to the most wonderfully confounding experience of the year: the story of a woman (Juliette Binoche) and a man (William Shimell) who may be meeting for the first time, or may be a 15-years-married couple, or who may be both of those things at different moments. Abbas Kiarostami risks shifting the narrative ground repeatedly and winds up conveying the arc of a relationship across a single day. And like so much truly great art, it's OK if you don't grasp it all the first time around.
Eric D. Snider
For me, 2011 was filled with movies that were very good, but few that were great. Nothing jumps out as an obvious choice for Best Movie of the Year, and my top 10 list is almost randomly ordered. But there's one consistency: Nearly every film on the list is a risk-taker, telling a familiar story in a bold new way.
1. Drive
2. Bellflower
3. The Tree of Life
4. 50/50
5. Rango
6. We Need to Talk About Kevin
7. Winnie the Pooh
8. Rubber
9. Like Crazy
10. Martha Marcy May Marlene

Andrew Wright
Chalk it up to a variety of outside factors—politics, war, that one Steven Seagal reality show—but it was a good year for cinematic apocalypses taking very different looks at what might happen at The End. Melancholia trumps them all, with Kirsten Dunst's internal storms reflected on an astonishingly macro scale. When pitted against this majestic bummer, Tree of Life's contemplation of the Oversoul and merciful Velociraptors can only make so much karmic headway.
1. Melancholia
2. Rise of the Planet of the Apes
3. Cave of Forgotten Dreams
4. 13 Assassins
5. Drive
6. The Tree of Life
7. Take Shelter
8. Hugo
9. The Descendants
10. Stake Land

MaryAnn Johanson
Lots of startling fantasy on offer this year, even imbuing some of the straight-up dramas. Midnight and Rango ring with magic and wonder, sure, but Shame and Martha are haunted by dark ghosts of their own. Could Kevin be an exaggeration in the mind of a grieving mother? Best of the year, The Artist, is all about the magic and wonder of cinema. Overall, it's been a dream of a year at the movies.
1. The Artist
2. The Descendants
3. Midnight in Paris
4. We Need to Talk About Kevin
5. Rango
6. Rubber
7. Albert Nobbs
8. Rise of the Planet of the Apes
9. Martha Marcy May Marlene
10. Shame