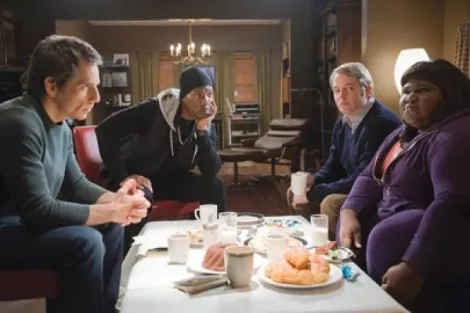 For a critic, there are few pleasures more satisfying than ripping into a bad movie. But one of those few is discovering that a film that you were expecting to hate—for this is directed by Brett Ratner, for whom the term "fauxteur" was rightfully coined—turns out to be good.

Of course, Tower Heist is goofy high-concept: When the working-class schmoes—led by Ben Stiller's smoothly competent building manager—who keep a ritzy Manhattan residential tower running efficiently discover they've been defrauded out of their pensions by one of the residents, a Wall Street sleaze (Alan Alda) they should never have trusted with their very hard-earned money, they decide to rob him of his millions as literal payback.

There are some nicely sharp satirical elements of class warfare here that could not be more of-the-moment. Alda's rich jerk should have known better than to piss off the people he pays to know every intimate detail of his life, except he was used to the "little people" in his life not realizing the power they could wield over him. Now, though: "We've been casing this place for over a decade," Stiller notes to his co-workers once they've decided to pull their heist. "We just didn't know it."

In a remarkable confluence, Tower Heist mirrors, under the comedy, the anger of the Occupy movement: There is no demonization of the wealthy here, but there is rage at inequity and injustice. On top of all the juicily satisfying fury, the actual heist stuff is clever and original (if completely preposterous). The action is fresh and funny. And, most refreshingly, none of the humor is cheap or sordid, even when it's occasionally raunchy. It is, God help me, astonishingly sweet.

I'm truly stunned by the pleasures of Tower Heist—but delightedly so. See this movie and ask yourself why more big, silly entertainments can't be this not-stupid.

TOWER HEIST



Ben Stiller, Eddie Murphy, Alan Alda
Rated PG-13