Thursday 7.2


TOWNIE CD RELEASE/LOCAL FIRST BENEFIT
As bassist in Salt Lake City's High Beams, Jason Rock established himself as not simply a solid rhythm-keeper but also a memorable performer who swayed to music onstage with infectious energy. Turns out Rock can sing, too, though that wasn't the plan when he left the Beams to form
Townie
. Originally launched as an instrumental project, the group slowly clued in to the appeal of Rock's vocals and, perhaps more so, his lyrics. He has a way with words that gives Townie's debut album
33
a familiar, fun and timeless quality particularly on songs like "Working Class Joke," which cuts through the B.S. to dispense barstool wisdom: "Have a drink, have a smoke but don't put shit up your nose." Tonight's CD release coincides with Local First Utah's benefit concert featuring fellow Salt Lake City artists Purdymouth and the Madison Arm. Help support homegrown businesses and music in one shot!
The State Room, 638 S. State, 7 p.m. Info: TheStateRoomSLC.com
WAR TAPES, VNV NATION
Brooding, romantic pop will never go out of style—OK. Maybe in a Mad Max era—but 2009 is a particularly good time to specialize in sweeping, dramatic sounds thanks to popular culture's somewhat premature revival of late '80s/early '90s fashion and music. War Tapes are right on target with their bold eyeliner and a lead singer whose incredibly low, lush voice echoes the stoic heart-throbbing delivery of Psychedelic Furs, New Order and, more recently, Stellastarr. The Los Angeles quartet is currently touring with electronic/industrial duo VNV Nation who, nearly 15 years into their career, are still cutting-edge. Murray Theater, 4959 S. State, 7 p.m. All-ages. Tickets: SmithsTix.com
SCOTTY RUSSELL BENEFIT
On June 22, local drummer Scotty Russell passed away. An accomplished musician, Russell made his mark in Mobile Homiez, Steel Rail, Bareback, Mountain Pacific and other groups playing what his friend/peer and City Weekly sales rep Steven Wells describes "two kinds of music—country and western." Friends and family encourage members of the public to join them for a live jam and final farewell to someone who left far too soon. The Westerner, 3360 S. Redwood, 8 p.m.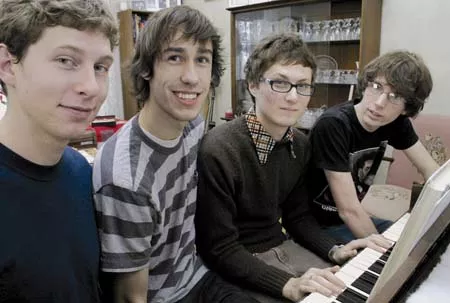 Friday 7.3
LORD MANDRAKE
Lord Mandrake are old souls housed in youthful bodies making slightly melancholy, slightly mischievous music. Following their 2008 EP Dreamer, The Best of All Possible Worlds speaks to a generation raised on Wes Anderson, McSweeney's and similar post-modern irony. But the LP is equally seeped in classic folk and psychedelic rock, with lush piano crashing down around teeth-baring lyrics: "Misanthropes chattering over wars being fought on someone else's ground/I hope I'll see the day when you're consumed by the ones you have fed." The first track off Worlds even nods to the spaghetti-Western instrumentals of Spindrift, its jangly guitar eventually culminating as a searing fireball of energy that's sustained throughout the record. It's a stunning sophomore effort contained in intricately screen-printed packaging. Own a bit of the magic by picking up a copy tonight or on Monday when Lord Mandrake performs as part of Slowtrain's Local Night series. Kilby Court, 741 S. 330 West, 7:30 p.m. All-ages

Wednesday 7.8
DRUM & BUGLE CORPS SHOW
In an interview on PRI's The Sound of Young America (MaximumFun.org), comedy troupe Human Giant extolled the virtues of Nick Cannon, specifically his role in Drumline, a film that sheds light on the largely obscure world of musical marching ensembles. Though replete with stereotypical characters and plotlines, Drumline got one thing right—ensemble musicians participate in intense, challenging regimens on par with the workouts of professional athletes. Members of Utah's Corps Encore, for example, work 12 to 14 hours a day on an 11-minute program. Perfection is the only acceptable outcome. Impressed yet? Wait until you check out tonight's event featuring competitive drum and bugle corps gearing up for the DCI World Championships. Stewart Stadium, Weber State University, 4100 South Taylor Ave., Ogden, 7 p.m. All-ages.

Coming Up
Jenny Lewis, Bon Iver (Gallivan Center, July 9); Salt Lake City International Jazz Festival (Washington Square, July 10-11); Cage (Urban Lounge, July 11); Snowbird Mountain Music Festival (Snowbird, July 10-12); Jim Rose Circus Sideshow (Club Vegas, July 12); Death Cab for Cutie, Andrew Bird, Ra Ra Riot (Red Butte Garden, July 13); Studebaker John (Pat's BBQ, July 13); Sherwood (In the Venue, July 14); Doomtree (Kilby Court, July 16); The Black Keys, Human Highway (Gallivan Center, July 16); Reverend Horton Heat (The Depot, July 17)