A movie set in a unique location can immerse viewers in the onscreen scenery and culture, and spark the desire to experience it in real life.
Such is the case with the movie Sideways, which was released in 2004 and is celebrating its 10th anniversary this fall. Miles (Paul Giamatti) and Jack (Thomas Haden Church) go to the Santa Ynez Valley just off California's central coast for a week of wine tasting, dining and relaxation to celebrate Jack's upcoming wedding—or so they think. The pair becomes romantically entangled with Maya (Virginia Madsen) and Stephanie (Sandra Oh), which leads to comedy, soul-searching, Merlot-bashing and bottles of great wine in a beautiful setting.
In 2014, you can go on your own Sideways journey by downloading a Sideways Tour Map from Visit Santa Barbara (SantaBarbaraCA.com), showing the locations of 18 scenes in the movie and reminding you of what happened there. You can re-watch the movie, then go visit those spots to discover that the food, wine and scenery are even better than onscreen. There are four small towns in the valley—Solvang, Santa Ynez, Los Olivos and Buellton. Each has its own unique style and atmosphere that contributes to the overall experience. The Danish town of Solvang (SolvangUSA.com) is centrally located, with hotels and streets filled with Danish bakeries and wine-tasting rooms and can make for a great home base during your adventure in the area.
Here are our five favorite stops of the 18 choices on the map. For each one, we've listed what happened in the movie in 2004, and what you can find in 2014.
Los Olivos Cafe & Wine Merchant
2879 Grand Ave., Los Olivos, 805-688-7265, LosOlivoscafe.com
2004: Miles and Jack arrange to meet Maya and Stephanie here. As they are about to go in, Miles rages, "If anyone orders Merlot, I'm leaving. I am not drinking any fucking Merlot!" The quartet enjoys an evening of gourmet food and outstanding wines before Miles goes to the phone in the back and drunk-dials his ex.
2014: Enjoy gourmet food and outstanding wines including appetizers like beets and burrata cheese with lemon vinaigrette and dishes like hand-rolled Parmesan gnocchi. The "Wine Merchant" portion of the name means you can buy a bottle of local wine—yes, even Merlot.The phone Miles used is still on the wall by the bathrooms, but since this is 2014, drunk-dial your ex on your smartphone.
Fess Parker Winery
6200 Foxen Canyon Road, Los Olivos, 800-841-1104, FessParkerWines.com
2004: Miles and Jack go to Frass Canyon, the ultimate corporate, sell-out winery that pumps its product into tanker trucks. When aspiring novelist Miles finds out his book will not be published, he has a meltdown and ends up drinking from the spit bucket.
2014: Except for the location, décor and surroundings, Fess Parker Winery is nothing like Frass Canyon. It's a charming spot where you can try award-winning Chardonnays, Pinot Noirs and Rieslings.Try a tasting flight or purchase a bottle, which you can take outside to enjoy onthe beautiful patio.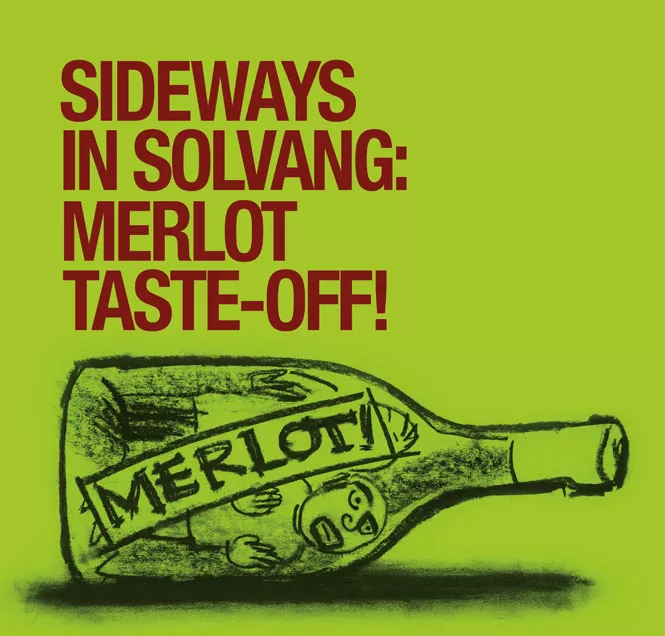 Solvang Restaurant
1672 Copenhagen Drive, Solvang, 805-688-4645, SolvangRestaurant.com
2004: Jack and Miles eat breakfast at a booth in this Danish restaurant and discover they have very different ideas about their trip. Jack says his priority is to sleep around before getting married, and he tells Miles to stop being such a downer.
2014: The staff can seat you in the exact same booth where the scene was filmed. You will not be a downer when you order Arne's Famous Aebleskiver. Don't worry about how to pronounce it; just enjoy this Danish dessert that is pancake-type dough rolled into balls and served with jam and powdered sugar.
Hitching Post II
406 E. Hwy 246, Buellton, 805-688-8403, HitchingPost2.com
2004: Maya is a waitress at this restaurant that specializes in steaks and features in several scenes. Miles regularly visits because he likes the Highliner wines produced by the restaurant.
2014: Miles was obsessed with Pinot Noirs in the movie, and after trying the Highliner Pinot, we now know why. Even if you're not around at dinnertime, stop by the bar for a glass of pinot and snack on roasted garlic and grilled artichokes.
A.J. Spurs
350 E. Hwy 246, Buellton, 805-686-1655, AJSpurs.com
2004: Miles and Jack eat dinner at this restaurant where Jack flirts with a waitress named Cami. Miles and Jack have an argument in front of giant stuffed buffalo in the lobby after which Jack goes home with Cami.
2014: With all the movie décor intact, start the night with A.J. Spurs' unique appetizer, which requires you to mix vaquero soup, tequila beans and housemade salsa. Trust us: It's the best counter-intuitive dish you'll ever try.
There are many ways to experience a travel destination, but in the case of the Santa Ynez Valley, the best approach is Sideways.
Kathleen Curry and Geoff Griffin trek around the globe near and far and host the Travel Brigade Radio Show and podcast. You can find them at TravelBrigade.com.