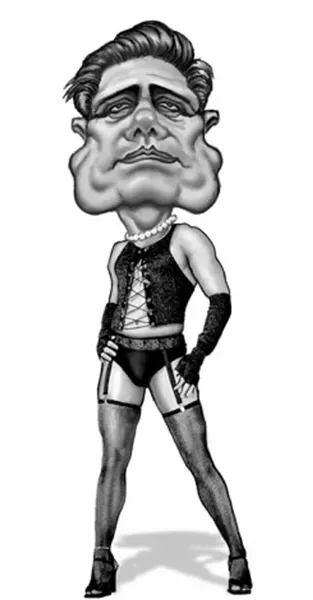 Mit was fit to be tied. "No one pays attention to me anymore! What do I have to do to get my face out there—paint my toenails and walk naked through Temple Square?"
My old missionary companion (the two years I served with Elder Romney in the Paris, France, Mission were the best of my life) was on the phone, venting his frustration against the mainstream media, the members of which long ago had written him off as a whiny has-been. Mit—who dropped the second "t" from his first name in a down-sizing gesture in the face of criticism of his opulent lifestyle in 2008—had been in town a couple of days before for a quickie fundraiser at the Grand America (more about that later), using the occasion to fire some salvos at President Obama and hoping to get himself back in the news.
But as incendiary as Mit's remarks were, he might as well have been shooting blanks. The Salt Lake Tribune was the only publication to print Mit's accusations that President Obama is a Communist sympathizer. Since no one apparently read the article, here's what Mit said: "I fundamentally believe that this president and his fellow travelers in the leadership in Washington have put us on a very perilous course."
The key term is "fellow travelers," which in the Red-baiting McCarthy era was used to smear people as being Communist sympathizers and/or "card-carrying" members of the Communist Party. (In FBI Director and transvestite J. Edgar Hoover's Masters of Deceit, a "fellow traveler" is described as a dangerous subversive who holds Communist views.)
"I was sure that calling Obama a Commie would, at the very least, earn me a spot on Olberman's Worst Person in the World list," Mit told me, his voice throbbing with exasperation. Knowing that it's best at such times to let Mit vent, I didn't venture the observation that, as always, Mit was just a little late to the party. Calling Obama a socialist or a Communist or a Marxist is now passé; Mit's "fellow traveler" smear, if anybody noticed it at all, would just be seen as another phony miscalculation.
Mit just can't understand it. Here he is, in the very prime of life, tanned, waxed and in possession of all his teeth, with a spectacular head of hair (though he does wear elevator shoes), and time has passed him by. He can't stand Sarah Palin, who reminds him of a bitchy girl who dumped him in high school, feels tongue-tied in the presence of the witty Mike Huckabee and most galling, resents the hell out of all the attention his love-child, the jut-jawed Sen. Scott Brown of Massachusetts, is getting from the national press.
Despite the absolute futility of his campaign, my missionary companion soldiers on, jetting from state to state, and from one saturated-fat fundraising dinner to another, hoping against hope that he'll gather enough Republican chits to win the nomination in 2012. Mit has always had energy to spare—he still suffers from jittery-foot syndrome—and I remember those evenings in Paris when I would just want to relax with a nice glass of Beaujolais in some sidewalk café along the moonlit banks of the Seine, and Mit would want to knock on just one more door or get in the face of one more truculent Frenchman on the Champs Elysees and ask him how much he knew about the Mormon church and would he like to know more.
I shake my head in wonderment at Mit's stick-to-itiveness; for example, at the fund-raiser last week in Salt Lake City. First of all, he had to field questions about Apostle Packer and those tiresome gay folks from the sweaty media types, all the while with the diminutive Governor Herbert gazing up at him with Nancy Reagan's patented "adoring-wife look." Then, he had to pose with VIP fans who had paid $2,500 for a photo (Mit finally got a cramp in his leg from climbing in and out of the two-man luge with VIPs—afterward, Mit told me he'd like to punch out the knucklehead who came up the idea of posing in the luge, especially having to wear the skin-tight latex racing outfit.
But even Mit has his limits. Not only won't he share his private religious belief, he also won't divulge his private brand of cologne (a special blend of eau d' frommage), which Governor Herbert kept begging Mit to sprinkle on him.