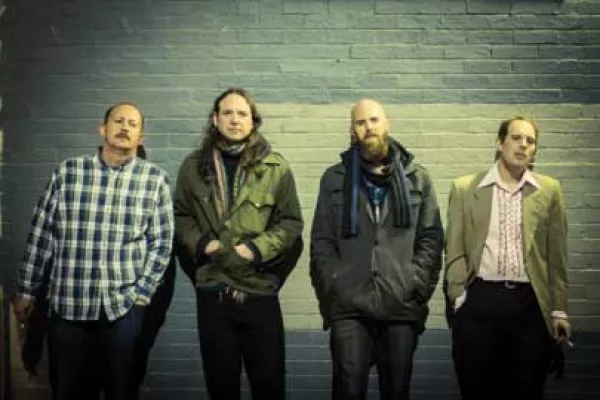 If your only taste of Triggers & Slips were their self-titled debut full-length album, released in May 2012, you'd probably neatly peg them as a honky-tonk band. And with the record's dusty feel—complete with lap steel, twangy guitar licks and smooth three-part harmonies—that description would hit the mark on the nose. "But that's not really where we end with our sound," says lead guitarist/vocalist Morgan Snow.
Since the album came out, Triggers & Slips—which formed in 2008—have kept a rigorous performance schedule. The full band, as well as a scaled-down lineup of just Snow—a talented solo artist—and John Davis (vocals, electric guitar, lap steel), can be heard regularly at local venues and bars. While those sets do include some tracks from the Salt Lake City-based group's self-titled record, they're more a reflection of the band's recent musical growth and experimentation.
"There's a lot of breadth in the live show," says bassist Zach Griffen (who also plays in Sturgeon General), "from intimate, slow stuff to rock to the honky-tonk stuff to stuff that's really far out there."
Compared to Triggers & Slips' diverse live sound, that debut album, the band members agree, now feels "outdated," with its sound heavily influenced by country outlaw Waylon Jennings. "My brothers and my dad got me into Waylon Jennings," Snow says. "I remember moving back from college and going on a camping trip with them, and all we listened to was Waylon goddamn Jennings for three days straight."
Most of the tunes on the album, like "4 Letters" and "Old Friends," are satisfyingly sad country songs, about imperfect humans making do in an imperfect world and looking for solace at the bottom of a bottle. That theme is what makes Triggers & Slips' music so compelling: These are songs that hit you right in the gut.
Fittingly, Snow came up with the band's name while working as a drug & alcohol therapist. " 'Triggers and slips' is a term used in drug & alcohol therapy relating to changing using behaviors," he says. "I looked at a notebook of one of the co-members at the time, who was also in the field, and across the top read 'Triggers and Slips.' They were notes from the group session, and I thought it was the perfect name for a band such as this."
Those early songs were also "some of the first songs I'd ever wrote," Snow says. "I didn't really plan on writing country music; when I started writing, that's what came out." The result was a record that is "kind of a snapshot in time," Griffen says, not the end-all definition of Triggers & Slips' style. The more rock-fueled sound the band eventually took on didn't come out of the blue, however.
A close listen to the final track on the first album, "Aftermath," reveals a reverb-heavy psych-rock introduction, foreshadowing the direction the band was heading. On the song, Snow's vocals are a lot less Waylon and a lot more '90s rock, which is a large part of his personal musical taste: "Alice in Chains and Blind Melon and Nirvana and Pearl Jam," he says.
Going forward, the band has a new acoustic album in the works that will capture the feel of Snow and Davis' shows as a duo, as well as new songs "Dig You a Hole" and "The Stranger," which will be released as singles in the next month and feature the full band—minus drummer Wil Grimshaw, who is being deployed to Kosovo for the next year.
With new song "Blue Smoke"—complete with touches of fuzzed-out, spacey guitar and Davis singing lead vocals—as proof, Triggers & Slips don't bother with neatly fitting into a genre; they're more concerned with growing as a band and keeping the experimentation flowing.
"It's just about good songs to me," says keyboardist Greg Midgley (The Rubes, The Moths). "Like when you all can agree on, 'Wow, that's an amazing song,' or, 'We should learn that one,' that's kind of where the influence comes from is recognizing what feels like a shared enjoyment or recognition of good songs. And it can go across different genres."

TRIGGERS & SLIPS
Spur Bar & Grill
350 Main, Park City
Thursday, Jan. 9, 9 p.m.
Free
TheSpurBarAndGrill.com
'Come Down' by Triggers and Slips from Sounds From The Lounge on Vimeo.
Twitter: @VonStonehocker