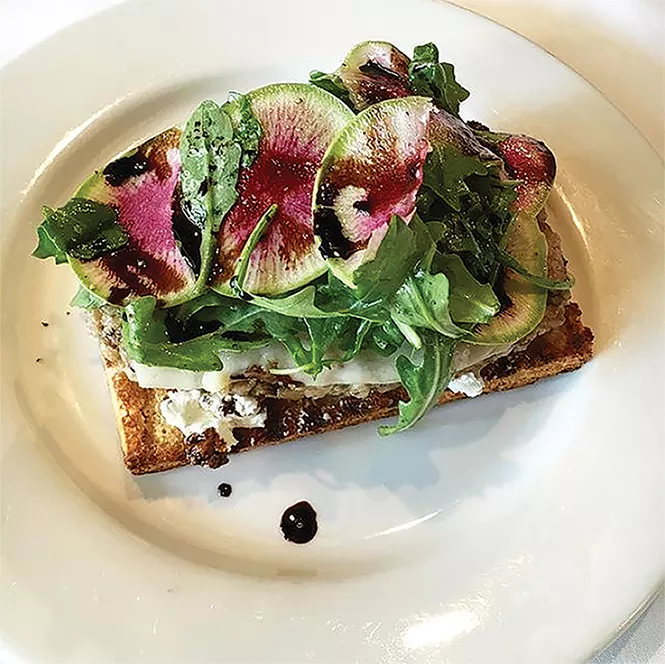 Trio's Crew
Logen Crew earned his restaurant kitchen bones first at Log Haven, where he worked under Chef Dave Jones, before moving on to Fresco and Mikel Trapp's Trio in 2012. More recently, he opened the popular Current Fish & Oyster with great success. Now, Crew returns to work with Trapp's organization as executive chef of the Trio Restaurant Group, and is busy creating a menu for the new Café Trio in Park City, which is scheduled to open May 1 across from the new Whole Foods on Landmark Drive. I'm looking forward to Crew breathing new life into the Trio menus; he's a great talent.
Manoli's Springs Forward
Chef/owner Manoli Katsanevas has launched his spring menu at Manoli's (402 E. 900 South, 801-532-3760, manolison9th.com), featuring a new array of small plates, wine options and cocktails. Fresh on the menu are kakavia (clams, scallops, garlic confit broth, pepperoncini, shaved fennel, orzo and grilled bread), perdika (grilled quail with beluga lentil salad and creamy walnut sauce) and an arugula salad with seasonal fruit, toasted almonds, housemade myzithra and white balsamic vinaigrette, called roka. Alongside, you might want to enjoy a Moscow Moulari: Sugar House Vodka with fresh ginger and lime, ouzo and ginger beer.
More Sicilia to Love
Fans, like me, of Millcreek's Sicilia Mia restaurant and Sole Mio in Sandy now have more Sicilia to love. Chef Franco Mirenda and his family have opened a new Italian restaurant, Antica Sicilia Ristorante (2020 E. 3300 South, 385-202-7236, facebook.com/anticasiciliarestaurant), which offers Sicilian-style dishes in a family-friendly ambiance. The menu has items in common with Sicilia Mia, such as the much-loved pasta carbonara, arancini and their heavenly tiramisu. But I was told by a manager that the new restaurant also offers four versions of branzino—steaks prepared tableside and decadent dishes such as lobster tagliatelle. You just can't have too much Sicily in your diet.
Quote of the week: "I like the idea of society as a salad, in which the fruits and vegetables keep their own flavor."
—Studs Terkel
Send tips to: tscheffler@cityweekly.net