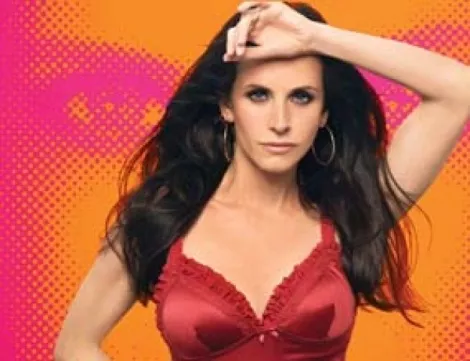 Unhitched Sunday, March 2 (Fox)
Series Debut: The Only TV Column That Matters™ still can't believe that Jim chose Pam over Karen on The Office last season—I know, I know, I'm the only one. Karen (Rashida Jones) is now Kate on Fox's Unhitched, a new sitcom about a group of 30-something divorcee friends looking for love in Boston. It's also a Farrelly Brothers (There's Something About Mary) product, so a three-way sex scene with a monkey could be expected. Other than these points, there's little difference between Unhitched and the dozens of other comedies that Fox sends out to slaughter every midseason: Approximately two minutes of funny surrounded by 20 minutes of filler. Enjoy it, spit it out and then forget about it—that's what the monkey said! Ha!
Dirt Sunday, March 2 (FX)
Season Finale: The good news is, Courteney Cox's tabloid soap finally lightens up in the first two episodes of Season 2, playing up the humor and winking at the sheer idiocy of Hollywood obsession instead of continuing the dark conspiratorial spiral into WTF?-land that nearly derailed it last year (this ain't The Shield, Court). The bad news is, Dirt's new nervous habit is throwing torn-from-the-headlines pop-cultural references around like singles at a strip club: "Milan Carlton" (think about it), a talentless celebutard mash-up of Paris, Britney and Lindsay; Tom Arnold as a sitcom dad who's taped berating his kid on the phone (a la Alec Baldwin) and YouTubed drunkenly chowing on the floor (hello, David Hasselhoff!); the hits keep coming, each more TMZ-obvious than the one before. Fortunately, schizo photographer Don Konkey (Ian Hart) is as fascinating and sympathetic as ever, Cox's Lucy Spiller shows signs of becoming more of a character than a caricature (always tough for an editor), and two of Dirt's deadweight players—the druggy starlet and the douchebag magazine publisher—have been killed and/or sidelined. Still a series to watch—but on Sundays? Why taunt Jeebus further?
That's Amore! Sunday, March 2 (MTV)
Series Debut: Has the swelling and itching gone down from A Shot at Love With Tila Tequila yet? Here's cast-off bachelor/irritant Domenico Nesci with his own show! Sixteen skanks, vying for attention, degrading challenges, screaming, crying, Chlamydia—you know the drill, and the Viacom corporation knows that this shit never, ever gets old. At least the actor portraying "Bret Michaels" (you thought he was real?) on VH1's Rock of Love is convincing as a neckless rock star who'll wang-dang-doodle any available hole, but Nesci? He's barely a cartoon character, a miniature Italian ham playing it so over-the-top you wonder if Viacom will be repurposing That's Amore! to Nickelodeon. He's. Not. Real. I challenge you to prove otherwise, Squidward.
The Sarah Connor Chronicles Monday, March 3 (Fox)
Two-Hour Season Finale: Forget about The Bionic Woman; NBC has officially canceled that once-promising remake, leaving Sarah Connor (Lena Headey) as network TV's lone ass-kicking sci-fi heroine—OK, her and cutesy-creepy cyborgette Cameron (Summer Glau). Terminator: The Sarah Connor Chronicles (far-too-full title) has evolved from a flashy writers' strike diversion into a rich science-fiction contender in only seven episodes, thanks mostly to Headey and Glau; the men of the series, unfortunately, are still filler—except for, of all people, ex-90210-er Brian Austin Green in recent eps. If Fox has any foresight, they'll throw that ill-gotten American Idol money toward building a new sci-fi legacy with TSCC (a pricey production) next season. History is not on my side.
New Amsterdam Tuesday, March 4 (Fox)
Series Debut: Speaking of sci-fi … Yeah, this won't do. New York City detective John Amsterdam (Nikolaj Coster-Waldau) had a spell put on him 400 years ago: He'll remain immortal until he finds his One True Love. Seriously. I'll never mock Moonlight again …