The Only TV Column That Matters™ previewed 400—OK, just 40—new network TV pilots for the coming fall 2012-13 season and came to this conclusion: They still don't know what the hell you want. For every ambitious, high-concept idea (like NBC's Revolution, ABC's 666 Park Avenue or The CW's continued existence), there are at least as many WTF? moments (ABC's Neighbors, CBS' Partners and The CW's continued existence). And then there's that gay-adjacent NBC "comedy" local "affiliate" KSL 5 refuses to run: There's far more homoerotic activity on Sunday Night Football, but what did consistency ever solve?

Here's a look at what's coming—don't say I didn't warn you.
Midseason replacements


Fall cable premieres (what you really care about)

Returning broadcast shows premiere dates
APOCALYPSE NOW-ISH

Revolution
NBC, premiering Sept. 17
Katniss-scratch fever probably hadn't yet struck whenever Revolution began production, but damned if this post-apocalyptic drama doesn't have a Hunger Games vibe about it, thanks mostly to the mad crossbow-wielding/hair-flipping skills of star Tracy Spiridakos (previously seen on the U.S. Being Human and the late, great Hellcats). One day, electricity mysteriously ceases to exist; 15 years later, life is like a Portland farmers market—until the local militia (led by Breaking Bad's Giancarlo Esposito) shows up to take our heroine's knows-more-than-he's-telling father. Then the questions begin: Was there a conspiracy to snuff the power? Is it really gone? Did all those years without TV or smartphones give everybody time to learn Krav Maga? Revolution is produced by J.J. Abrams (Star Trek, Lost) and Eric Kripke (Supernatural), the epic pilot was directed by Jon Favreau (Iron Man), the cast is excellent and the sci-fi footing is sound—only NBC could screw it up from here. Which they're fully capable of doing.

Revolution
Last Resort
ABC, Sept. 27
Even more ambitious than
Revolution
: When a U.S. military submarine (commanded by Andre Braugher and Scott Speedman) refuses to follow an unverified order to nuke Pakistan, it's attacked by Forces Unknown and washes up on the island Sainte Marina. The crew are now labeled U.S. traitors, and it's up to them to unravel the vast governmental conspiracy, clear their names and get back home, or just make a new one on this exotic island—seems like an easy choice if you're not trying to squeeze out 13 or more episodes. Shawn Ryan (
The Shield, Terriers
) is the mind behind this, so the characters—and there are a lot of 'em—come first, making
Last Resort
add up to more than just
Lost
meets
Homeland
. But can 'Merica follow it?
Last Resort
LADY BUSINESS

The Mob Doctor
Fox, Sept. 17
To pay off her brother's improbably huge gambling debt to Chicago mafia-types, the improbably named Dr. Grace Devlin (Jordana Spiro, My Boys) leads a double life: star surgeon by day, on-call guido-patcher by night. The Mob Doctor may sound like a cheesetastic Lifetime movie, but the premiere episode is surprisingly tense and engaging—and, thanks to Spiro's comedy roots, occasionally funny. As a default medical-drama replacement for House, Fox could have done far worse—but I'll get to Emily Owens, M.D. in a minute.

The Mob Doctor
Made in Jersey

CBS, Sept. 28
An impossibly gorgeous New Jersey lawyer (impossibly gorgeous Janet Montgomery), despite her lack of an Ivy League education, lands a job at a big-deal Manhattan law firm. Before you can say "Didn't
Suits
already do this on USA?", the boss (Kyle MacLachlan) notices her wrong-side-of-the-tracks moxie and assigns her to a high-profile murder case. Bada-bing, bada-boom, we're off to the freakin' races over here. Apparently, only a Jersey girl would know how pliers and other blue-collar implements work, and her Italian family is a 12th-gen knockoff of every New Jersey stereotype ever conceived—even the one or two that didn't get reality shows. In other words, it's going to kill between
CSI:NY
and
Blue Bloods
on Friday nights.
Made in Jersey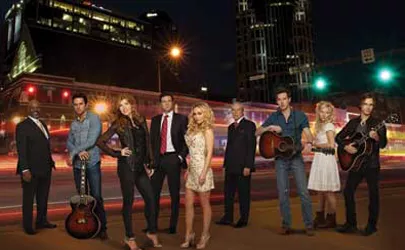 Nashville
ABC, Oct. 10
Liked
Country Strong
, but not so much the depressing Cost of Fame undertones and overdosed Gwyneth Paltrow corpse at the end? Has ABC got a show for you! Almost the same show: Country-music vet Rayna James (Connie Britton,
American Horror Story
) can't quite pack the arenas and state fairs anymore, so her record label books a tour with a sexy rising star (Hayden Panettiere,
Heroes
) who, as Shooter Jennings might put it, takes the "O" right out of country, thus setting up a musical power struggle that should last at least 13 weeks. The diva/rookie catfight is nothing new, but Nashville looks and feels almost as down-home authentic as Britton's old series,
Friday Night Lights
. Also, the music's not bad—but it's not great because, well, it's
country
.

Nashville