The Only TV Column That Matters™ previewed 400—OK, just 40—new network TV pilots for the coming fall 2012-13 season and came to this conclusion: They still don't know what the hell you want. For every ambitious, high-concept idea (like NBC's Revolution, ABC's 666 Park Avenue or The CW's continued existence), there are at least as many WTF? moments (ABC's Neighbors, CBS' Partners and The CW's continued existence). And then there's that gay-adjacent NBC "comedy" local "affiliate" KSL 5 refuses to run: There's far more homoerotic activity on Sunday Night Football, but what did consistency ever solve?

Here's a look at what's coming—don't say I didn't warn you.
Midseason replacements


Fall cable premieres (what you really care about)

Returning broadcast shows premiere dates
APOCALYPSE NOW-ISH

Revolution
NBC, premiering Sept. 17
Katniss-scratch fever probably hadn't yet struck whenever Revolution began production, but damned if this post-apocalyptic drama doesn't have a Hunger Games vibe about it, thanks mostly to the mad crossbow-wielding/hair-flipping skills of star Tracy Spiridakos (previously seen on the U.S. Being Human and the late, great Hellcats). One day, electricity mysteriously ceases to exist; 15 years later, life is like a Portland farmers market—until the local militia (led by Breaking Bad's Giancarlo Esposito) shows up to take our heroine's knows-more-than-he's-telling father. Then the questions begin: Was there a conspiracy to snuff the power? Is it really gone? Did all those years without TV or smartphones give everybody time to learn Krav Maga? Revolution is produced by J.J. Abrams (Star Trek, Lost) and Eric Kripke (Supernatural), the epic pilot was directed by Jon Favreau (Iron Man), the cast is excellent and the sci-fi footing is sound—only NBC could screw it up from here. Which they're fully capable of doing.

Revolution
Last Resort
ABC, Sept. 27
Even more ambitious than
Revolution
: When a U.S. military submarine (commanded by Andre Braugher and Scott Speedman) refuses to follow an unverified order to nuke Pakistan, it's attacked by Forces Unknown and washes up on the island Sainte Marina. The crew are now labeled U.S. traitors, and it's up to them to unravel the vast governmental conspiracy, clear their names and get back home, or just make a new one on this exotic island—seems like an easy choice if you're not trying to squeeze out 13 or more episodes. Shawn Ryan (
The Shield, Terriers
) is the mind behind this, so the characters—and there are a lot of 'em—come first, making
Last Resort
add up to more than just
Lost
meets
Homeland
. But can 'Merica follow it?
Last Resort
LADY BUSINESS

The Mob Doctor
Fox, Sept. 17
To pay off her brother's improbably huge gambling debt to Chicago mafia-types, the improbably named Dr. Grace Devlin (Jordana Spiro, My Boys) leads a double life: star surgeon by day, on-call guido-patcher by night. The Mob Doctor may sound like a cheesetastic Lifetime movie, but the premiere episode is surprisingly tense and engaging—and, thanks to Spiro's comedy roots, occasionally funny. As a default medical-drama replacement for House, Fox could have done far worse—but I'll get to Emily Owens, M.D. in a minute.

The Mob Doctor
Made in Jersey

CBS, Sept. 28
An impossibly gorgeous New Jersey lawyer (impossibly gorgeous Janet Montgomery), despite her lack of an Ivy League education, lands a job at a big-deal Manhattan law firm. Before you can say "Didn't
Suits
already do this on USA?", the boss (Kyle MacLachlan) notices her wrong-side-of-the-tracks moxie and assigns her to a high-profile murder case. Bada-bing, bada-boom, we're off to the freakin' races over here. Apparently, only a Jersey girl would know how pliers and other blue-collar implements work, and her Italian family is a 12th-gen knockoff of every New Jersey stereotype ever conceived—even the one or two that didn't get reality shows. In other words, it's going to kill between
CSI:NY
and
Blue Bloods
on Friday nights.
Made in Jersey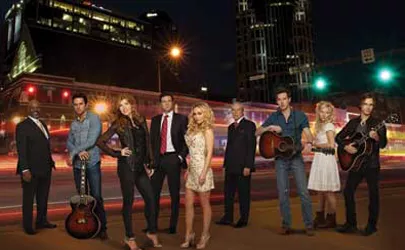 Nashville
ABC, Oct. 10
Liked
Country Strong
, but not so much the depressing Cost of Fame undertones and overdosed Gwyneth Paltrow corpse at the end? Has ABC got a show for you! Almost the same show: Country-music vet Rayna James (Connie Britton,
American Horror Story
) can't quite pack the arenas and state fairs anymore, so her record label books a tour with a sexy rising star (Hayden Panettiere,
Heroes
) who, as Shooter Jennings might put it, takes the "O" right out of country, thus setting up a musical power struggle that should last at least 13 weeks. The diva/rookie catfight is nothing new, but Nashville looks and feels almost as down-home authentic as Britton's old series,
Friday Night Lights
. Also, the music's not bad—but it's not great because, well, it's
country
.

Nashville

LAW, ORDER, ETC.

Vegas
CBS, Sept. 25
Former Las Vegas sheriff Ralph Lamb (Dennis Quaid) just wants to be left alone on his ranch, but the city folks keep dragging him back in! The imaginatively titled Vegas is based on the real-life story of Sheriff Lamb and his 1960 battle against invading Chicago crime lord Vincent Savino (played by Michael Chiklis) to keep burgeoning Las Vegas clean—guess how that turned out? Besides Quaid and Chiklis, the heavy-hitter cast also includes Carrie-Anne Moss, Jason O'Mara and Taylor Handley, but Vegas just comes off like CSI without the tech, or Mad Men with cowboy hats and craps tables.


Elementary
CBS, Sept. 27
Jonny Lee Miller goes all in to out-quirk Robert Downey Jr. as a modern-day Sherlock Holmes—seriously, dude has more ticks than Wilfred in a weed patch next to a whorehouse. Miller's Dr. House-via-Johnny Rotten performance almost pops off the screen and sneers, which goes a long way toward helping you forget that this is essentially another CBS crime procedural and that's Lucy Liu right there playing Watson. Fans of the recent British Sherlock revival likely won't be impressed with Elementary, but the Mentalist crowd will be gobsmacked (if you're going to watch it, get used to looking these up).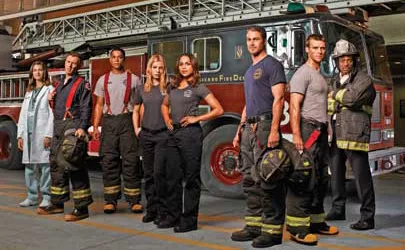 Chicago Fire
NBC, Oct. 10
Producer Dick Wolf brings that Dick Wolf courtroom magic to Dick Wolf's vision of a firehouse in the new Dick Wolf drama that, since it's on opposite CSI and the new Nashville, probably only Dick Wolf will be watching. Unless there's a Law & Order rerun on TNT, so never mind.

Chicago Fire

Arrow
The CW, Oct. 10
Not just the best new show on The CW, but one of the best of the entire new fall season—and it's about the Green Arrow, fergawdsakes. If this hits—and it will; the action sizzles and Stephen Amell is
drea-my
—and inspires more series based on DC Comics second-stringers, I demand a dark reboot of Ambush Bug.
LOVE & WACKINESS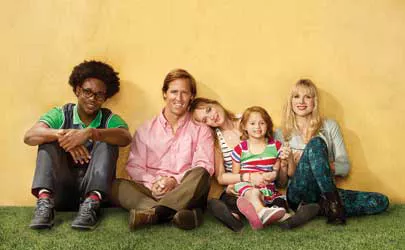 Ben & Kate
Fox, Sept. 25
A lovable-losers comedy tailor-made to fit with Raising Hope right before it, starring Nat Faxon (Bad Teacher) and Dakota Johnson (The Social Network) as brother/sister opposites (Ben's an irresponsible dreamer! Kate's an uptight realist!) who just need to raise Kate's baby girl and—you knew it was coming—learn from each other. Faxon and Johnson aren't quite interesting enough to carry Ben & Kate—fortunately, British comic actress Lucy Punch (also Bad Teacher) injects enough wrong, twisted adrenaline into the show to keep it from flat-lining. Every Will & Grace needs a Karen. Jack, not so much.


Ben & Kate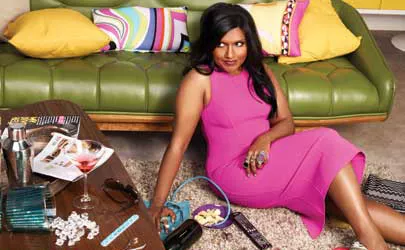 The Mindy Project
Fox, Sept. 25
Like
Ben & Kate
,
The Mindy Project
seems genetically engineered to mesh with the show before it—in this case, that's
New Girl
. Zooey Deschanel proved she could headline a comedy, then wisely stepped back into a tight ensemble; Mindy Kaling, after years of blending in at
The Office
, seems damned determined to put her Me, Me, Me! stamp on this sucker. She plays Mindy Lahiri, an OB/GYN who worships romantic comedies but can't understand why her love life never turns out like one—although getting drunk at her ex-boyfriend's wedding, giving him a smackdown "toast" and then getting arrested for driving a bike into a pool
totally
sounds like a Sandra Bullock movie. It's impossible to predict how the hot-mess
Mindy Project
is going to progress, but there's nothing else like it (or her) on TV—a good place to start.

The Mindy Project
Animal Practice
NBC, Sept. 26
Weeds
' breakout-star-still-waiting-to-break-out Justin Kirk plays a brilliant veterinarian who gets along better with animals than humans—including his new boss/former girlfriend (JoAnna Garcia Swisher). The cast, which also includes Tyler Labine, Bobby Lee and (uh-huh) a monkey, is solid, but
Animal Practice
's pilot (which NBC previewed during the Summer Olympics) is as frenetic and plot-light as a Nicktoon. Still, it's the best offering from the New NBC Comedy Paradigm ("No more of that smart-ass Thursday stuff!"), and how can you deny the funny of a cat that jumps from a skyscraper balcony to get away from
The Wendy Williams Show
?

Animal Practice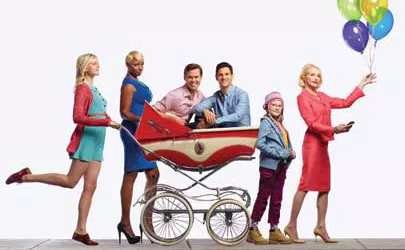 The New Normal
NBC, Sept. 11
Look, I like protesting KSL 5 and its semiannual, nonsensical NBC programming opt-outs due to "inappropriate" content as much as anybody—maybe even more so. But, I regret to inform you that
The New Normal
(which will be aired in Utah by CW30 for your parents long after you've already watched it online) isn't worth the trouble. It's a well-intentioned story about a gay couple (
The Hangover
's Justin Bartha and
The Book of Mormon
's Andrew Rannells) who want to adopt a baby—imagine
Modern Family
if it focused on Cameron and Mitchell and jacked up the sweetness to near-diabetic levels—from a luckless Midwestern girl (Georgia King), but also have to deal with her homophobic/racist/conservative-catch-all mother (Ellen Barkin). Thing is, it's not funny enough to be a comedy or well-written enough to be a drama. Surprising, considering this is a Ryan Murphy production—how did the guy behind the sequined hotpants of
Glee
and the blood-spattered jeans of
American Horror Story
turn out
this
lifeless pair of beige Dockers? KSL should have just waited it out;
The New Normal
will be canceled by Columbus Day.

The New Normal
OOO, SPOOKY!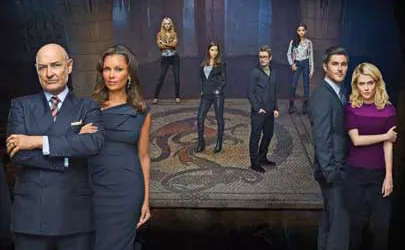 666 Park Avenue
ABC, Sept. 30
"From the producers of Gossip Girl and Pretty Little Liars" doesn't exactly instill the right kind of fear for a supernatural series, and even nicely creepy performances from Terry O'Quinn (Lost) and Vanessa Williams (Ugly Betty) as, ostensibly, Mr. and Mrs. Satan, can't quite kick this shiny hearse into gear. A young 'n' dumb couple (Rachael Taylor and Dave Annable) move into 999 Park Avenue (under-lit shadows kinda make it 666 Park Avenue—get it?) as building managers and eventually learn that all of the residents have struck Faustian-ish bargains with owners the Dorans (O'Quinn and Williams). Will any of them ever be allowed to leave? Only if they want to "move somewhere … warmer." These are the jokes, folks.


666 Park Avenue
Beauty & the Beast
The CW, Oct. 11
Before you start asking "Who's gonna play the teacup?", know that this is a remake of the '80s
TV
series
Beauty & the Beast
, OK? Unlike that Ron Perlman/Linda Hamilton "classic," this Beast (Jay Ryan, Terra Nova) only looks beastly when he's angry; otherwise, he's just as pretty as Catherine (Kristin Kreuk,
Smallville
) and therefore suitable for The CW. As long as the network doesn't find out that they're both, like, 30, everything will be fine … d'oh!
WHHHYYY?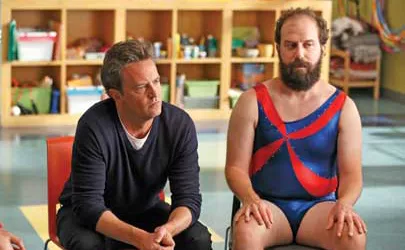 Go On
NBC, Sept. 11
During the Summer Olympics, NBC "treated" you to a preview of Go On, starring Friends' Matthew Perry as a sports-talk radio host who loses his wife and is forced into therapy. To remind you that it's a comedy, Perry over-over-acts and desperately tries to Be! Funny! Despite what a few TV critics think they saw, it's a navel-gazing downer that's not even half as funny as Perry's previous Mr. Sunshine—which was no great shakes, either. So why the sneak peek? Apparently, NBC wanted as many viewers as possible to get used to not laughing early.

Go On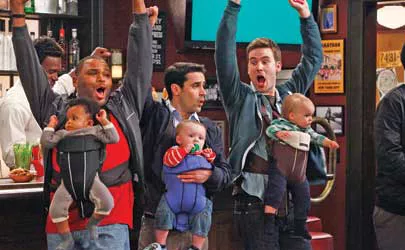 Guys With Kids
NBC, Sept. 12
Anthony Anderson got so screwed when NBC canceled
Law & Order: Original Recipe
in 2010: His partner (Jeremy Sisto) went on to ABC's cool
Suburgatory
, while he's stuck on the drowning Peacock with … this. You know every last poo-poo-ca-ca baby joke
Guys With Kids
squirts in your general direction, but they're all somehow fresh to exec producer Jimmy Fallon(!) and creatives who've done time on
The Office, American Dad, 30 Rock
and
Modern Family
(!!). To quote the baby who had the Xtreme Toddler Wrap® at Taco Bell, "Is that smell coming from me?" Yes, yes it is.
Guys With Kids
The Neighbors
ABC, Sept. 26
ABC has been on such a hot streak with smart comedies (
Modern Family, Happy Endings, Suburgatory, Don't Trust the B in Apt. 23
) that it's easy to forgive the air balls (
Last Man Standing
, the cancellation of
Cougar Town
, the national tragedy of
Work It
). But
The Neighbors
is a whole new breed of lawn turd: The Weavers (previously employable comic actors Lenny Venito and Jami Gertz) move to the New Jersey suburbs and soon learn that everybody else in the 'hood are—hold onto your lunch—aliens. Not so much a reverse
3rd Rock From the Sun
as a military-grade torture device.
The Neighbors

Emily Owens, M.D.
The CW, Oct. 16
You guys, she's not homely—she's Meryl Streep's daughter! In The CW's ongoing effort to obliterate the very idea of women in medicine—welcome back,
Hart of Dixie
!—it's achieved the heretofore impossible: an even dumber med-soap than
Grey's Anatomy. Emily Owens M.D.
(as played by Mamie Gummer—Jesus, she never had a chance) dares to ask the questions "What if all of your high school tormentors now work with you in a hospital?" "How does an overworked Geek Girl find love?" and "Does The CW have enough
90210
reruns to fill this slot upon cancellation?"
Malibu Country
ABC, Nov. 2
ABC insists that
Malibu Country
isn't a just a corn-pone clone of Reba McEntire's previous sitcom,
Reba
. They're right: Reba contained trace amounts of comedy.

Malibu Country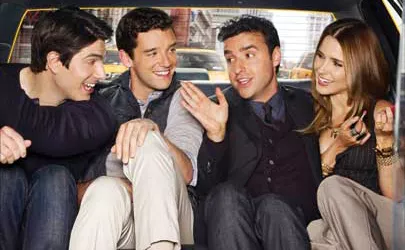 Partners
CBS, Sept. 24
CBS is quick to point out that
Partners
creators David Kohan and Max Mutchnick co-produced
Will & Grace
in the '90s, but conspicuously omits that they also had a shaky hand in 2010's gawdawful
$#*! My Dad Says
.
Partners
brings the two worlds together: Amped-up gay stereotypes and auto-drone "comedy," fluffed with the same obnoxious canned laugh track that CBS dubs into all of its sitcoms (and probably
The Talk
). Lifelong friends Joe (
Numb3rs
' David Krumholtz, playing it straight) and Louis (
Ugly Betty
's Michael Urie, playing it G! A! Y!) find themselves in relationships (with
One Tree Hill's Sophia Bush
and
Superman
franchise-killer Brandon Routh, respectively), and … nothing ensues.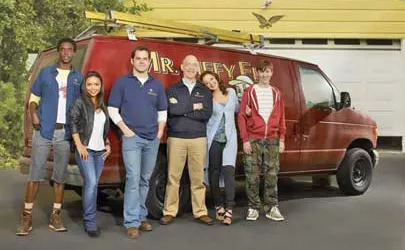 Partners
MIDSEASON SHOWS/REPLACEMENTS
In the event that any of the aforementioned series cannot perform their ratings duty, you may or may not be seeing some of these runners-up before 2013:

The Family Tools (ABC)
When dad (J.K. Simmons) suffers a heart attack, it's up to his perpetual-failure son (Kyle Bornheimer) to come home and take over his "Mr. Jiffy Fix" handyman business. The cast (which also includes King of Queens' Leah Remini) ain't bad, but The Family Tools is only slightly funnier than seeing Ty Pennington nude.

The Family Tools
How to Live With Your Parents (For the Rest of Your Life) (ABC)
A single-mom divorcee (Sarah Chalke) falls on hard times and has to move back in with her parents (Elizabeth Perkins and Brad Garrett). Sensing a downward-economic theme at ABC? Another funny ensemble, but bitchier than
Modern Family
, with fewer pesky "learning moments."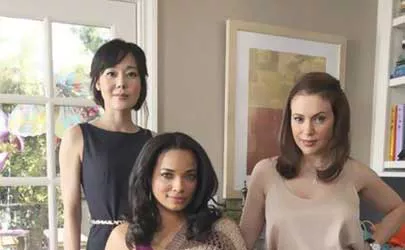 How to Live With Your Parents
Mistresses (ABC)
Four sexy girlfriends (including Alyssa Milano and
Lost
's Yunjin Kim) lead sexy lives loaded with sexy problems and sexy men (same thing—am I right, ladies? Hey-o!), but at least they have one another's sexy shoulders to cry on. With a lower wardrobe budget,
Mistresses
would be on Lifetime between
Army Wives
and
Hillbilly Dance Academy
.
Mistresses
Red Widow (ABC)
When her lovable-but-mob-tied husband is murdered, a woman (Radha Mitchell) covertly takes on the gangsters and the FBI to avenge his death—oh, and to Protect Her Children (just go with it). If
Red Widow
sounds like
Revenge
with an organized-crime twist, ding-ding-ding! You win a bag of faux cocaine; they have plenty.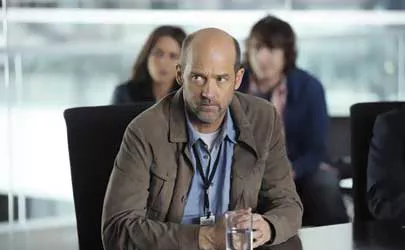 Red Widow
Zero Hour (ABC)
A conspiracy-mag publisher's (Anthony Edwards) wife (Jacinda Barrett) is kidnapped because her antique clock shop contains an apocalyptic Nazi treasure map (Magazines? Clocks? Maps? Nazis? To the Google, kids). A cross-eyed cocktail of
National Treasure, The Da Vinci Code
and
The Ominous Drum Corps' Greatest Hits
ensues.
Zero Hour
Friend Me (CBS)
Two 20-something buds (Nicholas Braun and Christopher Mintz-Plasse—McLovin!) move from Indiana to Los Angeles to begin exciting new careers working at … Groupon? WT Fuddruckers?
Golden Boy (CBS)
A gritty drama about New York City cops … and we're done here.


1600 Penn (NBC)
The President (Bill Pullman), Mrs. President (Jenna Elfman) and the Presidential Kids (including The Book of Mormon's Josh Gadd) are a wacky 'Merican clan in what NBC calls "Modern Family meets The West Wing" and True TV calls "Dead meets On Arrival."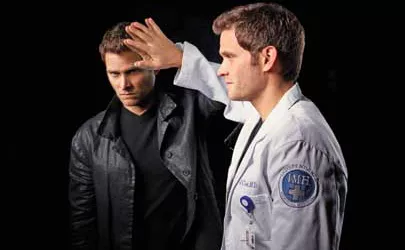 1600 Penn
Crossbones (NBC)
Not just a period piece—a pirate period piece! This more-ambitious-than-a-used-car-salesman-on-Labor-Day-weekend series (subtitled
The True Legend of Blackbeard
… True? Legend?) hasn't even begun production yet, so there's still time to sell it to Ion, NBC.
Do No Harm (NBC)
Dr. Jason Cole (Steven Pasquale,
Rescue Me
) is a successful neurosurgeon who just happens to go on the occasional blackout killing spree—there must be some way to pin this on Obamacare. When nice guy Cole flips into sociopathic alter-ego Ian Price, he's dangerous, murderous and, yes, way more fun. Make the show about him, already.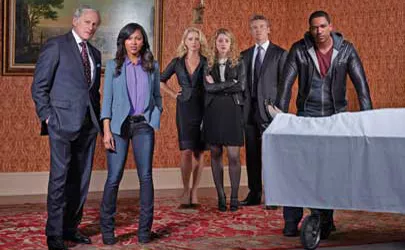 Do No Harm
Dracula (NBC)
Wait, wait—come back! Sure, it's been done 1.2 million times, but this version stars Jonathan Rhys Meyers (
The Tudors
), and it's from the producers of
Downton Abbey
. Finally, something for the moms of
Vampire Diaries
viewers.
Hannibal (NBC)
A TV take on the Hannibal Lecter franchise? Sounds hinky—until you see the stars: Hugh Dancy (the only tolerable part of Showtime's
The Big C
!), Caroline Dhavernas (
Wonderfalls
!), Laurence Fishburne (
The Matrix
!) and Mads Mikkelsen (uh …
Clash of the Titans
). Also, it's produced by Bryan Fuller of
Pushing Daisies
, so expect pie.
Infamous (NBC)
A detective (Meagan Good,
Think Like a Man
) is out to solve the mysterious death of her former BFF, a socialite heiress—even if she has to risk being seduced by Hamptons high society.
Equal parts
Revenge, The Killing
and
Tyler Perry's Caddyshack
.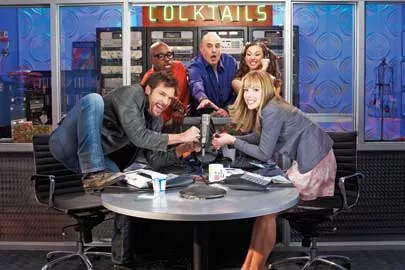 Infamous
Next Caller (NBC)
Aw,
hell
no: Sparks fly when a cynical satellite-radio shock jock (Dane Cook—yes, Dane Cook) is forced to share his frat-bro show with a perky NPR recruit (Collette Wolfe,
Young Adult
). They threw in "satellite radio" to indicate that
Next Caller
isn't a 1997 UPN pilot.
Next Caller
Save Me (NBC)
Anne Heche (
Hung
) stars as a Midwest housewife who has a near-death experience after choking on a sandwich (product-placement alert, Subway). Upon awakening, she realizes that she can talk to God, much to the skepticism/dismay of her husband (Michael Landes) and his mistress (
American Horror Story
's Alexandra Breckenridge—mmrrow). As long as you have Him on the line, Anne, could you ask him to tell HBO to bring back
Hung
?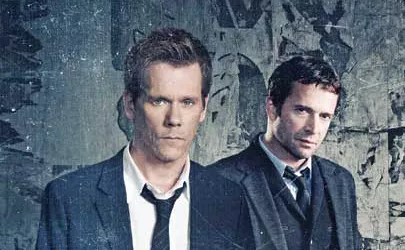 Save Me
The Following (Fox)
When a notorious serial killer (James Purefoy,
Rome
) escapes death row and returns to hack 'n' slash business, the ex-FBI agent who caught him a decade ago (Kevin Bacon, everything) is called back in—too bad he's now an alcoholic burnout (a good-lookin' alcoholic burnout, of course). Fortunately, he's working with a crack new team (including
X-Men
's Shawn Ashmore) and the killer's ex-wife (
Justified
's Natalie Zea). Unfortunately, Mr. Stabby has cult-ivated a like-minded Injustice League of murderers—a
following
, natch—to complicate matters. Scary. As. Hell.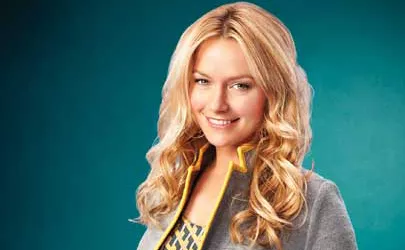 The Following
The Goodwin Games (Fox)
Three estranged siblings (Scott Foley, Becki Newton and Jake Lacy) stand to inherit $20 million from their recently passed father (Beau Bridges)—if they play an elaborate set of "games" he's left behind and learn Valuable Life Lessons to, wait for it, Become Better People. Funny stuff, once you get past the idea of a math professor having $20 million and Newton even being the same species as Foley and Lacy.
The Goodwin Games
The Carrie Diaries (The CW)
Sex & the City: The Early Years
: The obtusely named AnnaSophia Robb stars as 16-year-old Carrie Bradshaw arriving in New York City in 1984 … and, that's it. No young Samantha, Miranda or Charlotte, no cable-level sex zingers, just another CW series about pretty zygotes in the big city. HBO has a better version, called
Girls
—watch
that
.
Cult (The CW)
Cult is a TV show about a TV show called Cult … wha? This is
already
too complicated for The CW.
THE SHOWS YOU ACTUALLY CARE ABOUT

Sons of Anarchy (FX, Sept. 11)
Season 5 premiere: Jax is the new head of SAMCRO, Clay's a world of hurt, Tara and Gemma are probably going to kill each other, and guest stars like Jimmy Smits, Ashley Tisdale(!) and Joel McHale(!!) are dropping by Charming. True TV's going to show it at Brewvies again, so just be there.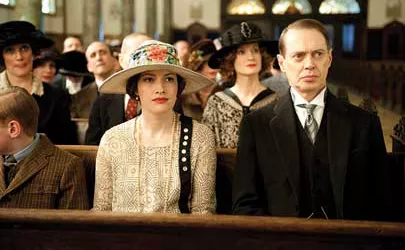 Sons of Anarchy
Boardwalk Empire (HBO, Sept. 16)
Season 3 premiere: While Nucky's withdrawn into seclusion after Jimmy's murder, a new gangster (Bobby Cannavale) plans to take over Atlantic City. In even
worse
news, Lucy (Paz de la Huerta) and her penchant for frequent nudity are long gone.
Boardwalk Empire
Dexter (Showtime, Sept. 30)
Season 7 premiere: Deb now knows that Dexter is a killer—but is she aware of the serial extent of his résumé? Not yet. In case you haven't noticed, it usually takes Deb about 12 episodes to figure these things out.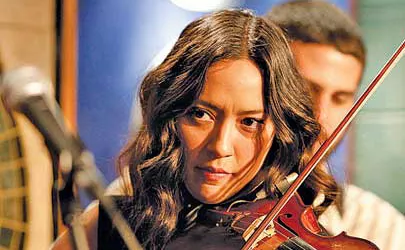 Dexter
Treme (HBO, Sept. 23)
Season 3 premiere: It's been gone for over a year—where the hell were we? New Orleans, I remember that much ...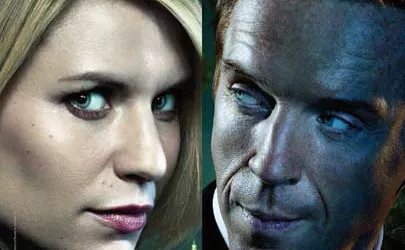 Treme
Homeland (Showtime, Sept. 30)
Season 2 premiere: The sleeper-cell terrorism series is jumping ahead in time for the second season, so we won't see Carrie (Claire Danes) getting the crazy electro-shocked out of her. But will war hero Brody (Damian Lewis) move into 'Merican politics and shape public opinion? Concerning, but still not as scary as the real current election cycle.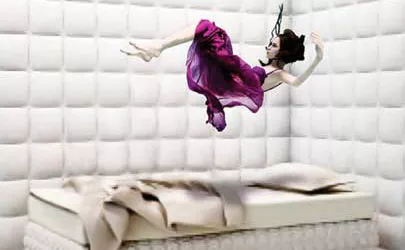 Homeland
American Horror Story (FX, Oct. 3)
Season 2 premiere: Different story, different characters, different locale (an East Coast insane asylum), some of the same actors (Jessica Lang, Zachary Quinto, Evan Peters, Sarah Paulson and Lily Rabe) and some guest stars I want dead in the first 15 minutes (OK, just Adam Levine).
American Horror Story
It's Always Sunny in Philadelphia (FX, Oct. 11)
Season 8 premiere: Something about South Philly garbage collectors going on strike and the Gang extorting money from rich people to take care of their trash—another excellent entrepreneurial solution.
[image-61]
It's Always Sunny in Philadelphia
The Walking Dead (AMC, Oct. 14)
Season 3 premiere: The prison! The Governor! Michonne! Merle! That damned helicopter! Yet more zombies! Big Shiny Robot and True TV are going to show it at Brewvies again, so just be there.
[image-62]
The Walking Dead
Arrested Development (Netflix, early 2013)
Season 4 premiere: It's really happening—10 (or maybe 13, if you believe David Cross) brand-new episodes to be released simultaneously via Netflix next year! There really is always money in the banana stand!
[image-63]
Arrested Development
RETURNING SHOWS
You know 'em, you love 'em, you might want to know when they're on:

Mondays
The Voice (NBC, Sept. 10)
Bones (Fox, Sept. 17)
Dancing With the Stars, Castle (ABC, Sept. 24)
How I Met Your Mother, 2 Broke Girls, Mike & Molly, Hawaii Five-O (CBS, Sept. 24)
90210, Gossip Girl (The CW, Oct. 8)

Tuesdays
The Voice, Parenthood (NBC, Sept. 11)
Dancing With the Stars, Private Practice (ABC, Sept. 25)
NCIS, NCIS: Los Angeles (CBS, Sept. 25)
New Girl (Fox, Sept. 25)
Raising Hope (Fox, Oct. 2)
Hart of Dixie (The CW, Oct. 2)
Happy Endings, Don't Trust the B in Apt. 23 (ABC, Oct. 23)

Wednesdays
The X Factor (Fox, Sept. 12)
Survivor: Philippines (CBS, Sept. 19)
The Middle, Modern Family (ABC, Sept. 26)
Criminal Minds, CSI (CBS, Sept. 26)
Law & Order: Special Victims Unit (NBC, Sept. 26)
Supernatural (The CW, Oct. 3)
Suburgatory (ABC, Oct. 17)

Thursdays
The X Factor, Glee (Fox, Sept. 13)
Up All Night, The Office, Parks & Recreation (NBC, Sept. 20)
Grey's Anatomy, Scandal (ABC, Sept. 27)
The Big Bang Theory, Two & a Half Men, Person of Interest (CBS, Sept. 27)
30 Rock (NBC, Oct. 4)
The Vampire Diaries (The CW, Oct. 11)

Fridays
Grimm (NBC, premiered in August)
America's Next Top Model (The CW, premiered in August)
CSI:NY, Blue Bloods (CBS, Sept. 28)
Fringe (Fox, Sept. 28)
Whitney, Community (NBC, Oct. 19)
Nikita (The CW, Oct. 19)
Touch (Fox, Oct. 26)
Last Man Standing (ABC, Nov. 2)

Saturdays
Saturday Night Live (NBC/CW30, Sept. 15)

Sundays
Sunday Night Football (NBC, Sept. 9)
Once Upon a Time, Revenge (ABC, Sept. 30)
The Amazing Race, The Good Wife, The Mentalist (CBS, Sept. 30)
The Simpsons, Bob's Burgers, Family Guy, American Dad (Fox, Sept. 30)
The Cleveland Show (Fox, Oct. 7)