Page 3 of 6
OOO, SPOOKY!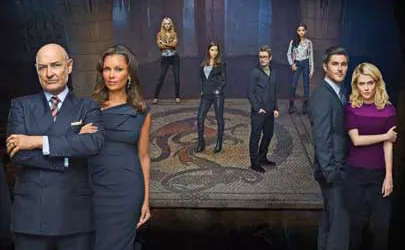 666 Park Avenue
ABC, Sept. 30
"From the producers of Gossip Girl and Pretty Little Liars" doesn't exactly instill the right kind of fear for a supernatural series, and even nicely creepy performances from Terry O'Quinn (Lost) and Vanessa Williams (Ugly Betty) as, ostensibly, Mr. and Mrs. Satan, can't quite kick this shiny hearse into gear. A young 'n' dumb couple (Rachael Taylor and Dave Annable) move into 999 Park Avenue (under-lit shadows kinda make it 666 Park Avenue—get it?) as building managers and eventually learn that all of the residents have struck Faustian-ish bargains with owners the Dorans (O'Quinn and Williams). Will any of them ever be allowed to leave? Only if they want to "move somewhere … warmer." These are the jokes, folks.


666 Park Avenue
Beauty & the Beast
The CW, Oct. 11
Before you start asking "Who's gonna play the teacup?", know that this is a remake of the '80s
TV
series
Beauty & the Beast
, OK? Unlike that Ron Perlman/Linda Hamilton "classic," this Beast (Jay Ryan, Terra Nova) only looks beastly when he's angry; otherwise, he's just as pretty as Catherine (Kristin Kreuk,
Smallville
) and therefore suitable for The CW. As long as the network doesn't find out that they're both, like, 30, everything will be fine … d'oh!
WHHHYYY?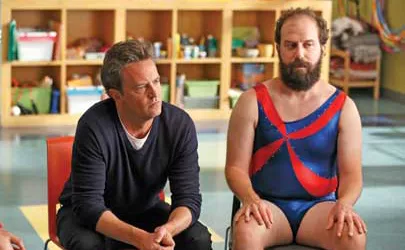 Go On
NBC, Sept. 11
During the Summer Olympics, NBC "treated" you to a preview of Go On, starring Friends' Matthew Perry as a sports-talk radio host who loses his wife and is forced into therapy. To remind you that it's a comedy, Perry over-over-acts and desperately tries to Be! Funny! Despite what a few TV critics think they saw, it's a navel-gazing downer that's not even half as funny as Perry's previous Mr. Sunshine—which was no great shakes, either. So why the sneak peek? Apparently, NBC wanted as many viewers as possible to get used to not laughing early.

Go On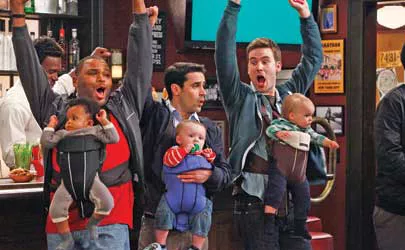 Guys With Kids
NBC, Sept. 12
Anthony Anderson got so screwed when NBC canceled
Law & Order: Original Recipe
in 2010: His partner (Jeremy Sisto) went on to ABC's cool
Suburgatory
, while he's stuck on the drowning Peacock with … this. You know every last poo-poo-ca-ca baby joke
Guys With Kids
squirts in your general direction, but they're all somehow fresh to exec producer Jimmy Fallon(!) and creatives who've done time on
The Office, American Dad, 30 Rock
and
Modern Family
(!!). To quote the baby who had the Xtreme Toddler Wrap® at Taco Bell, "Is that smell coming from me?" Yes, yes it is.
Guys With Kids
The Neighbors
ABC, Sept. 26
ABC has been on such a hot streak with smart comedies (
Modern Family, Happy Endings, Suburgatory, Don't Trust the B in Apt. 23
) that it's easy to forgive the air balls (
Last Man Standing
, the cancellation of
Cougar Town
, the national tragedy of
Work It
). But
The Neighbors
is a whole new breed of lawn turd: The Weavers (previously employable comic actors Lenny Venito and Jami Gertz) move to the New Jersey suburbs and soon learn that everybody else in the 'hood are—hold onto your lunch—aliens. Not so much a reverse
3rd Rock From the Sun
as a military-grade torture device.
The Neighbors

Emily Owens, M.D.
The CW, Oct. 16
You guys, she's not homely—she's Meryl Streep's daughter! In The CW's ongoing effort to obliterate the very idea of women in medicine—welcome back,
Hart of Dixie
!—it's achieved the heretofore impossible: an even dumber med-soap than
Grey's Anatomy. Emily Owens M.D.
(as played by Mamie Gummer—Jesus, she never had a chance) dares to ask the questions "What if all of your high school tormentors now work with you in a hospital?" "How does an overworked Geek Girl find love?" and "Does The CW have enough
90210
reruns to fill this slot upon cancellation?"
Malibu Country
ABC, Nov. 2
ABC insists that
Malibu Country
isn't a just a corn-pone clone of Reba McEntire's previous sitcom,
Reba
. They're right: Reba contained trace amounts of comedy.

Malibu Country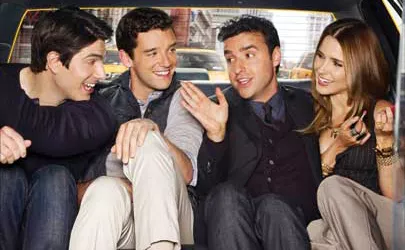 Partners
CBS, Sept. 24
CBS is quick to point out that
Partners
creators David Kohan and Max Mutchnick co-produced
Will & Grace
in the '90s, but conspicuously omits that they also had a shaky hand in 2010's gawdawful
$#*! My Dad Says
.
Partners
brings the two worlds together: Amped-up gay stereotypes and auto-drone "comedy," fluffed with the same obnoxious canned laugh track that CBS dubs into all of its sitcoms (and probably
The Talk
). Lifelong friends Joe (
Numb3rs
' David Krumholtz, playing it straight) and Louis (
Ugly Betty
's Michael Urie, playing it G! A! Y!) find themselves in relationships (with
One Tree Hill's Sophia Bush
and
Superman
franchise-killer Brandon Routh, respectively), and … nothing ensues.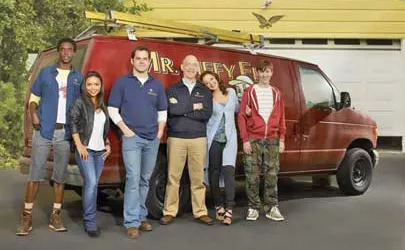 Partners