Page 4 of 6
MIDSEASON SHOWS/REPLACEMENTS
In the event that any of the aforementioned series cannot perform their ratings duty, you may or may not be seeing some of these runners-up before 2013:

The Family Tools (ABC)
When dad (J.K. Simmons) suffers a heart attack, it's up to his perpetual-failure son (Kyle Bornheimer) to come home and take over his "Mr. Jiffy Fix" handyman business. The cast (which also includes King of Queens' Leah Remini) ain't bad, but The Family Tools is only slightly funnier than seeing Ty Pennington nude.

The Family Tools
How to Live With Your Parents (For the Rest of Your Life) (ABC)
A single-mom divorcee (Sarah Chalke) falls on hard times and has to move back in with her parents (Elizabeth Perkins and Brad Garrett). Sensing a downward-economic theme at ABC? Another funny ensemble, but bitchier than
Modern Family
, with fewer pesky "learning moments."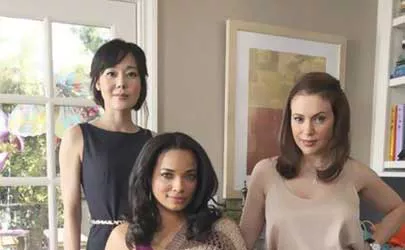 How to Live With Your Parents
Mistresses (ABC)
Four sexy girlfriends (including Alyssa Milano and
Lost
's Yunjin Kim) lead sexy lives loaded with sexy problems and sexy men (same thing—am I right, ladies? Hey-o!), but at least they have one another's sexy shoulders to cry on. With a lower wardrobe budget,
Mistresses
would be on Lifetime between
Army Wives
and
Hillbilly Dance Academy
.
Mistresses
Red Widow (ABC)
When her lovable-but-mob-tied husband is murdered, a woman (Radha Mitchell) covertly takes on the gangsters and the FBI to avenge his death—oh, and to Protect Her Children (just go with it). If
Red Widow
sounds like
Revenge
with an organized-crime twist, ding-ding-ding! You win a bag of faux cocaine; they have plenty.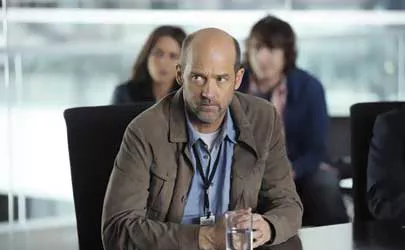 Red Widow
Zero Hour (ABC)
A conspiracy-mag publisher's (Anthony Edwards) wife (Jacinda Barrett) is kidnapped because her antique clock shop contains an apocalyptic Nazi treasure map (Magazines? Clocks? Maps? Nazis? To the Google, kids). A cross-eyed cocktail of
National Treasure, The Da Vinci Code
and
The Ominous Drum Corps' Greatest Hits
ensues.
Zero Hour
Friend Me (CBS)
Two 20-something buds (Nicholas Braun and Christopher Mintz-Plasse—McLovin!) move from Indiana to Los Angeles to begin exciting new careers working at … Groupon? WT Fuddruckers?
Golden Boy (CBS)
A gritty drama about New York City cops … and we're done here.


1600 Penn (NBC)
The President (Bill Pullman), Mrs. President (Jenna Elfman) and the Presidential Kids (including The Book of Mormon's Josh Gadd) are a wacky 'Merican clan in what NBC calls "Modern Family meets The West Wing" and True TV calls "Dead meets On Arrival."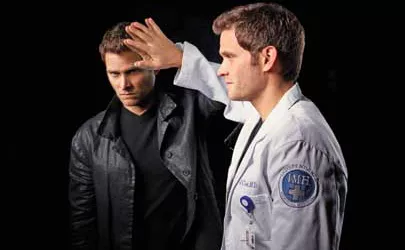 1600 Penn
Crossbones (NBC)
Not just a period piece—a pirate period piece! This more-ambitious-than-a-used-car-salesman-on-Labor-Day-weekend series (subtitled
The True Legend of Blackbeard
… True? Legend?) hasn't even begun production yet, so there's still time to sell it to Ion, NBC.
Do No Harm (NBC)
Dr. Jason Cole (Steven Pasquale,
Rescue Me
) is a successful neurosurgeon who just happens to go on the occasional blackout killing spree—there must be some way to pin this on Obamacare. When nice guy Cole flips into sociopathic alter-ego Ian Price, he's dangerous, murderous and, yes, way more fun. Make the show about him, already.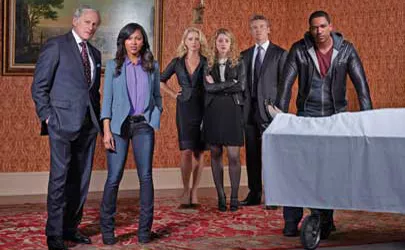 Do No Harm
Dracula (NBC)
Wait, wait—come back! Sure, it's been done 1.2 million times, but this version stars Jonathan Rhys Meyers (
The Tudors
), and it's from the producers of
Downton Abbey
. Finally, something for the moms of
Vampire Diaries
viewers.
Hannibal (NBC)
A TV take on the Hannibal Lecter franchise? Sounds hinky—until you see the stars: Hugh Dancy (the only tolerable part of Showtime's
The Big C
!), Caroline Dhavernas (
Wonderfalls
!), Laurence Fishburne (
The Matrix
!) and Mads Mikkelsen (uh …
Clash of the Titans
). Also, it's produced by Bryan Fuller of
Pushing Daisies
, so expect pie.
Infamous (NBC)
A detective (Meagan Good,
Think Like a Man
) is out to solve the mysterious death of her former BFF, a socialite heiress—even if she has to risk being seduced by Hamptons high society.
Equal parts
Revenge, The Killing
and
Tyler Perry's Caddyshack
.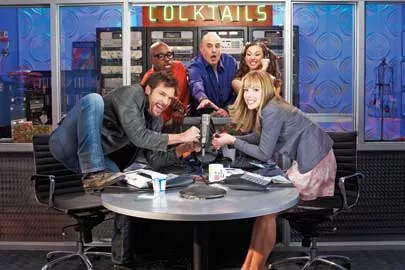 Infamous
Next Caller (NBC)
Aw,
hell
no: Sparks fly when a cynical satellite-radio shock jock (Dane Cook—yes, Dane Cook) is forced to share his frat-bro show with a perky NPR recruit (Collette Wolfe,
Young Adult
). They threw in "satellite radio" to indicate that
Next Caller
isn't a 1997 UPN pilot.
Next Caller
Save Me (NBC)
Anne Heche (
Hung
) stars as a Midwest housewife who has a near-death experience after choking on a sandwich (product-placement alert, Subway). Upon awakening, she realizes that she can talk to God, much to the skepticism/dismay of her husband (Michael Landes) and his mistress (
American Horror Story
's Alexandra Breckenridge—mmrrow). As long as you have Him on the line, Anne, could you ask him to tell HBO to bring back
Hung
?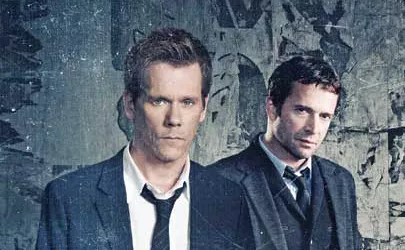 Save Me
The Following (Fox)
When a notorious serial killer (James Purefoy,
Rome
) escapes death row and returns to hack 'n' slash business, the ex-FBI agent who caught him a decade ago (Kevin Bacon, everything) is called back in—too bad he's now an alcoholic burnout (a good-lookin' alcoholic burnout, of course). Fortunately, he's working with a crack new team (including
X-Men
's Shawn Ashmore) and the killer's ex-wife (
Justified
's Natalie Zea). Unfortunately, Mr. Stabby has cult-ivated a like-minded Injustice League of murderers—a
following
, natch—to complicate matters. Scary. As. Hell.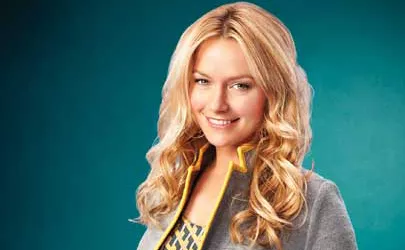 The Following
The Goodwin Games (Fox)
Three estranged siblings (Scott Foley, Becki Newton and Jake Lacy) stand to inherit $20 million from their recently passed father (Beau Bridges)—if they play an elaborate set of "games" he's left behind and learn Valuable Life Lessons to, wait for it, Become Better People. Funny stuff, once you get past the idea of a math professor having $20 million and Newton even being the same species as Foley and Lacy.
The Goodwin Games
The Carrie Diaries (The CW)
Sex & the City: The Early Years
: The obtusely named AnnaSophia Robb stars as 16-year-old Carrie Bradshaw arriving in New York City in 1984 … and, that's it. No young Samantha, Miranda or Charlotte, no cable-level sex zingers, just another CW series about pretty zygotes in the big city. HBO has a better version, called
Girls
—watch
that
.
Cult (The CW)
Cult is a TV show about a TV show called Cult … wha? This is
already
too complicated for The CW.