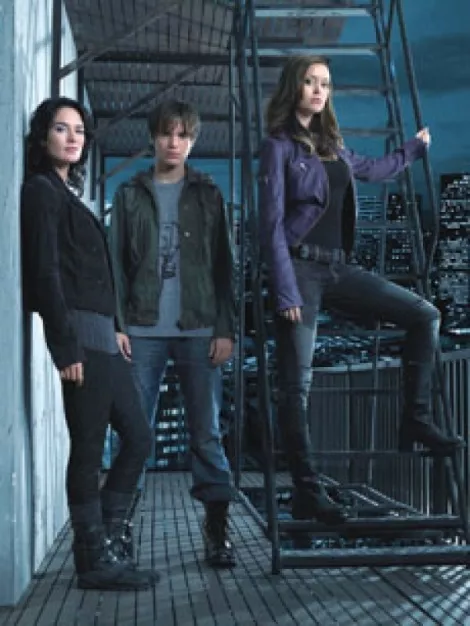 Premature Season Finales
Thanks to the (still!) ongoing Writers Guild of America vs. the Evil Greedhead Bastard Producers Guild battle, you will this week see the final completed new episodes of My Name is Earl, 30 Rock, Grey's Anatomy, Family Guy, CSI: Miami and NCIS for the 2007-08 season. Yes, only your mom and her cats are affected by the last two, but later in January the networks will also run out of new ER, Moonlight, Ugly Betty, Brothers & Sisters and Boston Legal episodes, followed by the truncated remainders of Friday Night Lights, Scrubs, Samantha Who? and Las Vegas, and even cable's Nip/Tuck, in February. If nothing's resolved soon, the ensuing reality-TV-clogged May Sweeps period will be uglier than Conan O'Brien's strike beard. Ponder that!
Celebrity Rehab Thursday, Jan. 10 (VH1)
Series Debut: Or ponder this: You could be Dr. Drew Pinsky, damned to babysitting druggy/boozy "celebrities" Brigitte Nielsen, Chyna, Daniel Baldwin, Jeff Conaway, Jessica Sierra, Jaimee Foxworth, Seth Binzer and Mary Carey … don't waste the Google time. Should the doc be more famous than his so-called star patients? Just askin'.
The Sarah Connor Chronicles Sunday, Jan. 13; Monday, Jan. 14 (Fox)
Series Debut: Technically, it's an even-more-unwieldy Terminator: The Sarah Connor Chronicles and pretends—like the rest of us—that the film trilogy ended at Terminator 2. Sarah (300's Lena Headey) and future-savior-of-mankind teen son John (Thomas Dekker) are on the lam from the 1999 law and robot assassins from 2027; along the way, John falls for an O.C.-hot girl (Firefly's Summer Glau) who happens to be the cyborg he himself sent back in time to protect him; the resulting weird sexual tension is akin to a boy playing with his Wii. The rest of The Sarah Connor Chronicles goes like this: Killer action and special effects vs. wooden (not gonna say robotic) scripting and acting. It's also the only new sci-fi in network prime time—you take what you can get.
Rock of Love With Bret Michaels 2 Sunday, Jan. 13 (VH1)
Season Premiere: Shockingly, it didn't work out with Jes from Season 1, so Bret Michaels is wading back into the dating pool—which has been neither disinfected nor de-skanked since the first time around, as assistant Big John has been too busy gouging his eyes out and praying for the sweet release of death to pick up chlorine and holy water at Home Depot. Next: Keep it locked on VH1 for She's Only 17 With Kip Winger!
Prison Break Monday, Jan. 14 (Fox)
Return: Damn, where were we? Prison Break has been on hiatus for over two months—are they still in that Panamanian jail? Are there still actually characters named Susan B. Anthony and T-Bag? Does the title of the show still give away what's going to happen at the end of the season? OK, we're all caught up here …
American Idol Tuesday, Jan. 15 (Fox)
Season Premiere: Simon, Randy and Paula say it's going to be "The best American Idol season ever!" I say, "Fuck you, you, you and your fucking karaoke show." Thus, my "Best American Idol preview ever!" is complete. Oh, and fuck Ryan Seacrest, too.
Reno 911 Wednesday, Jan. 16 (Comedy Central)
Season Premiere: OK, not all reality TV is the roiling excrement of Satan—Reno 911 is back! No writers needed here; just turn on the cameras, follow the Reno Sheriff's Deptartment and let the drama unfold. Purely coincidental that Christina Applegate was in Reno during filming of this episode, and Nick Swarsdon already works in town at Tacos! Tacos! Tacos! Tacos! (a fine, understated eatery). This is foremost a documentary series, and I will not be convinced otherwise.