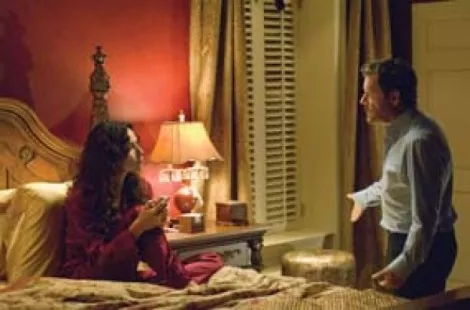 Ugly Betty, Grey's Anatomy, Lost Thursday, April 24 (ABC)
Post-Strike Returns: It may seem like forever, but Ugly Betty's only been off for a couple of months; the last new episode aired Jan. 24, now it's returning on April 24 with a wacky plot diversion about Betty's 24th birthday—suspect a numerological conspiracy? What are you, one of those Lost freaks? Which, by the way, also returns tonight for the second half of its fourth season … damn, that's another 2 and 4. Same goes for Grey's Anatomy (Season 4, Round 2), which reconvenes with Meredith, Alex, Izzie and Cristina locked in some kind of "surgical contest." Essentially, four characters The Only TV Column That Matters™ couldn't give two shits about … whoa!
Supernatural Thursday, April 24 (The CW)
Post-Strike Return: Usually, Supernatural takes itself way too seriously for a show about two good-lookin' brothers who chase down spooky apparitions in a sweet muscle car—fergawdsakes, it's The Hardy Boys meets The Night Stalker meets The Dukes of Hazzard (see kids, back in the '70s … never mind). But tonight, Sam and Dean finally win some comic relief points by joining a "paranormal reality TV show," a la Ghost Hunters, that starts racking up casualties on a "haunted mansion" shoot. Since this is as close as I'll probably ever get to seeing those idiot plumbers offed, thumbs up!
Moonlight Friday, April 25 (CBS)
Post-Strike Return: Oh, how I've missed Mick St. John (vampire detective with a heart of gold and a shirt of few buttons), Beth Turner (Internet journalist with a heart of gold and a shirt of fewer buttons) and the blatant Angel/Forever Knight DNA cloning of Moonlight. When the writers' strike stopped the series dead (ha!) back in January, it looked like resolution would never be reached: Will Mick and Beth ever consummate their star-crossed love? Is there really a mortal cure for vampirism? How do you make Los Angeles rent as an "Internet journalist"? Where'd all my hate mail from Moonlight devotees go? With only four episodes to go, I expect at least one answer.
The Riches Tuesday, April 29 (FX)
Season Finale: The writers' strike cut the second season of FX's Dirt down to seven episodes, which was fine; any more of that devolved suckfest would have been pure punishment. The Riches, however, could have had an amazing full season; the mere seven episodes wrapping up tonight have been dark, unpredictable and engrossing—and virtually unwatched (apparently, those goofy Pinocchio promos didn't pay off in actual ratings). The Malloy family (grifters who assumed the suburban identity of the aptly named Riches) is flying apart in every direction while maintaining a lie that may or may not pay off in millions, and their old gypsy clan keeps closing in—Big Love only dreams of sustaining this level of tension, and new villain Quinn makes Roman look as menacing as The Office's Michael Scott. Unfortunately, this last produced episode of The Riches is rife with cliffhangers and, pending renewal, may only be remembered as Minnie Driver's clincher for a deserved Emmy nod. You missed it; maybe FX will give you another chance in 2009.
Farmer Wants a Wife Wednesday, April 30 (The CW)
Series Debut: No matter how hard smart writers try to satirize idiotic reality shows (like 30 Rock's brilliant MILF Island a few weeks ago), they just can't top the real thing—never underestimate the depths to which real networks, or The CW, will sink. Farmer Wants a Wife is just The Bachelor with a tractor and a lobotomy: 10 "city" girls vie for the love and rural lifestyle of a real farmer. Insert "plow" euphemism here. Please.