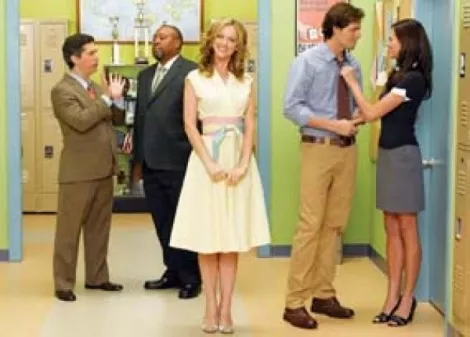 Lil' Bush
Thursday, March 13 (Comedy Central)

Season Premiere:
How is it that Trey Parker and Matt Stone's
That's My Bush!
(President Dubya as wacky sitcom star) only lasted one season in 2001, and the inferior
Lil' Bush
(President Dubya as animated child terror) is going for two? Theory No. 1: The current politically-charged atmosphere has ratcheted up the demand for any last-ditch skewering of our lame-duck "Resident of the United States." Theory No. 2:
Lil' Bush
looks like it costs about $1.35 per episode to produce in some Third World country. Still, you can't argue with the genius of having lil' Donald Rumsfeld voiced by Iggy Pop (!).
The Return of Jezebel James Friday, March 14 (Fox)
Series Debut: Amy Sherman-Palladino (Gilmore Girls creator/writer), Parker Posey (indie-film vet) and Lauren Ambrose (late of Six Feet Under) is such an impressive lineup for a Fox comedy, you have to wonder why it's being dumped in the Friday Night Death Slot. Until you actually watch it, that is. The setup: Sarah (Posey) is a self-absorbed children's book editor who's just discovered she can't conceive kids so, naturally, she asks her estranged bohemian sister Coco (Ambrose) to carry a baby for her. Coco moves in with Sarah, sisterly odd-couple hijinx and trademark rat-a-tat Palladino dialogue ensue. The problem: There's. A. Fucking. Laugh. Track. No one outside of CBS has any business producing sitcoms with canned yuks in 2008. The other problem: Aside from a handful of breathlessly-delivered Posey one-liners, there ain't many real laughs. At least Posey and Ambrose play off of each other nicely, albeit like a soulless version of Lorelei and Rory—yeah, Gilmore Ghosts.
John Adams Sunday, March 16 (HBO)
Miniseries Debut: He was the second president of the United States, uniting the colonies against Britain and engineering much of what would become U.S. policy, among many other feats glossed over by history but reestablished with David McCullough's 2001 bestseller John Adams—even more amazing, adaptation producer Tom Hanks cast a less-than-obvious Paul Giamatti in the lead instead of some Hollywood himbo. Could have been "Zac Efron is … John Adams!" Rest easy, history buffs.
Miss Guided Tuesday, March 18 (ABC)
Series Debut: Speaking of Hollywood himbos, Ashton Kutcher is an executive producer of ABC's new Miss Guided, and he and Jamie Lynn Spears (Britney's preggers younger sister) will make appearances in future episodes. If you're still reading, that's the extent of the bad news—this is the best comedy ABC has tripped over in years. Judy Greer (hyper-funny/strangely-hot actress from many a smart comedy and, uh, 27 Dresses) carries this single-camera-no-laugh-track sitcom plus mucho talk-to-the-camera exposition and Arrested Development-worthy flashback sequences as a guidance counselor in the same high school she attended as an ugly '80s duckling. In a just world, Miss Guided would blow up like Ugly Betty (the show moves to Betty's old Thursday timeslot after tonight, BTW) and Greer a would finally be a star; in this world, the pinheads sticking around after Dancing With the Stars tonight probably aren't going to "get" it. Watch it while you can.
The Riches Tuesday, March 18 (FX)
Season Premiere: At the end of Season 1, the scam was unraveling around grifters-turned-suburban-imposters "the Riches," forcing the family to skip town. Sure, you know Wayne/Doug (Eddie Izzard) and Dahlia/Cherien (Minnie Driver) will be back—but not after a few deep-dark episodes of trying to re-adjust to gypsy life, disposing of bodies and finally being hit in the face with years of pent-up guilt and fear. The first, perfect season of The Riches was Izzard's showcase; this one looks like Driver's time to shine—too bad it's only going to be seven episodes long. Don't worry; there are enough twists and tension packed in for 14 (that's a good thing).