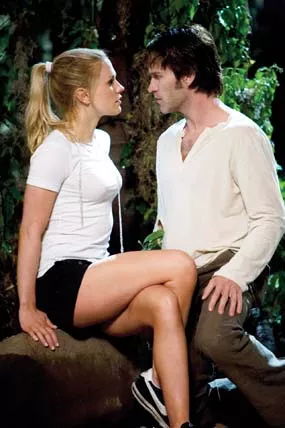 True Blood Sunday, Sept. 7 (HBO)
Series Debut: Remember HBO? Used to have all the buzz around its original, groundbreaking series? No? It was the precursor to Showtime—got it now? HBO's first new original series since those craptastic therapy shows is finally here: True Blood, based on Charlaine Harris' Southern Vampires Mysteries book series and produced by Six Feet Under's Alan Ball. Now, The Only TV Column That Matters™ realizes some suspension of disbelief is required for vampire lore, but we're supposed to buy that vamps would go mainstream and stop feeding on humans for free if a synthetic blood (the Japanese-made "TruBlood") suddenly became available at 7-Eleven? Sure. Nonetheless, the Louisiana-set True Blood takes what could have been a ham-fisted (fanged?) string of let's-all-live-together allegories (civil rights, gay rights, cracker rights, etc.) and plays it like a sexy Southern Gothic tale that just so happens to star vampires and telepaths (Stephen Moyer and Anna Paquin, respectively). If only True Blood had some of the humor displayed in HBO's viral marketing campaign for "TruBlood," which echoes the original mortuary-product ads of, coincidentally, Six Feet Under—maybe Ball's working in reverse this time: maudlin to funny.
Entourage Sunday, Sept. 7 (HBO)
Season Premiere: When last we left Entourage, Vince and E's dream indie-flick Medellin bombed at the Cannes Film Festival and Drama was suddenly a TV star again—yeah, it was a weird season. Season 5 returns to reality (such as it ever is on Entourage) with film critic Richard Roeper saying what we all thought last year: Vince looked ridiculous in that Pablo Escobar fat suit in Medellin and, finally addressed after four seasons, he may not really be much of an actor. Even agent Ari (Jeremy Piven, unsaddled of last season's ill-advised "feelings" and "sentimentality") tells him he's more of a "movie star" and it's time for—as always—a Big Budget Studio Film to make him a Hollywood player again. Essentially, Season 5 looks like Season 1 without money—Vince even takes a gig at a Sweet 16 birthday party in an upcoming episode, but at least he doesn't have to wear an Aquaman suit … damn it.
Terminator: The Sarah Connor Chronicles Monday, Sept. 8 (Fox)
Season Premiere: Was this extension of the Terminator 1 and 2 (forget 3; we're not even getting into that) movies only a hit earlier this year because there was nothing else on (writers' strike; ditto)? Mostly. The Sarah Connor Chronicles is also one of the few legit sci-fi series on network TV anymore—best not question too much and just roll with it. Biggest Season 2 shocker: Garbage singer Shirley Manson as a new corporate villain out to get John and Sarah Connor. Throw in Beck as a rogue Terminator and I'm sold.
Fringe Tuesday, Sept. 9 (Fox)
Series Debut: Too much has already been said/blogged about J.J. Abrams' new drama-thriller Fringe coming off like a mash-up of The X-Files and Lost (and Altered States, for those over 30); I want to get the ball rolling on co-star Joshua Jackson's hysterical overacting as maverick genius who never met an I'm-a-maverick-genius! cliché he couldn't slip on like a cheap sport coat—the manicured "bohemian" scruff-beard, just a bonus. Pacey aside, Fringe—which begins with a mysterious plane crash and spirals into a grand conspiracy … familiar much?—is such a visceral, flashy ride that you may forget that it doesn't always make a hell of a lot of sense. Just like … never mind.
Privileged Tuesday, Sept. 9 (The CW)
Series Debut: This steaming pile and 90210 are taking up valuable Reaper space. Moving on …
Do Not Disturb Wednesday, Sept. 10 (Fox)
Series Debut: This other steaming pile, however, is just taking up space. At least Do Not Disturb is notable for being an even worse sitcom than 'Til Death. I know!
DVD

n n n

Baby Mama
An uptight career woman (Tina Fey) hires an uncouth redneck (Amy Pohler) to carry a child for her; bodily-fluid gags and yuppie hilarity almost ensue. Just forget that Diane Keaton already did it 20 years ago with Baby Boom, OK? (NBCUni.com)
n

Heckler
Jamie Kennedy explores the war between entertainers and hecklers in the fascinating documentary that answers the question, "Jamie Kennedy did something after Malibu's Most Wanted? Dude!" (EchoBridgeEntertainment.com)
n

I Want Candy
Two losers trying to break into the movie business hook up with a producer who'll make them stars in his next project—if they get porn superstar Candy Fiveways (Carmen Electra) onboard, too. Not a documentary, far as you know. (MagPictures.com)
n

It's Always Sunny in Philadelphia: Season 3
The funniest show on TV gets even sicker in Season 3, replete with dumpster babies, hostage situations, sex offenders, North Koreans and more. And yet FX still hasn't used my "Seinfeld for Satanists" in a single damned promo! Come on! (FoxHome.com)
n

Something Beneath
When a conference center is built on a toxic dumpsite, monsters and mutants come a-callin'! And only Kevin Sorbo and some half-naked women can stop them! Or something—something beneath, that is! Not approved by Al Gore. (GeniusProducts.com)
More New DVD Releases (Sept. 9)
The Best of Barney, Cats: The Movie, CSI: Miami: Season 6, The Forbidden Kingdom, Foreign Exchange, Grey's Anatomy: Season 4, Medium: Season 4, Smallville: Season 7, Taking 5, Through the Valley, Ugly Betty: Season 2, Wings: Season 7
Listen to Bill some Mondays at 8 a.m. on X96's Radio From Hell. Little blogging at BillFrost.tv. Even more True TV linkage at MySpace.com/TrueTV and on Facebook.