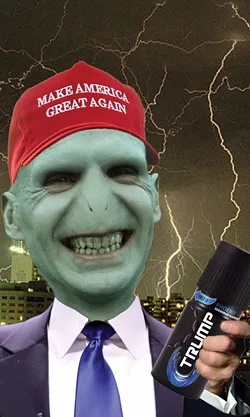 9.
Several trampled horcruxes
8.
A tin of chewing tobacco filled with hopes and dreams
7.
A pair of abandoned children wearing red trucker hats
6.
A sign saying, "If you can read this, my mother's dead, and she said that you'd take care of me ... She said you'd know what that means!"
5.
A crushed "Cruz'in for a bruisin''' sign
4.
About a dozen kids gloves
3.
Discarded Trump University degrees that were ineffectively used to register to vote
2.
Copies of restraining orders kept in pockets as mementos
1.
Axe body spray with teeth marks on the side